K-12 Education
Summer Transportation Institute at Portland State University
The National Summer Transportation Institute is coming back to Portland State in 2017.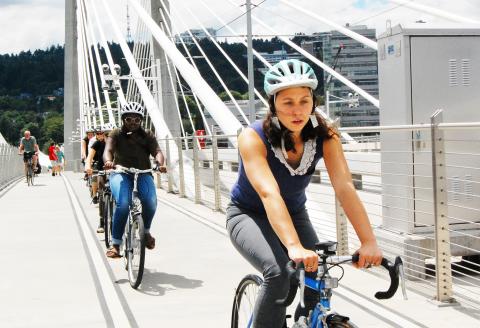 This free two-week day camp offers high school girls a foundation in the transportation industry and a chance to strengthen their STEM skills. Students will be introduced to a strong network of women working in transportation in the Portland metropolitan region, helping them to build their leadership skills, strengthen their college applications and envision a possible future for themselves working in transportation. The first Summer Transportation Institute at Portland State took place in the summer of 2016, and the program is being offered again this year. Read more...
Workshop at Chicas Summer Camp
When: July 27, 2017
Chicas Youth Development Program (Chicas) is a year round program; every summer, Chicas provides three scholastic camps. These camps engage Latina youth in workshops and group discussions. Chicas is hosting a transportation-focused summer camp for elementary, middle school and high school students in summer 2017. These camps provide a space for youth to explore and discover different forms of education to further their goals and motivation of higher education in the summer. The Scholastic Camps highlight three main topics and their importance and relevance to a youth's development. Each week is dedicated to a topic; the topics are the following: Science, Technology, Engineering and Mathematics (STEM), Healthy Lifestyles and Express Yourself: Art, Culture and Dance. For three weeks, students have the opportunity to experience and participate in physical and intellectual challenging activities. These camps introduce them to new and rewarding experiences while providing them with supportive and caring relationships. TREC will provide a one-day workshop for the 2017 summer camp on Thursday, July 27. Workshops are delivered three times to different age groups.
Outline of TREC workshop
Elementary: In small groups, students will brainstorm all the modes of transportation. We will include photos on the tables for prompting/reference. After brainstorming, students will draw pictures of one mode that they find interesting. Then, time allowing, students will be invited to draw a magic version of a mode that solves a problem, and explain it to the class. Example of a problem: How can a car go in the water? How can a person fly?
Middle School: Students will make maps of their route to school addressing: What's important to include on a map? Who is the map for? How do you make the map beautiful? 
High School: Classroom discussion on the various jobs that exist in the field of transportation. Students will discuss transportation career options and the steps they can take to have a career in transportation.
Transportation Career Presentations
Do you have a group of students who need to be inspired? Contact us for a TREC transportation career presentation. Our staff can introduce students to the transportation industry, the wide variety of careers available in the field and the importance of transportation as a fundamental aspect of human society. 
ChickTech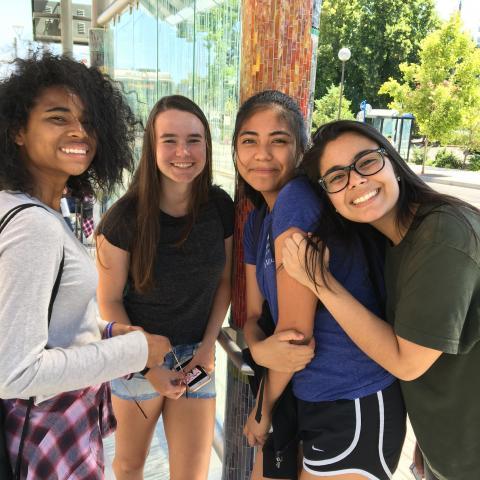 Transportation workforce development doesn't always take place at the university level. Students' interest in transportation can start much earlier than that, which is why TREC is always looking for ways to engage elementary and high school students in transportation. TREC hosted a ChickTech workshop on Saturday, May 20 at Portland State University, offering a GIS "crash" course for high school girls. The workshop, held in the Intelligent Transportation Systems (ITS) lab of PSU's Engineering Building, consisted of a morning instruction session and an afternoon applied activity. The day also incorporated a lunchtime walking tour of active transportation infrastructure around the Portland State campus. The goal of the one-day workshop was to familiarize the students with spatial mapping and analysis by working with the vehicle crash data for the city of Portland. Read more...
Investigations in Transportation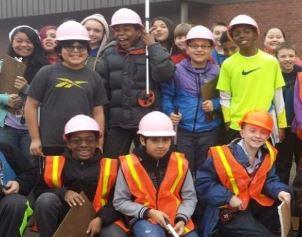 In 2015, 5th grade classes at Beaverton's Chehalem Elementary and 5th and 6th graders at Tobias Elementary in Aloha took part in a NITC education project, Investigations in Transportation, co-sponsored by Portland State University, the Portland Metro STEM Partnership and the Oregon Department of Transportation. The students' work yielded functional changes which will likely be made to the parking lots at both schools, resulting in better traffic flow and increased capacity. The unit was designed to teach students real-world applications of core concepts in STEM (science, technology, engineering and mathematics). After exploring several potential engineering challenges at their schools, both groups of students chose to work on the "Parking Lot Dilemma." Read more...
Big & Awesome Bridges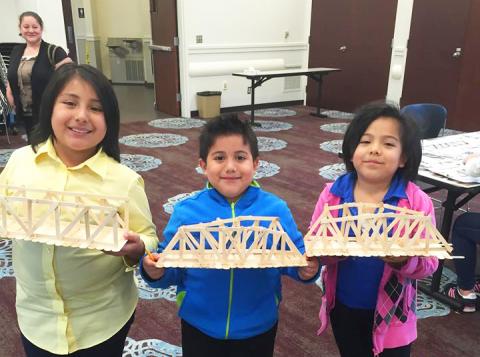 TREC supported the publication, in 2014, of the "Big & Awesome Bridges of Portland and Vancouver" book by Sharon Wood Wortman and Ed Wortman, a follow-up to 2006's definitive volume "The Portland Bridge Book" geared toward young readers. 

"Big & Awesome Bridges" has made huge strides toward advancing the knowledge of transportation engineering among area elementary school children. The book has been incorporated into the Portland Public Schools third-grade curriculum and placed in each third-grade classroom. The Vancouver Public Schools district has placed the book in each elementary school library and incorporated it into the fourth-grade curriculum.

Dozens of school and public libraries across the Northwest have bought copies of the book. Curricula in the book have been used to hold bridge-building and load-testing workshops, and the authors have held teacher trainings, activity nights and informational sessions. The book has been featured in local media outlets in Oregon, Washington and Idaho and is available at museums including the Oregon Historical Society and the Oregon Rail Heritage Center. 

Current efforts are underway to bring the curricula and activities in "Big & Awesome Bridges" to students across the United States. More information on the book is at http://bigandawesomebridges.org/.