K-12 Education
Summer Transportation Institute at Portland State University
The National Summer Transportation Institute is coming back to Portland State in 2017.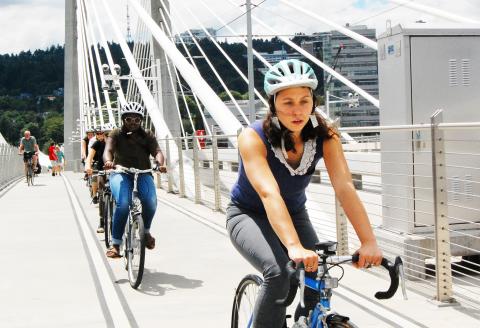 This free two-week day camp offers high school girls a foundation in the transportation industry and a chance to strengthen their STEM skills. Students will be introduced to a strong network of women working in transportation in the Portland metropolitan region, helping them to build their leadership skills, strengthen their college applications and envision a possible future for themselves working in transportation. The first Summer Transportation Institute at Portland State took place in the summer of 2016, and the program is being offered again this year. Read more...
Mesa Day
When: May 16, 2017
TREC will have an information table at MESA Oregon's 2017 MESA Day, an annual state student competition.
Student teams compete to test and demonstrate their engineering projects, which they develop throughout the school year. Past projects have included Trebuchets, Wind Mills, and Solar Powered Lanterns. This year, students will develop prosthetic devices for the competition. Winners of Oregon MESA day will have the opportunity to compete at the MESA USA Nationals competition.
GIS "Crash" Course
When: May 20, 2017
TREC will host a ChickTech workshop at Portland State University to help students become familiar with spatial mapping and analysis. ChickTech is a national non-profit organization that engages women and girls in the technology industry, while working to envision and create a better technology culture for all.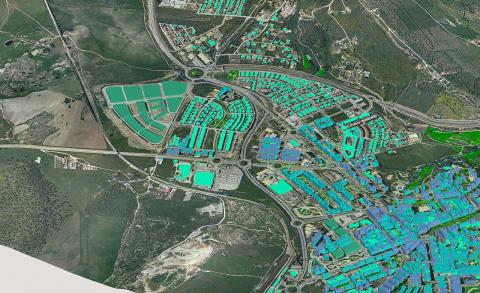 While cartographers have been mapping man-made and natural features for millennia, the spatial mapping of events has been evolving as a major method of analysis within the past few centuries. One of the most famous cases of spatial mapping was in 1854: the Soho neighborhood in London was in the midst of a major cholera outbreak. Within the first three days, more than 127 people died, but the outbreak continued. Within two months, more than 500 people died leaving Soho. By mapping the locations of each outbreak spatially, Dr. John Snow was able to identify the source of the contaminated water to a pump in the center of the neighborhood (see map below). After Dr. Snow's manual mapping (with a pen and paper!), the city recognized the lack of sewer systems (which had not yet reached Soho) was a necessary improvement to prevent future outbreaks. Today, mapping events (like outbreaks) is a predominant method of analysis for many agencies (state, city, regions), universities (us!), industries (google, engineering companies), and now you!
There are two parts to this tutorial. In the first part, we introduce the basic elements of ArcGIS including importing data, exploring the variables and searching through the spatial database, and processing the data in different ways. In this section, we will be exploring 2014 City of Portland crash data (events or "point" data), streets (line data), and neighborhoods (polygons). In the second part of this course, you (and your team) will be using all your newfound GIS skills to help the City of Portland to determine how to allocate and distribute $10,000,000 of funding across Portland neighborhoods to help reduce crashes!
Chicas Summer Camp
When: July 27, 2017
Chicas Youth Development Program (Chicas) is a year round program; every summer, Chicas provides three scholastic camps. These camps engage Latina youth in workshops and group discussions. TREC will host a transportation-focused summer camp for elementary, middle school and high school students. These camps provide a space for youth to explore and discover different forms of education to further their goals and motivation of higher education in the summer. The Scholastic Camps highlight three main topics and their importance and relevance to a youth's development. Each week is dedicated to a topic; the topics are the following: Science, Technology, Engineering and Mathematics (STEM), Healthy Lifestyles and Express Yourself: Art, Culture and Dance. For three weeks, students have the opportunity to experience and participate in physical and intellectual challenging activities. These camps introduce them to new and rewarding experiences while providing them with supportive and caring relationships.
Transportation Career Presentations
Do you have a group of students who need to be inspired? Contact us for a TREC transportation career presentation. Our staff can introduce students to the transportation industry, the wide variety of careers available in the field and the importance of transportation as a fundamental aspect of human society. 
Big & Awesome Bridges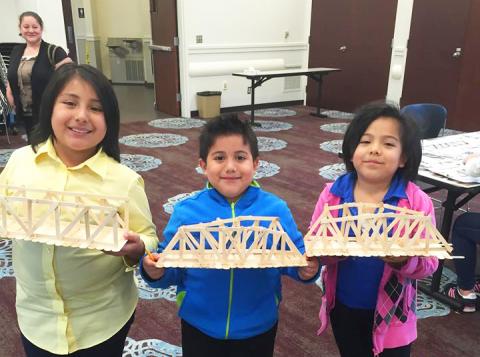 TREC supported the publication, in 2014, of the "Big & Awesome Bridges of Portland and Vancouver" book by Sharon Wood Wortman and Ed Wortman, a follow-up to 2006's definitive volume "The Portland Bridge Book" geared toward young readers. 

"Big & Awesome Bridges" has made huge strides toward advancing the knowledge of transportation engineering among area elementary school children. The book has been incorporated into the Portland Public Schools third-grade curriculum and placed in each third-grade classroom. The Vancouver Public Schools district has placed the book in each elementary school library and incorporated it into the fourth-grade curriculum.

Dozens of school and public libraries across the Northwest have bought copies of the book. Curricula in the book have been used to hold bridge-building and load-testing workshops, and the authors have held teacher trainings, activity nights and informational sessions. The book has been featured in local media outlets in Oregon, Washington and Idaho and is available at museums including the Oregon Historical Society and the Oregon Rail Heritage Center. 

Current efforts are underway to bring the curricula and activities in "Big & Awesome Bridges" to students across the United States. More information on the book is at http://bigandawesomebridges.org/.