K-12 Outreach and Education

Transportation workforce development doesn't always take place at the university level. Students' interest in transportation can start much earlier than that, which is why TREC is always looking for ways to engage elementary and high school students in transportation.
In recent years, STEM (Science, Technology, Engineering and Mathematics) education efforts at the K-12 level have increased significantly and many organizations are seeking to expand the capacity and diversity of the STEM workforce. NITC supports curriculum development projects and initiatives that introduce middle- and high-school students to transportation concepts and careers. Our goal is to increase the number of women and students of color in transportation-focused degree programs, and expand the diversity and capacity of the workforce.
We pursue this goal by offering:
Presentations for students interested in learning about careers in transportation
Events and workshops that are designed for specific age groups and deep-dive into aspects of the transportation industry
Library of Innovative Curriculum found in our extensive collection of Education Projects focused on transportation and livable communities

Transportation Career Presentations
Have a group of students curious about careers in transportation? Contact us at asktrec@pdx.edu and our staff can introduce your students to the industry, the variety of careers, and its importance as a fundamental aspect of human society.
Events and Workshops in 2018
GIS "Crash Course" with ChickTech
WHEN: Saturday, March 10, 2018 (Get updates when registration opens)
WHERE: Portland, OR
COST: Free!
The spatial mapping of events has been evolving as a major method of analysis for centuries. Join us at this one-day workshop for high school girls to become familiar with these concepts, by working with vehicle crash data from the City of Portland. The workshop, held in the Intelligent Transportation Systems (ITS) lab of PSU's Engineering Building, consists of a morning instruction session and an afternoon applied activity. The day also includes a lunchtime walking tour of active transportation infrastructure around the Portland State University campus. By the end of the day you will have a working understanding of spatial mapping and new ideas for how you can apply them to your city! (Read more about the 2017 Workshop.)
National Summer Transportation Institute (NSTI)
WHEN: Two-week day camp in Summer 2018 (July or August, to be determined)
WHERE: Portland, OR
COST: Free!
NSTI is a  free two-week day camp offers high school girls a foundation in the transportation industry and a chance to strengthen their STEM skills. Students will be introduced to a strong network of women working in transportation in the Portland metropolitan region, helping them to build their leadership skills, strengthen their college applications and envision a possible future for themselves working in transportation. The first Summer Transportation Institute at Portland State took place in the summer of 2016, and the program was offered again in 2017. (Learn more about the program)
Transportation Workshop at Chicas Summer Camp
WHEN: One-day Workshop in Summer 2018 (date be determined)
WHERE: Portland, OR
COST: Free!
Chicas Youth Development Program (Chicas) is a year round program; every summer, Chicas provides three scholastic camps. These camps engage Latina youth in workshops and group discussions. Chicas is hosting a transportation-focused summer camp for elementary, middle school and high school students in summer 2017. These camps provide a space for youth to explore and discover different forms of education to further their goals and motivation of higher education in the summer. The Scholastic Camps highlight three main topics and their importance and relevance to a youth's development. Each week is dedicated to a topic; the topics are the following: Science, Technology, Engineering and Mathematics (STEM), Healthy Lifestyles and Express Yourself: Art, Culture and Dance. For three weeks, students have the opportunity to experience and participate in physical and intellectual challenging activities. These camps introduce them to new and rewarding experiences while providing them with supportive and caring relationships.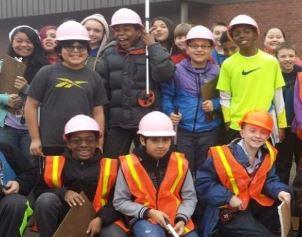 Investigations in Transportation
In 2015, 5th grade classes at Beaverton's Chehalem Elementary and 5th and 6th graders at Tobias Elementary in Aloha took part in a NITC education project, Investigations in Transportation, co-sponsored by Portland State University, the Portland Metro STEM Partnership and the Oregon Department of Transportation. The students' work yielded functional changes which will likely be made to the parking lots at both schools, resulting in better traffic flow and increased capacity. The unit was designed to teach students real-world applications of core concepts in STEM (science, technology, engineering and mathematics). After exploring several potential engineering challenges at their schools, both groups of students chose to work on the "Parking Lot Dilemma." (LEARN MORE)