Friday, November 21, 2014 -

12:00pm

to

1:00pm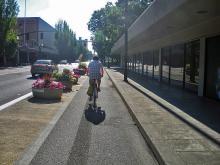 Where: Room 204 of the Distance Learning Center Wing of the Urban Center at PSU
Summary: The most recent edition of the Highway Capacity Manual (HCM) contains analysis procedures for measuring the level-of-service (LOS), also referred to as quality of service, provided by an urban roadway to bicyclists. The method uses different design and operating features of the roadway segment (e.g. width, motor vehicle volumes and speeds) to assess an LOS grade of A (best) to F (worst). These procedures are used by planners and engineers to recommend how existing streets could be retrofitted or new streets designed to better serve people on bicycles (and other modes). However, the current HCM does not include methods that address protected bike lanes (aka "cycle tracks" or "separated bike lanes"), only conventional striped bike lanes, shoulders, and shared streets. There are other methods for predicting comfort from a bicyclist's perspective that do consider protected bike lanes, but they are either based only on expert opinion or on surveys in Denmark.
This presentation will describe how to evaluate the level-of-service of a protected bike lane using results from surveys conducted in the United States. The model developed by this project could be used to supplement the current HCM to objectively consider a wider range of options for improving the environment for bicycling. This is increasingly important as the implementation of, and demand for, protected bike...
Read more
Friday, December 5, 2014 -

12:00pm

to

1:00pm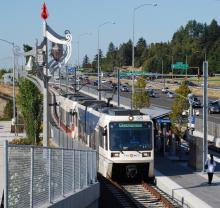 Where: Room 204 of the Distance Learning Center Wing of the Urban Center at PSU
Summary: The Federal Transit Administration's (FTA) discretionary New Starts program is the federal government's largest discretionary funding program. From heavy to light rail, from commuter rail to bus rapid transit systems, the FTA's New Starts program has helped to make possible hundreds of new or extended transit fixed guideway systems across the country, including most of TriMet's light rail extensions and WES commuter rail. Beginning in 2001, FTA has required project sponsors to prepare a Before and After Study report on the effectiveness of planning and implementation of New Starts and Small Starts projects. The studies focus on five transit characteristics – project scope, capital costs, operating and maintenance costs, service levels, and ridership behavior – and compares these characteristics at various planning milestones, as well as before and after implementation of the project.
TriMet, in conjunction with FTA, has completed or nearly completed Before and After Study reports for three projects – Interstate MAX, WES Commuter Rail, and the Green Line – and is in the process of working on two more. This presentation will briefly describe the federal New Starts program, FTA requirements for Before and After Studies, summarize findings from the three TriMet studies and provide comparisons with other completed New Starts projects across the U.S.
Bio: Joe Recker...
Read more