Wednesday, December 3, 2014 -

10:00am

to

11:15am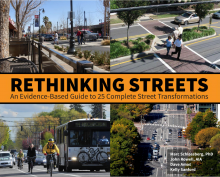 It's time to rethink the street.  For too long we've been building streets as though they have one function—to move cars quickly. The reality is that streets can to do more than just move cars. They can move people on foot, on bikes, and on transit, often without hurting vehicular throughput and improving safety. They can be more than a way to get somewhere else. Good streets are good places, too – public places where people meet, sit and socialize, conduct business, wander about, play, and more.  This webinar will highlight findings from this new book, Rethinking Streets, that uses evidence from completed street projects from around the United States in order to help communities imagine alternative futures for their streets. The book does not show hypothetical street re-designs, but actual examples from typical communities to show how they did what they did and see what resulted from the change.
Key learning outcomes include:
1) to understand different framings for thinking about street purpose and design;
2) to become familiar with a range of...
Read more
Friday, December 5, 2014 -

12:00pm

to

1:00pm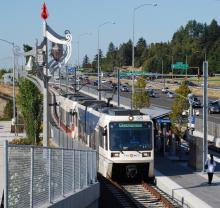 Where: Room 204 of the Distance Learning Center Wing of the Urban Center at PSU
Summary: The Federal Transit Administration's (FTA) discretionary New Starts program is the federal government's largest discretionary funding program. From heavy to light rail, from commuter rail to bus rapid transit systems, the FTA's New Starts program has helped to make possible hundreds of new or extended transit fixed guideway systems across the country, including most of TriMet's light rail extensions and WES commuter rail. Beginning in 2001, FTA has required project sponsors to prepare a Before and After Study report on the effectiveness of planning and implementation of New Starts and Small Starts projects. The studies focus on five transit characteristics – project scope, capital costs, operating and maintenance costs, service levels, and ridership behavior – and compares these characteristics at various planning milestones, as well as before and after implementation of the project.
TriMet, in conjunction with FTA, has completed or nearly completed Before and After Study reports for three projects – Interstate MAX, WES Commuter Rail, and the Green Line – and is in the process of working on two more. This presentation will briefly describe the federal New Starts program, FTA requirements for Before and After Studies, summarize findings from the three TriMet studies and provide comparisons with other completed New Starts projects across the U.S.
Bio: Joe Recker...
Read more