Restricting Driving for Better Traffic and Clearer Skies: Did It Work in Beijing?
Location:
Academic and Student Recreation Center (ASRC) Room 230, Portland State University
May 19, 2016 6:30 pm - May 19, 2016 7:30 pm
Speaker: Dr. Rui Wang, Assistant Professor of Urban Planning, University of California–Los Angeles 
FREE and open to the public
This event is sponsored by Portland State University's Institute for Asian Studies.
Dr. Rui Wang will discuss his research on transportation (specifically driving) and transportation policy in Beijing and its affect on the environment.
Driving restrictions have been implemented in several cities across the world. However, limited by data gaps and the weaknesses of the prevailing research method, few studies have quantified driving restrictions' effects on traffic and researchers disagree about the air quality effects of driving restrictions. We take advantage of the Chinese cultural resentment toward the number four and use the unequal stringency of alternative restricted plate numbers as repeated exogenous treatments to identify the marginal effects of driving restrictions. For the first time in similar studies, we introduce data measuring traffic conditions to help explain the mechanism of driving restrictions, traffic and air quality effects. We find that more stringent driving restrictions had a positive impact on city-wide traffic speed, but little effect on the concentration of inhalable particulates. Given Beijing's extremely congested roads, we consider it most plausible that due to the non-monotonic network-level traffic speed-volume relationship, a marginal reduction in the number of usable vehicles may result in fewer delays, but little or even negative impact on air quality. This implies that positive traffic and environmental effects of a policy may not go hand in hand.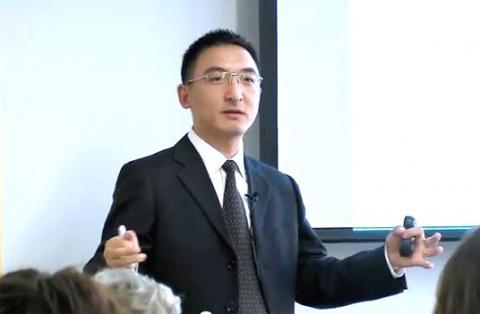 Dr. Rui Wang specializes in urban and regional policy analysis, especially on issues related to environmental sustainability, transportation infrastructure and China's urbanization. Ultimately, he aims at providing sound policy solutions by the in-depth understanding of (1) quality of life's role in urban and regional development and (2) China's development from an urbanization perspective and its global implications. Professor Wang teaches in the Departments of Urban Planning and Public Policy at UCLA, directs the UCLA Chinese Planning Professional Training Program, and is a member of the Editorial Board of U.S. DOT's Journal of Transportation and Statistics. He has served as a consultant for Beijing Municipal Institute of City Planning and Design, U.S. Department of Housing and Urban Development, and World Bank. He also gave invited talks at China Finance 40 Forum, Hong Kong Monetary Authority, Los Angeles World Affairs Council, RAND, World Bank, and numerous academic conferences and institutions. Professor Rui Wang's research has been covered by media outlets such as the Atlantic, Harvard Business Review, Los Angeles Times, and New York Times.
Share this: