Resources and Tools
Our complex transportation system demands better data and tools for decision-making. To serve that need, we develop tools to collect and analyze multi-modal data from a variety of sources, aimed at optimizing the use of the system. They will examine the implications of changes to the system on a range of outcomes including mobility, economic equity, the environment, and health.
PORTAL: Transportation Data Archive for Portland-Vancouver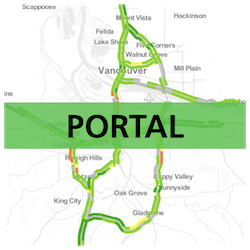 PORTAL provides a centralized, electronic database that facilitates the collection, archiving, and sharing of data and information for public agencies within the region. The data stored in Portal includes 20-second granularity loop detector data from freeways in the Portland-Vancouver metropolitan region, arterial signal data, travel time data, weather data, incident data, VAS/VMS message data, truck volumes, transit data, and arterial signal data. Many of these data feeds are received by PORTAL in real time or on a daily basis and for most, the retrieval and archiving process is fully automated.
PORTAL's multi-modal transportation data archive aims to support Metro's Regional Transportation Plan, the production of regional performance measures, support for regional transportation agencies and their consultants, and researchers at Portland State and elsewhere. Project objectives include producing tools and performance measures useful to local transportation professionals, exploring new and innovative uses of the data, and making the PORTAL data and system more accessible to agency personnel.
Bike-Ped Portal: National Bicycle and Pedestrian Count Archive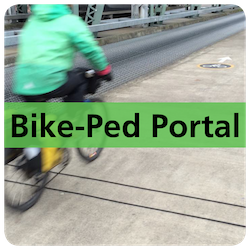 Bike-Ped Portal: Jurisdictions around the country are collecting non-motorized traffic count data, but the lack of a centralized database inhibits data sharing and greatly reduces the utility of this important and growing dataset. In response, we created a national online non-motorized traffic count archive. This archive allows users to upload, view and download data.  Access to a centralized non-motorized traffic data archive opens the door to innovation in research, design, and planning.
With the Bike-Ped Portal we aim to:
---Provide safety researchers with a measure of exposure to collisions
---Give educators data to include cycling and walking in their curricula
---Enable local agencies to seasonally adjust estimates they gather from short-duration count sites
---Provide policymakers with basic information on cycling and walking, including performance metrics, to inform planning and funding decisions
---Allow transportation professionals to better support the public's desire for livable communities
The Bike-Ped Portal is currently under development and available to demo. The next step is to improve its usability for both data providers and data users, specifically transportation professionals. Join us on March 7, 2018 for a free webinar to see a demo and gather ideas for an "Explore Data" interface.