Event Date:
Content Type:
TREC in the News
Content Type:
Professional Development Event
Content Type:
Professional Development Event
The video begins at 1:00.
Content Type:
Professional Development Event
The video begins at 5:55.
Content Type:
Professional Development Event
The video begins at 3:42.
Content Type:
Professional Development Event
The role of walking in the development of healthy, livable communities is being increasingly recognized. In urban areas, intersections are often viewed as a deterrent to walking, as their operation primarily favors automobiles, leading to large and unnecessary delays for pedestrians. There is currently very limited research on accommodating and/or prioritizing pedestrians at signalized intersections in the North American context. Pedestrians are often considered as a deterrent to efficient vehicular traffic flow and therefore active efforts to include them in operational decisions at intersections have been lagging. This research aims to fill that gap by understanding factors that influence pedestrian crossing behavior at signalized intersections and developing cost effective and easily deployable signal timing strategies that could be employed at intersections, to increase efficiency for pedestrians.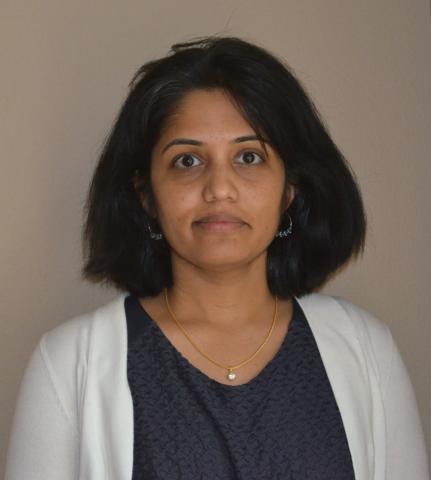 Dr. Sirisha Kothuri is a research associate in the Department of Civil and Environmental Engineering at Portland State University. Dr. Kothuri's primary research interests are in the areas of multimodal traffic operations, traffic signal timing and bicycle and pedestrian data...
Read more
Event Date:
Jolene Liu, a senior from Westview High School in Beaverton, completed a successful internship with TREC this year. The internship was funded by IBM through the Saturday Academy's Apprenticeships in Science and Engineering (ASE) program.
Liu worked under the tutelage of TREC researcher Krista Nordback for two months, stringing up an impressive list of accopmlishments over that time. She worked to help create the online non-motorized traffic count archive, a centralized database for bicycling and walking count data. Liu tested the database structure, summarized data formats and wrote help text for future users. She also processed manual counts of pedestrians and cyclists from intersections in Bend, Eugene, Portland and throughout Oregon.
For an IBPI professional development course, Liu also calibrated pedestrian counting equipment and demonstrated the equipment for course participants.
Perhaps most impressively, Liu co-authored a paper accepted for presentation at the annual meeting of the Transportation Research Board this coming January: "Creating a National Non-motorized Traffic Count Archive: Process and Progress," Paper 15-5310.
"She was amazing," Nordback said. "She took on tasks most undergrads wouldn't have been able to handle, plus she took amazing notes at our (Technical Advisory Committee) meeting in Salem.
"She got to watch...
Read more
Content Type:
Professional Development Event
The video begins at 2:12.
Abstract: A new way of measuring Level of Service for bicycles, pedestrians, and transit is planned for the next Highway Capacity Manual. Are these the right tools to help us plan and build the system we want? If not, what answers do these tools give us and how should we use them? This presentation will review the approaches to multi-modal Level of Service at the national and local levels and discuss efforts to validate the HCM methods. It will also cover the effect of our LOS policies on climate change and explore ways that we might tweak our analysis to get a more accurate picture of the transportation system for all users.
Bio: Seleta Reynolds plans, funds, and implements bicycle and pedestrian projects as a consultant for the Seattle office of Fehr & Peers. Seleta contributed to the national Safe Routes to School toolbox and has served as a guest lecturer on transportation planning for San Jose State University, Portland State University, and UC Berkeley. She serves on the Transportation Research Board Pedestrian Committee and as the President of the Association of Pedestrian and Bicycle Professionals. One of her favorite side projects was a collaboration with artists Steve Lambert and Packard Jennings to imagine the future of transportation for the Art on Market Street project in San Francisco. Prior to joining Fehr & Peers in 2001, she was the bicycle and...
Read more
Content Type:
Professional Development Event
Content Type:
Professional Development Event
Pages