Smart City PDX Pilot: NITC Researchers Take Connected Vehicle Technology for a Test Run on Portland Streetcar
Posted on August 23, 2018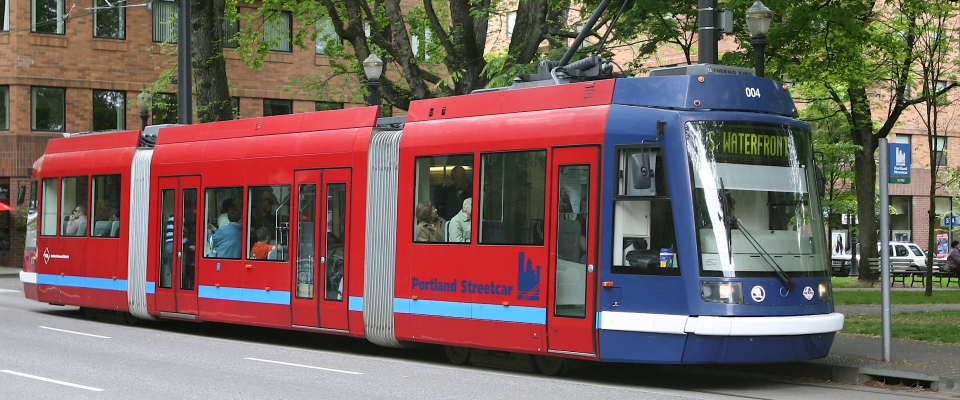 ---
Learn more about this and other "Smart Cities" technology by registering for this September 14 workshop.
Connected Vehicle (CV) technology is coming to Portland, Oregon. We're excited to announce the first step in what could be a long-term game changer for the city: during the winter of 2018, researchers from Portland State University and University of Arizona will work with the City of Portland to deploy a test concept of CV tech on the Portland Streetcar.
Primarily funded by the National Institute for Transportation and Communities (NITC), the Connected Streetcar Project is one of the Portland Bureau of Transportation's (PBOT) 2018 Smart Cities pilot projects, and also part of the city's Smart City PDX Initiative.
The long-term vision and promise of connected vehicles is to use communication between vehicles, and between vehicles and infrastructure, to improve the safety and efficiency of our transportation network. Short-term goals of this project are:
To develop and test a prototype system, including a data collection platform
To deploy this prototype system on a limited section of the Portland Streetcar route
To evaluate the expansion of the technology to the transit and transportation system 
To develop a platform for NITC researchers to further explore this technology
This project is a multidisciplinary and multi-city collaboration, and will further enrich transportation studies in Portland by contributing all of its data to PORTAL, the transportation data archive for the Portland metro area.
The team will deploy the Multi-Modal Intelligent Traffic Signal System (MMITSS) — a Dynamic Mobility Application developed at the University of Arizona by Dr. Larry Head — on the Portland Streetcar and at four intersections along the "Art Museum Corridor" in Southwest Portland.
A prototype CV system is currently being designed and developed based on the MMITSS prototype, traffic signal controllers used by the City of Portland, and the Streetcar operating schedule. It will be tested at PSU and in the City of Portland Traffic Signal Shop. Then, sometime in late 2018, a test intersection near the PSU campus will be selected and equipment installed for field testing. Between November and July, on-board units will be installed on two streetcars and four intersections, and operations will commence.
In the long term, technology like this could reduce delay and prevent collisions, making the streetcar—and eventually, the entire transportation system—safer and more efficient. NITC researchers Kristin Tufte, Larry Head and John MacArthur, along with a team from PBOT, will be closely monitoring the system during its deployment to analyze its operational correctness and efficiency. These efforts will help the City of Portland to explore connected vehicle technology and its implications. We'll keep you posted as the story unfolds.
See the Smart City PDX landing page for the Connected Streetcar Project here, and read the full project summary here.
This research was funded by the National Institute for Transportation and Communities, with additional support from the City of Portland, Portland State University, and the University of Arizona.
RELATED EVENTS
RELATED RESEARCH
To learn more about this and other NITC research, sign up for our monthly research newsletter.
The National Institute for Transportation and Communities (NITC), one of five U.S. Department of Transportation national university transportation centers, is a program of the Transportation Research and Education Center (TREC) at Portland State University. The NITC program is a Portland State-led partnership with the University of Oregon, Oregon Institute of Technology, University of Utah and new partners University of Arizona and University of Texas at Arlington. We pursue our theme — improving mobility of people and goods to build strong communities — through research, education and technology transfer.
Share this: