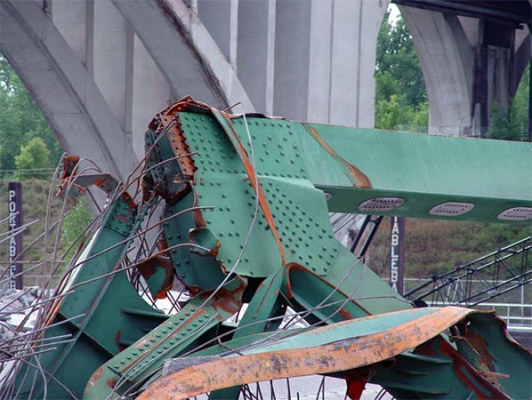 May 08, 2013
An OTREC research project recently took a look at gusset plate connections, the riveted plates of sheet metal that hold steel truss bridges together.
These connective plates have come to the attention of the Federal Highway Administration (FHWA), because in 2007 the collapse of the Interstate-35W Bridge in Minneapolis was the result of a failed gusset plate.
After the collapse, which killed 13 people and injured 145, the FHWA issued a set of guidelines for load rating — or determining the weight-bearing capacity — of gusset plates.
Historically, only bridge truss members were considered for load rating during safety inspections. Gusset plates were thought to be reliable based on conservative assumptions employed during their design.
For more details, visit the project page.
Roughly 20,000 steel bridges in the United States are classified as non-load-path-redundant, or fracture critical, bridges. This means that the failure of a single truss member or connection could lead to collapse.
The problem, says the project's lead investigator Christopher Higgins, happens when a plate goes out of plane. It's supposed to be perfectly flat, but with too much load put on it, it can develop a bifurcation and go from stable to unstable.
"It's like...
Read more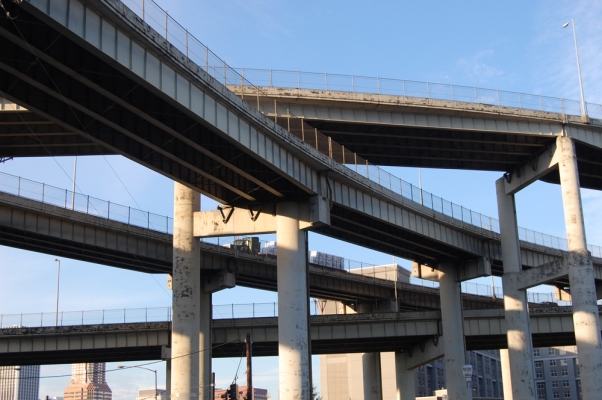 Apr 25, 2012
It's not shocking that bridges built without thought to earthquakes wouldn't make it through a big quake unharmed. More surprising, however, is how much damage even a relatively small earthquake would cause to Oregon's bridges.
In an exhaustive OTREC project, researcher Peter Dusicka looked at the most common bridge types in the Oregon highway system. Those bridges weren't just fragile, he found—they were even more fragile than other researchers and technical guidelines had suggested.
Dusicka published his preliminary findings in a draft report last year. The final report, "Bridge Damage Models for Seismic Risk Assessment of Oregon Highway Network," is out now. Click here to download.
Most Oregon highway bridges were built before the 1980s, when designers started to consider seismic activity. Dusicka set out to see what would happen to the most common bridge type, continuous concrete multi-beam or girder, during quakes of varying degrees.
To find that out, he had to first know how the ground in the Pacific Northwest moves during and earthquake and second, model how the bridge type would react to these motions. Historical and geological evidence show a catastrophic earthquake will occur sooner or later in the region, Dusicka has said, as the Cascadia subduction zone stores up energy that will be released at some point. (...
Read more