Wednesday, August 5, 2015 -

10:00am

to

11:00am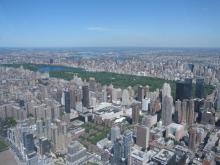 10:00am to 11:00 am, PDT

The National Association of Realtors® and Portland State University conducted a nationwide survey in the 50 largest metropolitan areas, asking Americans about where they live, where they want to live, and their travel habits.

This webinar will present the key findings from that survey, including people's preferences to live in mixed-use, walkable communities and what may help them walk, bicycle, and take transit more. The large sample (3,000) allows us to look at demographic differences, including between the generations (Millennials, Baby Boomers, etc.).

Presenters:

Jennifer Dill, Ph.D., Portland State University

Jennifer Dill is a professor of Urban Studies and Planning and the director of TREC, the transportation research and education center at PSU, which houses the National Institute for Transportation & Communities. She teaches courses in transportation policy and urban planning methods. Dr. Dill's research focuses on the relationships between transportation, land use, health and the environment, with an emphasis on bicycling and walking.

Hugh Morris, AICP, National Association of Realtors®

... Read more
Tuesday, August 11, 2015 -

10:00am

to

11:00am

Originally developed by Roger Geller for the city of Portland, the "Four Types of Cyclists" typology (Strong and Fearless; Enthused and Confident; Interested but Concerned; No Way No How) has been adopted widely to help guide efforts to increase bicycling for transportation. This webinar will present findings from a new, national survey conducted in collaboration with the National Association of Realtors.  We will address the following questions:
Does the Four Types of Cyclists typology apply nationally? 
What are the characteristics of each type of cyclist? 
How does the existing environment, including bicycle infrastructure, affect the share of people in each category/type? 
What programs or infrastructure might increase bicycling for transportation among the different types of cyclists? 
This 60-minute webinar is eligible for one hour of training which equals 1 CM or 1 PDH. NITC applies to the AICP for Certification Maintenance credit for each webinar. We will provide an attendance certificate to those who document their professional development hours.
...
Read more
Thursday, October 1, 2015 -

10:00pm

to

11:00pm
Note: The date of this event is subject to change. It will be in October 2015.
More information coming soon. Check back closer to the date for more details, or sign up for our email newsletter to receive webinar announcements.