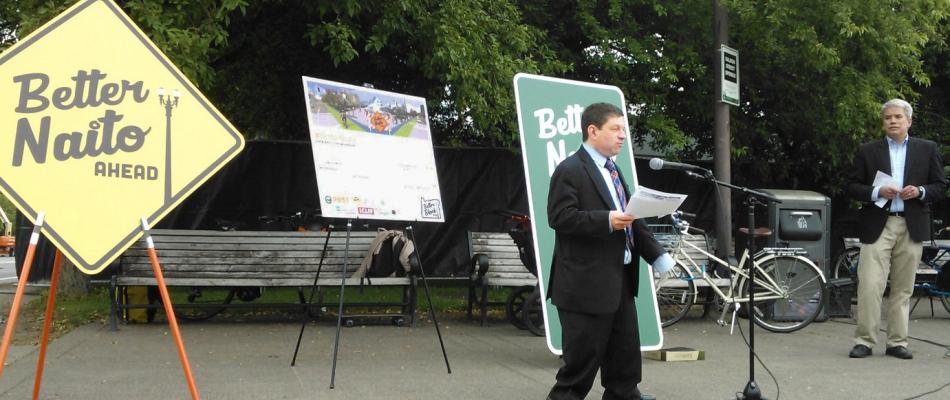 posted on
Tuesday, May 19, 2015 - 10:30am
Portland State University today announced that the city of Portland will implement a student design to make one of downtown Portland's busiest roads safer and more accessible to multimodal traffic.
The "Naito Pilot Project" is a civil engineering senior capstone sponsored by Better Block PDX, the local chapter of a national organization committed to the revitalization of urban spaces. The objective of the project is to increase access for pedestrians and bicycles without disrupting vehicle traffic.
Naito Parkway, a 3.1 mile stretch of arterial road, runs along the west bank of the Willamette River and is the subject of mounting safety concerns. Sidewalks on the east side of the street are not continuous for large stretches and bicycle lanes start and end abruptly. Such issues are exacerbated when large crowds are drawn to the waterfront for events.
"Our city engineers were impressed by the level of quality that the university's students produced in their traffic control plan," said Portland City Commissioner Steve Novick, who publicly announced plans to implement the Naito Pilot Project at a press conference today. "I am proud that Portland State University is teaching its engineering students the value of utilizing their skills to create public space, improve safety, and engineer an environment conducive to better health." 
The temporary demonstration is set to run from May 22 to...
Read More