Our Team at Portland State University
TREC STAFF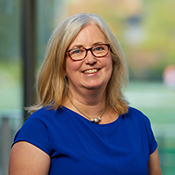 Jennifer Dill, Ph.D.
Director
Professor, Nohad A. Toulan School of Urban Studies and Planning
503-725-5173 | jdill@pdx.edu
https://jenniferdill.net/
Twitter | TREC Researcher Profile
Professor Jennifer Dill researches transportation decision-making processes and how those can inform policy and planning. Her recent projects focus on travel behavior, bicycling, shared mobility, transit-oriented developments, and health. She teaches courses on planning and research methods, as well as transportation. In addition to her Portland State University faculty role in the Toulan School, she serves as Director of the Transportation Research and Education Center (TREC) at PSU as well as Director of the U.S. DOT funded program National Institute for Transportation and Communities. Dr. Dill values the partnerships between PSU the community, and public agencies, both in her research and teaching. Prior to working at PSU, Dr. Dill held several positions working on air quality and transportation issues in California for governments and nonprofits. See her researcher profile here.
---

Associate Director
503-725-2833 | hagedorn@pdx.edu
Twitter | TREC Researcher Profile
Hau is the Associate Director of TREC at Portland State University and is responsible for the day-to-day management, operations and provides overall direction for the TREC's peer-reviewed research and technology transfer programs, and shaping workforce development efforts. She actively participates in national efforts on conducting and implementing research. She also oversees programming and delivery of professional development workshops through the Initiative for Bicycle and Pedestrian Innovation (IBPI). She is co-Chair of the TRB Conduct of Research Committee, Chair of the Oregon Bicycle and Pedestrian Advisory Committee (OBPAC), and member of the Region 1 Area Commission on Transportation (R1ACT). Hau has over 20 years of public and private sector experience in transportation. In her spare time, she runs to escape juggling the busy lives of three active kids.  
---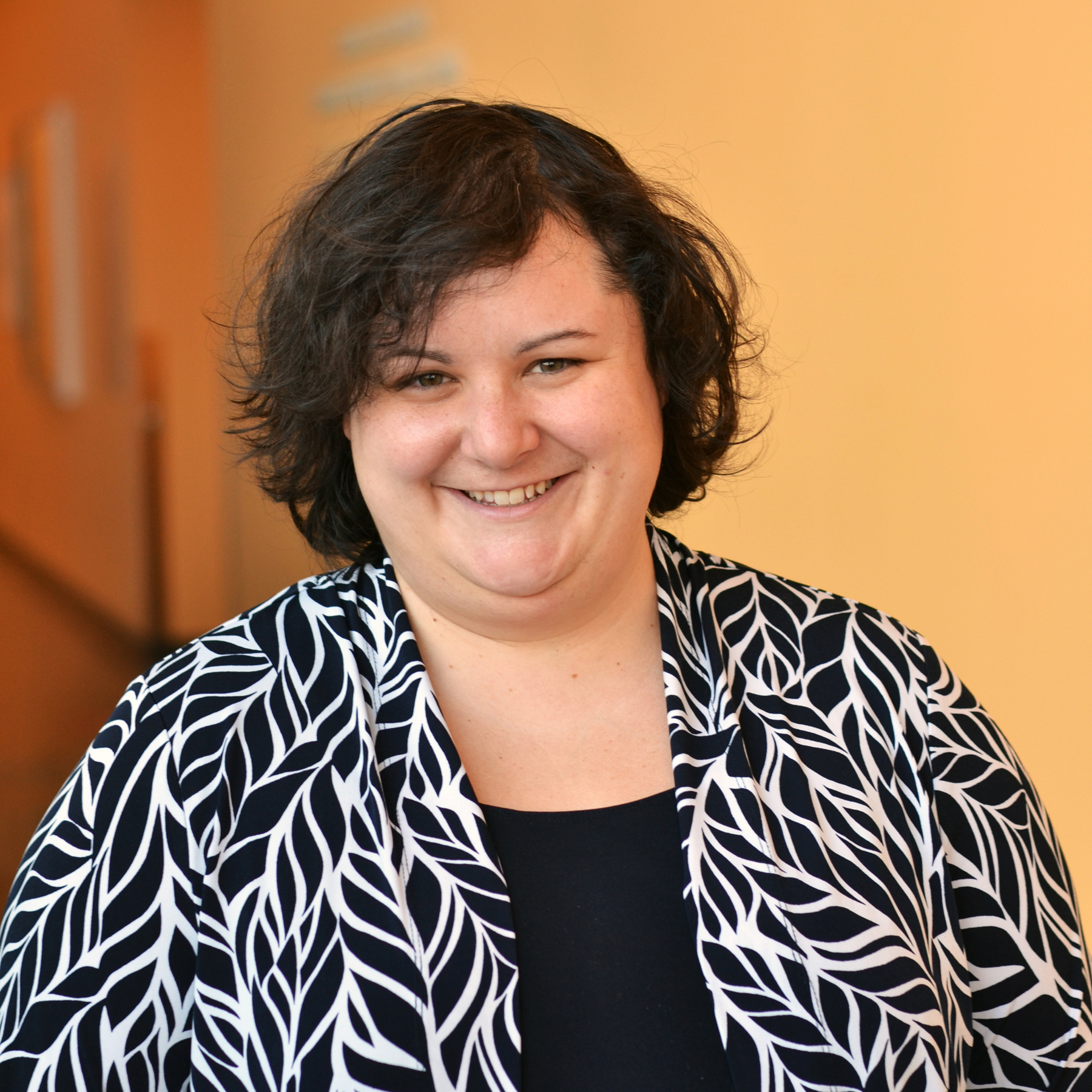 Lacey Friedly
Communications Coordinator
503-725-8545 | rlacey@pdx.edu
Lacey is the communications coordinator for TREC. She connects with researchers, writes articles, and documents (through pictures, videos, and model towns) the value of the transportation research being done at TREC and through the NITC program. Before TREC, Lacey was the acquisitions editor for Dark Discoveries magazine. She also managed the editing department at Ooligan Press, Portland State University's student-run publishing house. She graduated from PSU in 2013 with a master's in book publishing. In her spare time Lacey enjoys swimming, reading, and making stop-motion animation videos. she/her/hers
---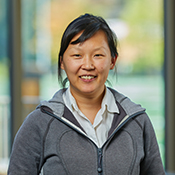 Tammy Lee, Ph.D.
Transportation Data Program Administrator
503-725-2884 | leetam@pdx.edu
Tammy is working on a variety of projects for TREC, including documentation, data synthesis, analysis, and visualization supporting ongoing work with PORTAL and Bike-Ped Portal. Tammy received a BS in Genetics & Plant Biology from UC Berkeley before earning a PhD in Environmental and Natural Resource Sciences from WSU. Prior to joining TREC she worked as a data scientist for a political digital media consulting firm. When not working she's either hiding in the forest or experimenting in the kitchen.
---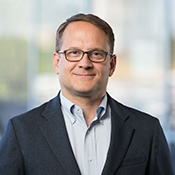 John MacArthur
Sustainable Transportation Program Manager
503-725-2866 | jhmacart@pdx.edu
Twitter | TREC Researcher Profile
Mr. MacArthur currently manages a complex Federal Transit Administration (FTA) grant to Develop and Test an Emergency Transportation Recovery Plan for the Portland, Oregon Region. This project requires close coordination and collaboration with a variety of public agency partners including city of Portland emergency management and transportation bureaus in addition to transit and other agencies critical to the region's emergency transportation recovery efforts. In addition, this project is creating national training program that will be tested in six cities in early 2018. MacArthur is the Principal Investigator for TREC's electric bicycle research initiatives. His research also includes low-/no-emission vehicle infrastructure in Portland metro, as well as a climate change impact assessment for surface transportation in the Pacific Northwest and Alaska. Before joining the TREC staff, John was the Context Sensitive and Sustainable Solutions Program Manager for the Oregon Department of Transportation's OTIA III State Bridge Delivery Program.
---
Cait McCusker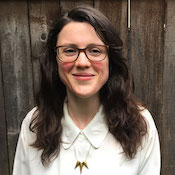 Communications Director 
Cait joined the TREC team in fall 2017 with an extensive background in event planning and strategic communications for green building policy and design. An avid biker and long-time volunteer with pedestrian advocacy group Oregon Walks, she is excited to tackle the dissemination of the center's progressive portfolio of transportation research on mobility. Storytelling is a critical piece to moving research from the theoretical realm to practical application, and Portland is the perfect transportation landscape for this. She served as the Chair of the 2019 Association of Pedestrian and Bicycle Professionals conference, and is currently the Board Chair of Professional Development for the Portland Chapter of WTS. Off-hours she spends her time with Tomato the Dog, tending to her 82 house plants, or biking around the city.
---
Office and Events Admininstrator
Theresa is the Office and Events Coordinator for TREC. She supports the day-to-day operations of the office, purchasing and finance tasks, hosting visiting scholars, and event planning for TREC events such as the Friday Transportation Seminars. Theresa has a bachelors in Cultural Anthropology and is working towards a Masters in Rehabilitation Counseling at PSU. Outside of work and school, she enjoys playing fetch with her cat, handbuilding ceramics, cooking, gardening, and bicycling.
---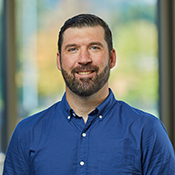 Brendan Williams
Research and Grants Program Administrator
Brendan is responsible for TREC's day-to-day research project management and metrics tracking from inception to close-out. Also, he administers the competitive, peer-reviewed, project selection process including the annual Request for Proposal, Pooled Fund, small starts, and dissertation fellowships. Prior to this, he provided financial management and project coordination for Oregon State University's Precollege Programs. Brendan enjoys playing soccer, going on long bike rides, traveling to other countries, or, most often, making pizza.
GRADUATE RESEARCH ASSISTANTS (2019-20)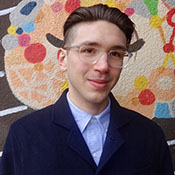 ---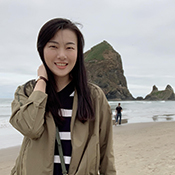 Minju Kim
Advisor: John MacArthur
Minju Kim is a second-year PhD student in Urban Studies from the Nohad A. Toulan School of Urban Studies and Planning with a specialization in transportation and gerontology, and candidates graduate certificate program in the Institute of Aging. She received a Master's degree in Transportation Studies from Seoul National University and studied in Urban Planning for Bachelor from Chung-Ang University from South Korea. Her current research interest focuses on transportation for older people, and she would like to research the differences in preference and trends of older adults. She is working on a TREC project about the impacts of shared E-scooter operations during the 2019-2020 Portland Pilot Program with John MacArthur and Jennifer Dill. In order to improve the accessibility and sustainability of micromobility systems to the citizens of Portland, this research focuses on the impacts of scooter operations on VMT, including scooter deployment, rebalancing, and charging.
---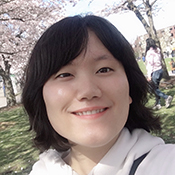 Kyuri Kim
Advisor: Jennifer Dill
Kyu Ri is a second-year Ph.D. student in urban planning at the Nohad A. Toulan School of Urban Studies and Planning.. She is supporting Jennifer Dill and Hau Hagedorn in transportation data analysis and visualization (including BikePed Portal and OHSU Census data) and other transportation research.
---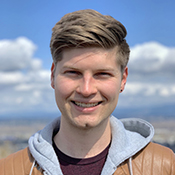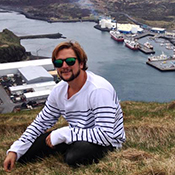 Max Nonnamaker
Advisor: Jennifer Dill
Max is a first year master's student in Urban & Regional Planning and Public Health. Coming from Milwaukee, WI, most of Max's previous work has been in the public health and social sectors with a focus on advocacy and community engagement. Max graduated from the University of Wisconsin - Madison in 2014 with a BS in Kinesiology and a certificate in African Studies and shortly after began working as a Community Health Advisor with the Peace Corps in Madagascar from 2015 - 2017. At TREC, Max is working with Dr. Jennifer Dill and Metro/ODOT on the Region Mobility Policy Update by conducting background research on existing and new mobility measures and approaches to be recommended for implementation in the next Regional Transportation Plan update.
---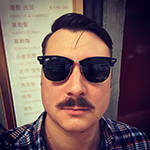 Nicholas Puczkowskyj
Advisor: John MacArthur
Nick Puczkowskyj is an Urban Studies PhD student at the Nohad A. Toulan School of Urban Studies and Planning. He is currently working with Prof. Dill and John MacArthur to examine the impacts of e-scooter operations on VMTs in Portland, OR. His dissertation research seeks to challenge the binary approaches to transportation research by using feminist, queer, and travel behavior theory to address the noticeable gap of transgender/genderqueer data and research in the transportation field. Nick hopes to use this research to expand and redefine inclusive transportation policy and practices. Nick's other research interests include: mobility justice, active transportation, micromobility, and transit.

---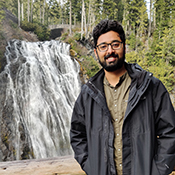 Aman Singh Solanki
Advisor: Hau Hagedorn
Aman is a versatile, results-driven software engineer who loves to solve real-world problems by writing software. When he is not doing that, he loves to be outdoors and hang out with friends and try new food carts. He works as a research assistant with TREC and is currently associated with the
BikePed Portal
project. He created a
filter application
to help users easily view all the transportation research work in one place. He is also helping to design UI for
some awesome applications being made here at TREC. To learn more,
check out his portfolio
.
---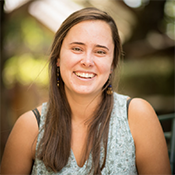 Nora Stoelting
Transportation Education Program Coordinator
Advisor: Hau Hagedorn
Nora integrates tactical urbanism projects into PSU classes via the
PSU Better Block Pathway
, and also designs the curriculum for TREC's free summer camp for high school students. She is pursuing a dual master's in Leadership for Sustainability Education and Urban and Regional Planning, and is excited about the ways these two programs intersect in building a more dynamic, connected, and sustainable world. Though she loves exploring outdoor recreation in the great state of Oregon, she is originally from the concrete jungle of Brooklyn, NY. She believes strongly in the power of collaborative, holistic, experiential teaching and learning to transform ourselves and the world. Outside of school and work, Nora likes to search for new trail races to run, plan outdoor adventures, answer people's questions about recycling, and go for long walks while listening to podcasts.