TREC Graduate Research Assistants
Each year, 15–30 graduate students from engineering, urban studies & planning, and other fields are hired as graduate research assistants for PSU faculty as well as students to support TREC programs and research projects.
2020 - 2021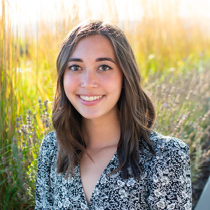 Jai Daniels

Advisor: John MacArthur
Jai Daniels is a first-year Master of Urban and Regional Planning (MURP) student at PSU, currently working with John MacArthur on a Transportation Recovery Plan for the Regional Disaster Preparedness Organization (RPDO). Read more about Jai in this March 2021 Student Spotlight interview. She is interested in urban livability, bicycle and pedestrian planning, transit planning, and the intersection between urban planning and the environment.
---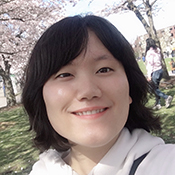 Kyuri Kim
Advisor: Jennifer Dill
Kyu Ri is a second-year Ph.D. student in urban planning at the Nohad A. Toulan School of Urban Studies and Planning. She is currently supporting Jennifer Dill and Nathan McNeil on the Research Roadmap for the AASHTO Council on Active Transportation. In the recent past, she supported Dr. Dill and Hau Hagedorn in transportation data analysis and visualization (including BikePed Portal and OHSU Census data) and other transportation research.
---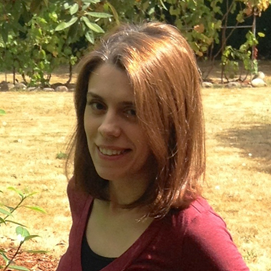 Rebeca Petean

Advisor: John MacArthur and Marisa Zapata
Rebeca Petean is a second-year Sociology Ph.D. student. Currently, she has taken on the role of Graduate Research Assistant for PSU's Homelessness Research Action Collaborative (HRAC) joint venture with TREC on the project TCRP J-11/Task 40: Homelessness: A Guide for Public Transportation. She has also served as an Adjunct Instructor teaching Research Methods for Dominican University. She earned her Bachelor of Arts in Criminology and Criminal Justice, 2011, Masters of Science in Criminology and Criminal Justice, 2015, and Graduate Certification in Teaching Adult Learners from PSU, 2015. Her research interests include School-to-Prison Pipeline, Criminal Justice Decision-making, Police-Community Interactions, Developmental/Life Course Theory, Transportation Equity, and Justice.
---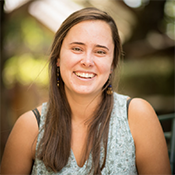 Nora Stoelting
Transportation Education Program Coordinator
Advisor: Hau Hagedorn
Nora integrates tactical urbanism projects into PSU classes via the 
PSU Better Block PSU pathway program
, and also designs the curriculum for TREC's 
transportation summer camp for Oregon high school students
. She is pursuing a dual master's in Leadership for Sustainability Education and Urban and Regional Planning, and is excited about the ways these two programs intersect in building a more dynamic, connected, and sustainable world. Though she loves exploring outdoor recreation in the great state of Oregon, she is originally from the concrete jungle of Brooklyn, NY. She believes strongly in the power of collaborative, holistic, experiential teaching and learning to transform ourselves and the world. Outside of school and work, Nora likes to search for new trail races to run, plan outdoor adventures, answer people's questions about recycling, and go for long walks while listening to podcasts. 
Learn more about Nora in our Sept. 2020 Student Spotlight interview.
2019 - 2020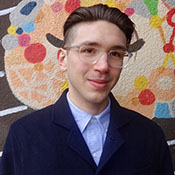 ---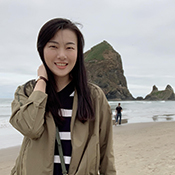 Minju Kim
Advisor: John MacArthur
Minju Kim is a PhD student in Urban Studies from the Nohad A. Toulan School of Urban Studies and Planning with a specialization in transportation and gerontology, and candidates graduate certificate program in the Institute of Aging. She received a Master's degree in Transportation Studies from Seoul National University and studied in Urban Planning for Bachelor from Chung-Ang University from South Korea. Her current research interest focuses on transportation for older people, and she would like to research the differences in preference and trends of older adults. She worked on a TREC project about the impacts of shared E-scooter operations during the 2019-2020 Portland Pilot Program with John MacArthur and Jennifer Dill. In order to improve the accessibility and sustainability of micromobility systems to the citizens of Portland, this research focuses on the impacts of scooter operations on VMT, including scooter deployment, rebalancing, and charging.
---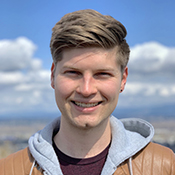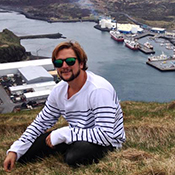 Max Nonnamaker
Advisor: Jennifer Dill
Max is a master's student in Urban & Regional Planning and Public Health. Coming from Milwaukee, WI, most of Max's previous work has been in the public health and social sectors with a focus on advocacy and community engagement. Max graduated from the University of Wisconsin - Madison in 2014 with a BS in Kinesiology and a certificate in African Studies and shortly after began working as a Community Health Advisor with the Peace Corps in Madagascar from 2015 - 2017. At TREC, Max worked with Dr. Jennifer Dill and Metro/ODOT on the Region Mobility Policy Update by conducting background research on existing and new mobility measures and approaches to be recommended for implementation in the next Regional Transportation Plan update.
---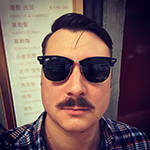 Nicholas Puczkowskyj
Advisor: John MacArthur
Nick Puczkowskyj is an Urban Studies PhD student at the Nohad A. Toulan School of Urban Studies and Planning. He worked with Prof. Dill and John MacArthur to examine the impacts of e-scooter operations on VMTs in Portland, OR. His dissertation research seeks to challenge the binary approaches to transportation research by using feminist, queer, and travel behavior theory to address the noticeable gap of transgender/genderqueer data and research in the transportation field. Nick hopes to use this research to expand and redefine inclusive transportation policy and practices. Nick's other research interests include: mobility justice, active transportation, micromobility, and transit.

---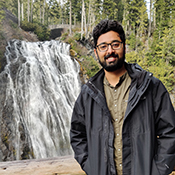 Aman Singh Solanki
Advisor: Hau Hagedorn
Aman is a versatile, results-driven software engineer who loves to solve real-world problems by writing software. When he is not doing that, he loves to be outdoors and hang out with friends and try new food carts. He worked as a research assistant with TREC, particularly on the 
BikePed Portal
project. He created a
filter application
to help users easily view all the transportation research work in one place. He is also helping to design UI for
some awesome applications being made here at TREC. To learn more,
check out his portfolio
.