Wednesday, December 15, 2021,

2:00pm

to

3:00pm

PST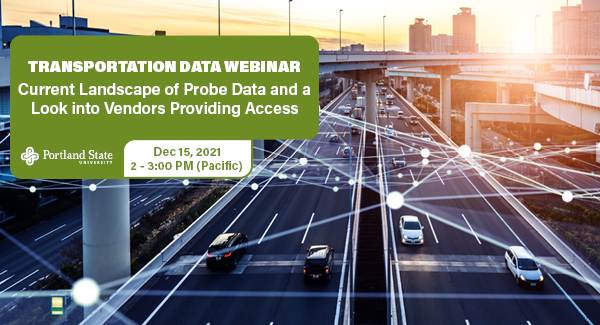 OVERVIEW
With so many Probe-Data Vendors in the market, and the fact that each offers their own unique solutions, it can be challenging to identify which vendor(s) would best meet the needs of an organization. Based on a study prepared for the Seattle Department of Transportation, this presentation will provide highlights around eight Probe-Data Vendors and their capabilities, limitations, and quality of data.
KEY LEARNING OUTCOMES
An understanding of primary vendors that offer probe data and related products
Key probe data sources used to put together data summaries
An understanding of the types of platforms that exist and basic analytical capabilities
Data quality considerations from each of the vendors offering probe data
SPEAKER
Scott Lee, CEO, IDAX Data Solutions
Read more
Wednesday, January 26, 2022,

11:00am

to

12:00pm

PST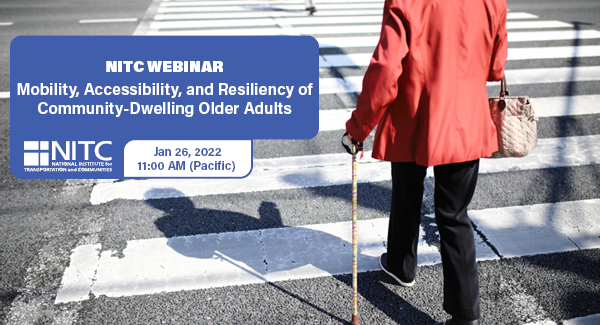 OVERVIEW
Mobility disparities among older adults affect their ability to travel and access services. This project seeks to understand challenges, barriers, and gaps that older adults experience and to develop forms of assistance or educational strategies to fill the varying mobility gaps and meet the mobility needs. This study characterizes older adults' use of existing and potential transportation options, including conventional transit, paratransit, and ride-hailing systems, based on surveys and interviews collected from community-dwelling older adults in Dallas, Texas. Through the interview during the pandemic, the research team found that perceptual and knowledge barriers appear to be reduced among older adults to adopt new mobility options such as ride-hailing although financial and technology barriers still exist. Based on the findings, we discussed several strategies that can potentially reduce observed barriers and challenges and enhance mobility to ultimately increase social equity across transportation-disadvantaged populations, particularly among low-income older adults.
KEY LEARNING OUTCOMES
The audience will evaluate older adults' actual usages, awareness, willingness to utilize, and any associated challenges and barriers to access available transportation options.
The audience will identify factors enhancing resilience among marginalized older adults during the COVID-19 pandemic....
Read more