Friday, June 3, 2022,

11:30am

to

12:30pm

PDT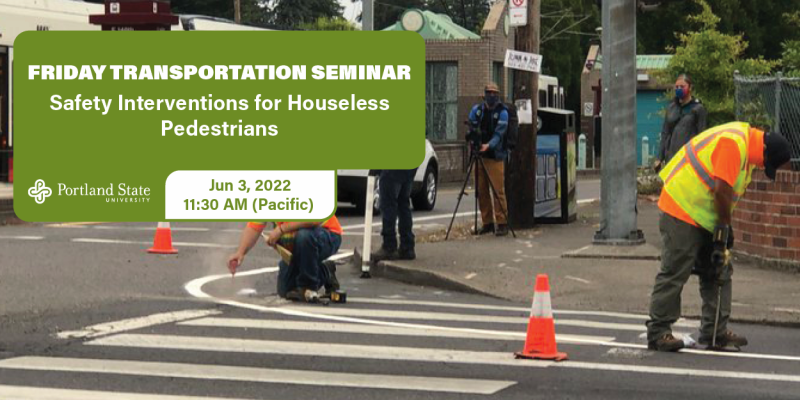 Friday Transportation Seminars at Portland State University have been a tradition since 2000. You can join us online or in-person (proof of vaccination required, see below) at 11:30 AM. All presentations are recorded and shared on the event page afterwards.
THE TOPIC 
Cities across the U.S. are facing alarming increases in traffic fatalities, especially among the number of pedestrians who are struck and killed by drivers. Last year, 70 percent of all pedestrian fatalities in Portland were of people experiencing houselessness. As the Portland Bureau of Transportation (PBOT) is updating the city's Vision Zero Plan, a team of PSU urban and regional planning masters students have been investigating how to reduce the risk of being hit and killed specifically for unhoused people. During this presentation, the Street Perspective team will explain the situation, review their approach, and then share the recommendations they'll be providing to PBOT to reduce the risk of pedestrian fatalities among the city's vulnerable houseless communities.
This project was conducted by graduate...
Read more
Tuesday, June 7, 2022,

10:00am

to

11:00am

PDT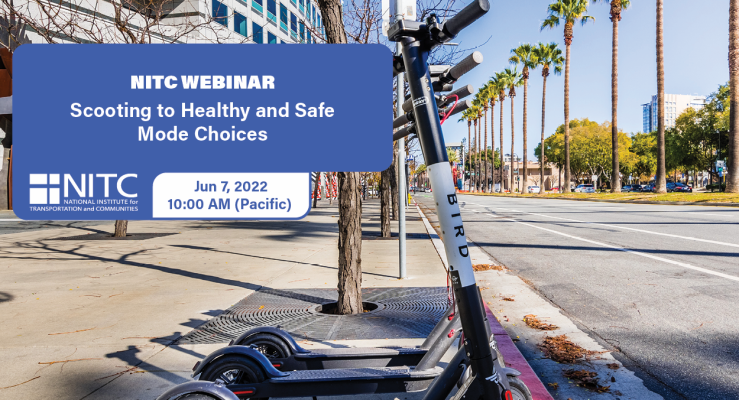 OVERVIEW
Shared electric scooters (e-scooters) are fast becoming a mobility option in cities across the United States. This new micromobility mode has the potential to replace car usage for certain trips, which stands to have a positive impact on public health and sustainability goals. However, many aspects of this emerging mode are not well understood.This webinar explores the findings of three NITC studies examining transportation mode choices, safety, and public health outcomes of electric scooters.
KEY LEARNING OUTCOMES
By the end of this presentation, the participant will be able to:
describe the ways in which electric scooters may provide new substitutive, complimentary or synergist transportation opportunities for different activities, compared with conventional modes (e.g., vehicles, transit, biking, walking). 
distinguish different types of crash and injury behaviors and risks for electric scooter users in the built environment.
recognize relationships between mode choices around e-scooters may influence other health outcomes, including those related to changes in physical activities.
THE RESEARCH
The three studies were funded by the National Institute for Transportation and Communities (NITC):
Tuesday, July 12, 2022,

10:00am

to

11:00am

PDT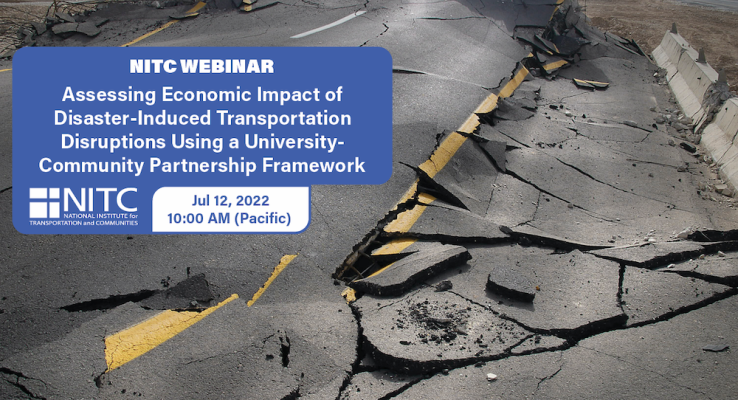 ** The date of this webinar has changed: It will now be held on July 12, 2022 at 10:00 AM PT ** 
OVERVIEW
Transportation systems play a critical role in maintaining supply chains for effective post-disaster recovery. Modeling the potential economic impact of transportation-related disruptions, therefore, is an important step to promoting pre-event communitywide recovery and resilience planning. But existing supply chain and economic impact models are cost prohibitive and overly sophisticated for use by public sector entities with limited resources. There is also limited understanding of how small and medium enterprises (SMEs) adjust to post-disaster transportation disruption and how this experience influences their future preparedness for similar events. Since SMEs make up a majority of businesses within the US, post-disaster transportation loss can significantly affect the local economy and the recovery trajectory for the entire community.
This project has two objectives:
To develop a collaborative university-community partnership framework for analyzing the economic impact due to transportation disruptions in earthquake country
To examine SME preparedness to such managing such disruptions.
In phase one, the project used the scenario of an M7.0 earthquake in Utah's Wasatch Front and brought together a common set of public sector actors (namely, emergency management departments, metropolitan...
Read more