Tuesday, January 19, 2021,

10:00am

to

11:00am

PST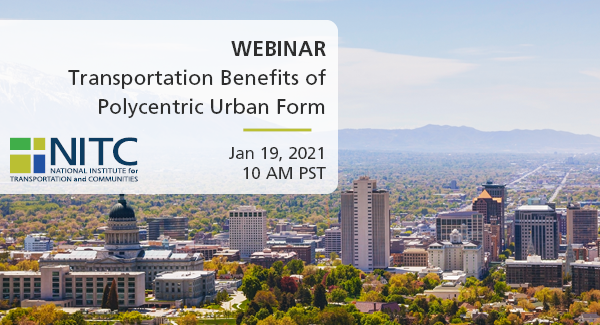 OVERVIEW
A "polycentric" region consists of a network of compact developments connected with each other through high-quality transportation options. Rather than continuing the expanse of low-density development radiating from an urban core, investments can be concentrated on central nodes and transit connections. This development pattern is very popular in Europe and is linked to significant benefits. This presentation is aimed at exploring the academic literature and empirical evidence surrounding polycentric development, analyzing more than 120 regional transportation plans to see how they promote polycentric development, defining types of centers in a hierarchy of centers, quantifying the transportation benefits of polycentric development, examining a case study of best practices, and, finally, outlining context-specific strategies for Salt Lake County and the Wasatch Front region.
KEY LEARNING OUTCOMES
Regional transportation plans suffer from a lack of consistent indicators to designate centers and guide their developments.
On average, households living in centers tend to make fewer and shorter automobile trips, take transit more, walk more, and bike less.
Tours (a sequence of trips that begins and ends at home) associated with centers consist of more sustainable commuting modes than ones that are completely outside the centers.
The built environment thresholds and relevant tools provided in our...
Read more
Tuesday, February 9, 2021,

10:00am

to

11:00am

PST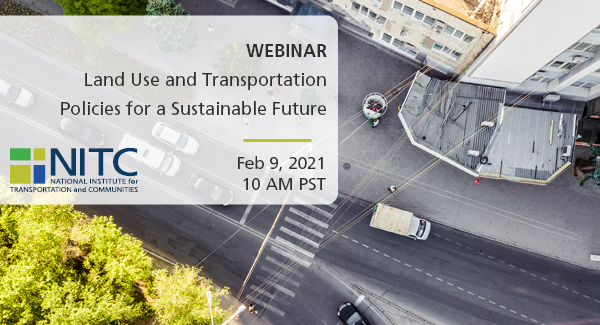 DATE CHANGE: This webinar will no longer be held in December, and has been rescheduled for 2/9/2021. If you were already registered, no action is needed.
OVERVIEW
Even though there are tremendous uncertainties in the timing and evolution path of the Autonomous Vehicles (AV) technology, it may become a likely reality within most MPOs' long-range regional transportation plan horizon of twenty years. Yet a recent survey of the largest MPOs in the US indicates only one of them "even mentions driverless, automated, or autonomous vehicles in its most recent RTP". One of the uncertainties in assessing the impacts of AV is their direction: on one hand, self-driving cars could increase VMT by increasing roadway capacity, lowering costs of travel; on the other, they may reduce VMT by enabling more car-sharing, improving access to transit, eliminating the fixed costs of car ownership, and reclaiming parking space. To date, there is no suitable conceptual framework or modeling tools available to MPOs for quantitatively assessing the likely long-term effects of AV or potential policy scenarios.
This project studies the possible impacts on travel and land use of the emerging AV technology and focuses on advancing this innovative mobility option by making sure it serves the greater good of...
Read more