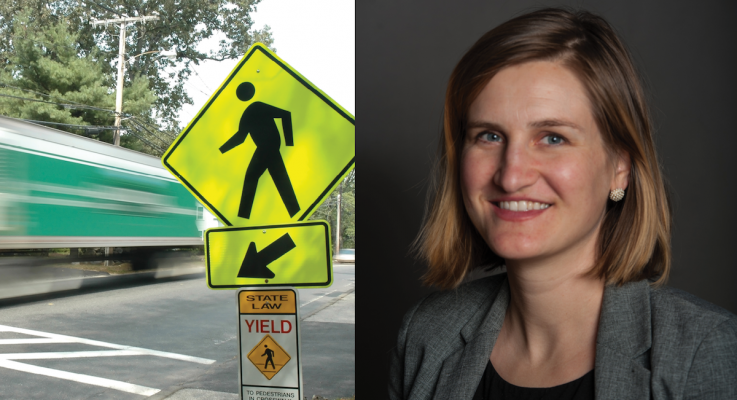 DATE:
Tuesday, October 15, 2019,

11:30am

to

1:00pm

PDT
SPEAKERS:
Angie Schmitt, Streetsblog
COST:
$10 - $20 (Sliding Scale)
LOCATION:
PSU Native American Student and Community Center: 710 SW Jackson St., Portland, OR 97201
SAVE THE DATE! Every year the Transportation Research and Education Center (TREC) at Portland State brings a world-class speaker to speak on active transportation - with the support of the Ann Niles endowment. This year Angie Schmitt of Streetsblog will deliver the lecture at a luncheon on October 15, 2019. Save the date, registration opens in September!
PRESENTATION ARCHIVE
 Miss the lecture, or want to share it with someone?
THE SPEAKER
Angie Schmitt is the editor of Streetsblog USA. Streetsblog is a daily news site that connects people to information about how to reduce dependence on cars and improve conditions for walking, biking, and transit. Since 2006, their reporters have broken important stories about efforts to prevent pedestrian injuries and deaths, build out bicycle networks, and make transit more useful. Angie has been reporting on the movement for sustainable transportation for nine years and is a frequently cited expert. She is currently writing a book about the pedestrian safety crisis, to be published in 2020 by Island Press. Angie holds a degree in urban planning and lives in Cleveland, OH with her husband and two young children.
THE LECTURE
The Pedestrian Safety Crisis in America: Why it's happening -- from SUVs to gentrification -- and what we can do about it. More than 6,000 pedestrians are getting killed every year on American streets, representing an enormous 50 percent increase from the first part of the decade. We'll talk about the social trends that are putting people at risk. And why fundamentally, it is a problem of inequity.
THE TICKETS
THIS EVENT IS SOLD OUT. This afternoon lecture includes catered lunch, and the ticket fee covers that cost. To increase access and remove barriers to participation, we are offering a sliding scale option. Access to learning should be lifelong, participatory, and affordable - please let us know if you need additional support at asktrec@pdx.edu:
$20 Luncheon Ticket
$10 Luncheon Ticket (Choose this price if you are a student or an employee of a community-based organization)
Refund Policy: You may cancel your ticket and receive a full refund up until two weeks prior to the event. Refunds close on Monday, October 1st. You may tranfer your ticket to another individual at no cost, at any time.
---
The Ann Niles Active Transportation Lecture is a unique opportunity to bring world-class thinkers on pedestrian and bicycle issues to Portland State University (PSU) and the active transportation community in the Portland metro region. The annual lecture serves as a legacy to Ann Niles who was a strong advocate for livable neighborhoods, safer pedestrian and bicycle infrastructure, and served on many transportation-focused boards and committees in Portland. The forum furthers the mission of our Initative for Bicycle and Pedestrian Innovation (IBPI) program to facilitate the exchange of knowledge among scholars, practitioners and community advocates around issues of active transportation. By promoting dialogue across disciplines and interests, this lecture series supports PSU's mission to "let knowledge serve the city."