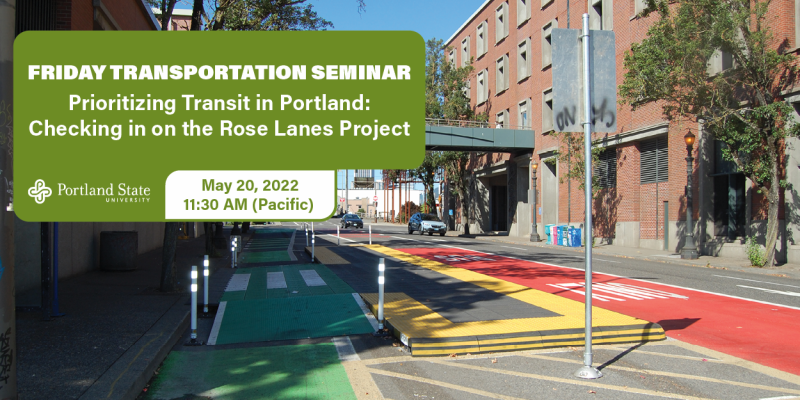 DATE:
Friday, May 20, 2022,

11:30am

to

1:00pm

PDT
SPEAKERS:
Nathan McNeil, PSU; Jamie Jeffrey and April Bertelsen, PBOT; Jamie Snook, TriMet
LOCATION:
ONLINE and IN-PERSON: PSU's Vanport Building (Room 269) 1810 SW 5th Ave Portland, OR 97201
Friday Transportation Seminars at Portland State University have been a tradition since 2000. You can join us online or in-person (proof of vaccination required, see below) at 11:30 AM. All presentations are recorded and shared on the event page afterwards.
PRESENTATION ARCHIVE
THE TOPIC 
Transit priority lanes restrict access to certain lanes, prioritizing transit movement, while sometimes allowing for other users or specific actions - for example shared bus and bike lanes, or shared bus and right-turn lanes. Red coloring is sometimes used to reinforce the transit priority with the goal of improving the reliability, safety and compliance with the lane restrictions. The City of Portland and TriMet have been working with partners to use these tools to improve mobility and transit access under the Enhanced Transit Corridors Plan and Rose Lanes Project. This presentation will report back on early lessons learned as part of the design, implementation and evaluation of these facilities, with presenters from the City of Portland, TriMet and Portland State University.
KEY LEARNING OUTCOMES
Planning and design approaches to improve transit service through prioritizing transit movement.
Interagency coordination on planning, implementing and evaluating transportation projects.
Transit lane treatments to accommodate bus activity and other permitted movements (e.g. turning movements).
Strategies to improve road user compliance and transit service.
SPEAKERS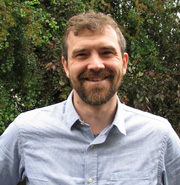 Nathan McNeil is a Research Associate at Portland State University's Transportation Research and Education Center (TREC). He conducts research on travel behavior, traffic safety, and programs to promote multimodal and equitable transportation. Nathan received a master of urban and regional planning from Portland State University and studied history at Columbia University as an undergraduate. Prior to PSU, Nathan worked for the Metropolitan Transportation Authority in New York City as a performance auditor where he evaluated capital programs and contractors.
April Bertelsen, Portland Bureau of Transportation
Jamie Jeffrey, Portland Bureau of Transportation
Jamie Snook, TriMet
Jamie Snook has served as the Director of Major Projects at TriMet since 2021. Prior to that, she was a Planning Manager in TriMet Capital Projects.
PROFESSIONAL DEVELOPMENT
This 90-minute seminar is eligible for 1.5 hours of professional development credit for AICP (see our provider summary). We can provide an electronic attendance certificate for other types of certification maintenance.
COVID-19 SAFETY PROTOCOLS
Attendance at this in-person event on the PSU campus requires valid proof of COVID-19 vaccination.
Valid proof of COVID-19 vaccination is either a hard copy or a picture of a vaccination card showing a vaccine series was completed at least two weeks prior to the event date. Documentation of a recent (within the last 48 hours) COVID-19 test with a negative result is either a printout or picture of results that include your name and test date. Proof of boosters not required at this time, and your medical data will not be recorded during the spot-check at the door.
Effective March 19, 2022, Portland State University no longer requires that masks be worn in classrooms, offices, and most other public and private indoor spaces.
As PSU shifts into the next phase of the response to COVID-19, we understand that some in our community may feel more comfortable continuing to wear a mask. That is a personal decision that we wholeheartedly support. We ask that our community respect the choice of people who keep their masks on, but to refrain from asking others to wear a mask. Disposable masks will continue to be available at PSU building entrances.
Sign up for our newsletter to receive monthly updates.
Photo by Cait McCusker
The Transportation Research and Education Center (TREC) at Portland State University is home to the National Institute for Transportation and Communities (NITC), the Initiative for Bicycle and Pedestrian Innovation (IBPI), and other transportation programs. TREC produces research and tools for transportation decision makers, develops K-12 curriculum to expand the diversity and capacity of the workforce, and engages students and professionals through education.