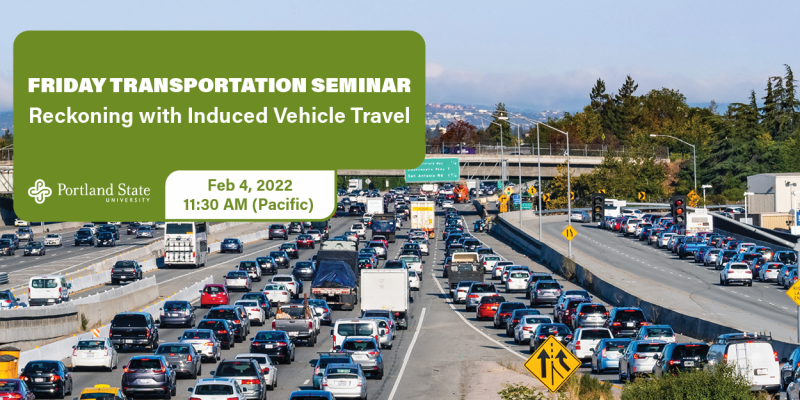 DATE:
Friday, February 4, 2022,

11:30am

to

12:30pm

PST
Friday Transportation Seminars at Portland State University have been a tradition since 2000. You can join us online at 11:30 AM. All presentations are recorded and shared on the event page afterwards.
PRESENTATION ARCHIVE
THE TOPIC 
Empirical research shows that expanding roadway capacity induces more driving - the so-called "induced travel" phenomenon. However, environmental impact assessments and cost-benefit analyses of roadway capacity expansion projects have historically ignored, underestimated, or mis-estimated this induced travel effect. As a result, they frequently overestimate the projects' potential to relieve congestion and reduce air pollution. That spurred our team at the National Center for Sustainable Transportation (UC Davis) to develop an online tool to facilitate estimation of induced vehicle travel from capacity expansion projects. This presentation will explain the induced travel phenomenon, introduce our induced travel calculator and its offshoots, and discuss how transportation impact analysis is changing.
KEY LEARNING OUTCOMES
The audience will hopefully walk away with an understanding of:
the induced travel phenomenon,
how the induced travel calculators work, and
how they are helping change transportation impact analysis.
SPEAKER
Jamey Volker, University of California, Davis
PROFESSIONAL DEVELOPMENT
This 60-minute seminar is eligible for 1 hour of professional development credit for AICP (see our provider summary). We can provide an electronic attendance certificate for other types of certification maintenance.
LEARN MORE
Photo by Sundry Photography/iStock
Sign up for our newsletter to receive monthly updates.
The Transportation Research and Education Center (TREC) at Portland State University is home to the National Institute for Transportation and Communities (NITC), the Initiative for Bicycle and Pedestrian Innovation (IBPI), and other transportation programs. TREC produces research and tools for transportation decision makers, develops K-12 curriculum to expand the diversity and capacity of the workforce, and engages students and professionals through education.