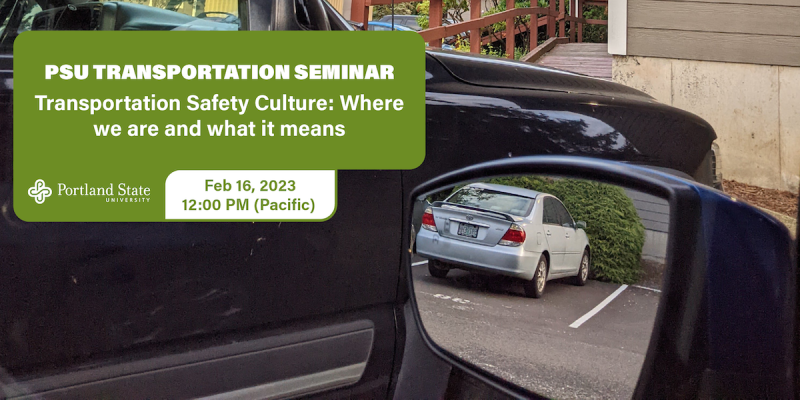 DATE:
Thursday, February 16, 2023,

12:00pm

to

1:00pm

PST
Transportation Seminars at Portland State University have been a tradition since 2000. Formerly known as the Friday Transportation Seminar series, we've opened up PSU Transportation Seminars to other days of the week to better accommodate attendance. You can always watch online via Zoom.
PRESENTATION ARCHIVE
THE TOPIC 
Like any healthy professional community, the transportation safety community is not homogenous or without constructive conflict. The increased attention on systems thinking – most commonly known, if not necessarily well understood, under the "Vision Zero" approach – has sparked debate among engineers, planners, academics, public health professionals, advocates, and others about where our attention should be focused to reduce the epidemic of traffic violence. The built environment? Drivers? Engineers and planners? Car culture? What IS car culture? Dr. Goddard brings together her research conducted with colleagues on police crash reporting processes, NHTSA crash investigations, attitudes and effects of the language and framing around crashes, and recent examples of the "systems vs people" debate to recommend some shared definitions, research directions, and questions for practitioners, advocates, and anyone interested in reducing traffic injuries and deaths.
KEY LEARNING OUTCOMES
Define car culture, windshield bias, and related terms
Identify how "systems thinking" versus focusing on individual behavior affects approaches to problem definition, data collection, and approaches to changing behavior
Evaluate how transportation safety culture affects approaches in their role or organization
SPEAKERS
PROFESSIONAL DEVELOPMENT
This 60-minute seminar is eligible for 1 hour of professional development credit for AICP (see our provider summary). We can provide an electronic attendance certificate for other types of certification maintenance.
Photo by Lacey Friedly
Portland State University's Transportation Research and Education Center (TREC) is home to the U.S. DOT funded National Institute for Transportation and Communities (NITC), the Initiative for Bicycle and Pedestrian Innovation (IBPI), PORTAL, BikePed Portal and other transportation grants and programs. We produce impactful research and tools for transportation decision makers, expand the diversity and capacity of the workforce, and engage students and professionals through education and participation in research.