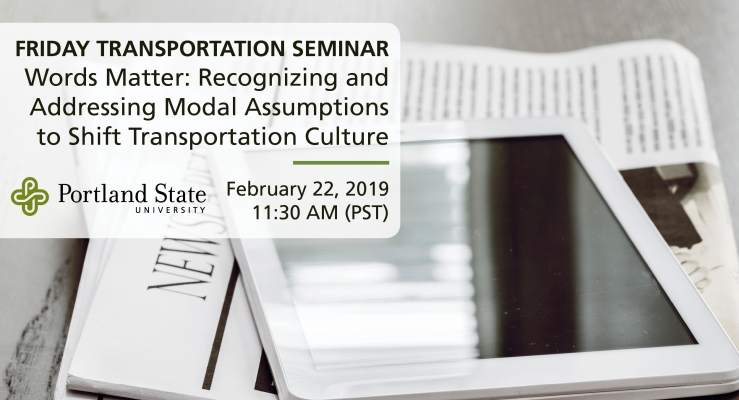 DATE:
Friday, February 22, 2019,

11:30am

to

1:00pm

PST
SPEAKERS:
Barb Chamberlain, Washington Department of Transportation
LOCATION:
Karl Miller Center at PSU, 615 SW Harrison St., Room 465
Friday Transportation Seminars at Portland State University have been a tradition since 2000. With the start of 2019, we're changing it up a bit! The seminar will be delivered 11:30 am (sharp) - 12:30 pm, with additional discussion over coffee and donuts (protect the planet—bring a mug!) from 12:30 to 1:00 pm. You can also watch online.
PRESENTATION ARCHIVE
Miss the seminar or want a look back? 
THE TOPIC
Search #DriverNotCar or #CrashNotAccident on Twitter and you'll find a vigorous discussion about the power of word choices to shape our understanding of what happens on the street and who's responsible. When we directly examine and discuss the language we use, we acknowledge its power both to reflect existing attitudes and to shape developing attitudes. This presentation will uncover embedded biases or assumptions in common transportation terminology and provide tips and tools to help us broaden our inclusion of everyone we are supposed to serve as transportation professionals.
KEY LEARNING TAKEAWAYS
Learn some simple tests to uncover modal bias in descriptions of projects, programs or activities 
Learn specific terms to use and to avoid to provide more clarity around who is--and who isn't--affected by a transportation project or program 
Understand the importance of providing specifics and context, particularly around traffic collisions, to contribute to transportation literacy
SPEAKER
Barb Chamberlain, Active Transportation Division Director, Washington Department of Transportation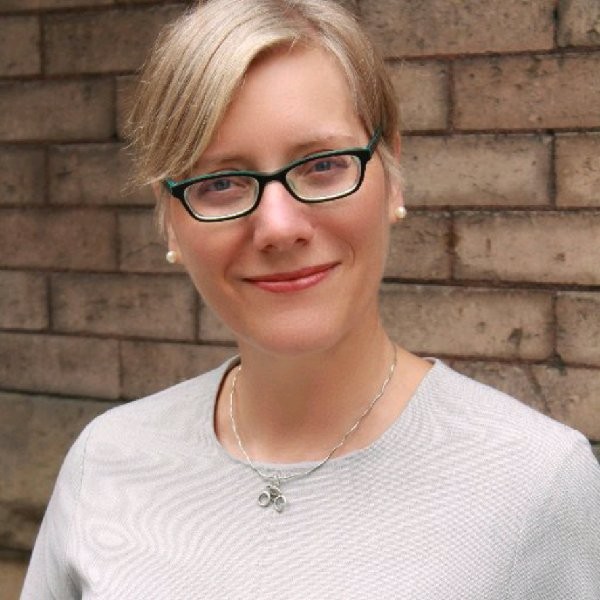 Barb Chamberlain started March 1, 2017, as Director of the new Division of Active Transportation at WSDOT--a division created to reflect the agency's commitment to multimodal transportation in the #1 Bicycle Friendly State. Barb previously served as the Executive Director of Washington Bikes and in 2015 was named Nonprofit Professional of the Year by the Association of Pedestrian and Bicycle Coordinators. Prior to working professionally in transportation she led communications and public affairs at Washington State University Spokane for nearly 15 years and served on a number of boards including the Spokane Regional Transportation Council and the Spokane Bicycle Advisory Board. She got her start as an active transportation volunteer working on the North Idaho Centennial Trail Committee, then spent four years in the Idaho state legislature, the youngest woman ever elected to both the House and Senate. Find Barb's bike writing at bikestylelife.com; follow @barbchamberlain on Twitter for active transportation research, resources and commentary.
Stay up-to-date with WSDOT news on active transportation programs, policies, events and more in the PNW and nationally with Walk and Roll: WSDOT Active Transportation Update - subscribe here.
PROFESSIONAL DEVELOPMENT
This 60-minute seminar is eligible for 1 hour of professional development credit for AICP (see our provider summary). We provide an electronic attendance certificate for other types of certification maintenance.
LEARN MORE
Sign up for our newsletter to receive monthly updates.
The Transportation Research and Education Center (TREC) at Portland State University is home to the National Institute for Transportation and Communities (NITC), the Initiative for Bicycle and Pedestrian Innovation (IBPI), and other transportation programs. TREC produces research and tools for transportation decision makers, develops K-12 curriculum to expand the diversity and capacity of the workforce, and engages students and young professionals through education.