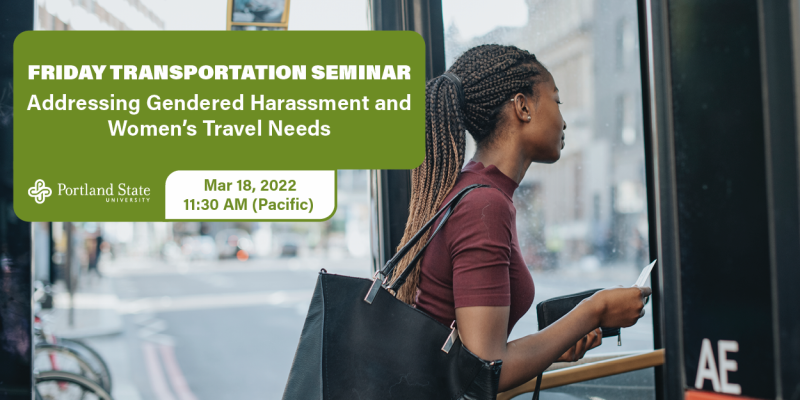 DATE:
Friday, March 18, 2022,

11:30am

to

12:30pm

PDT
SPEAKERS:
Madeline Brozen, UCLA Lewis Center for Regional Policy Studies
Friday Transportation Seminars at Portland State University have been a tradition since 2000. You can join us online at 11:30 AM. All presentations are recorded and shared on the event page afterwards.
PRESENTATION ARCHIVE
THE TOPIC 
This presentation will cover experiences, disparities, and solutions to gendered travel differences. Madeline will discuss research from a worldwide survey of harassment on public transit with specific insights from Los Angeles and research from two agency-led studies in Los Angeles. The talk will cover the large issues that make women's travel needs distinct from their male counter-parts - safety and complex travel patterns and some promising solutions for addressing these disparities.
KEY LEARNING OUTCOMES
Understanding women's key travel differences.
Increased awareness of intersectional issues facing women and differences by race and age.
Ideas for solutions to address gender differences in transportation. 
SPEAKER
Madeline Brozen, Deputy Director, UCLA Lewis Center for Regional Policy Studies
PROFESSIONAL DEVELOPMENT
This 60-minute seminar is eligible for 1 hour of professional development credit for AICP (see our provider summary). We can provide an electronic attendance certificate for other types of certification maintenance.
LEARN MORE
Photo by Rawpixel/iStock
Sign up for our newsletter to receive monthly updates.
The Transportation Research and Education Center (TREC) at Portland State University is home to the National Institute for Transportation and Communities (NITC), the Initiative for Bicycle and Pedestrian Innovation (IBPI), and other transportation programs. TREC produces research and tools for transportation decision makers, develops K-12 curriculum to expand the diversity and capacity of the workforce, and engages students and professionals through education.