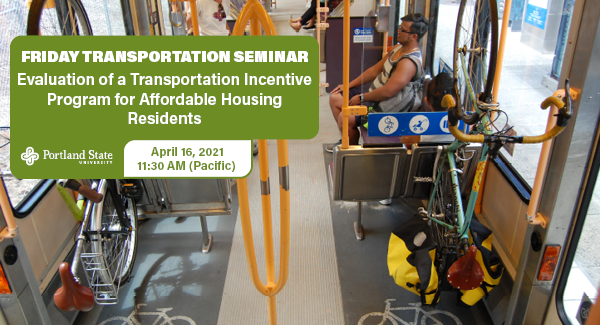 DATE:
Friday, April 16, 2021,

11:30am

to

12:30pm

PDT
SPEAKERS:
Roshin Kurian, PBOT; Huijun Tan, Nathan McNeil and John MacArthur, Portland State University
We are committed to making decisions that promote the success and well-being of our campus community. Until further notice, all live events hosted by TREC will be online only. Friday Transportation Seminars at Portland State University have been a tradition since 2000. You can join us online at 11:30 AM.
PRESENTATION ARCHIVE
THE TOPIC
This seminar presents the results from the Transportation Wallet for Residents of Affordable Housing (TWRAH) pilot program launched by the City of Portland's Bureau of Transportation (PBOT). The program provided a set of transportation incentives for low-income participants including a $308 pre-paid visa card which could be applied to public transit or other transportation services, a free bike share membership, and access to discounted rates on several services. The researchers conducted a survey with the program's participants to understand how they used the Transportation Wallet and how the program helped them use different modes to get around. The main findings include:
The financial support of this program encouraged some participants to use new mobility services (including Uber/Lyft, bike share, and e-scooter) that they had never used before;
The program increased access for participants, helping them make more trips and, for some, get to places they otherwise could not have gone; and,
Transportation Fairs, where participants could learn about services and talk to providers, promoted both mode sign-up and mode usage, particularly for new mobility and a reduced fare transit program.
This presentation will provide insights into the implementation and effectiveness of a transportation financial incentive program for low-income populations.
KEY LEARNING OUTCOMES
Understand background and the elements of the Transportation Wallet for Residents of Affordable Housing (TWRAH) pilot program;
Learn how the program was implemented and how the residents used the Wallet;
Understand how a program like the Wallet could be implemented to provide incentives and financial benefits to low-income populations thru a transportation demand management program.
SPEAKERS
Huijun Tan, Portland State University
Huijun Tan is a PhD student in the Toulan School of Urban Studies and Planning at Portland State University. With a masters degree in Social Work from Washington University in St. Louis, her research now primarily focuses on transportation equity research and gentrification impacts on accessibility among marginalized populations and communities. She is dedicated to investigating how accessibility is associated with neighborhood change in low-income areas in order to provide policy implications for transportation planning and land use planning. Her research also looks forward to identifying mechanisms of preventing or mitigating the adverse impacts (derived from transportation investment) on communities, especially for minorities and low- income neighborhoods.
Roshin Kurian, Transportation Demand Management Specialist, Portland Bureau of Transportation (PBOT)
Nathan McNeil, Portland State University
John MacArthur, Portland State University
PROFESSIONAL DEVELOPMENT
This 60-minute seminar is eligible for 1 hour of professional development credit for AICP (see our provider summary). We provide an electronic attendance certificate for other types of certification maintenance.
LEARN MORE
Photo by Cait McCusker
Sign up for our newsletter to receive monthly updates.
The Transportation Research and Education Center (TREC) at Portland State University is home to the National Institute for Transportation and Communities (NITC), the Initiative for Bicycle and Pedestrian Innovation (IBPI), and other transportation programs. TREC produces research and tools for transportation decision makers, develops K-12 curriculum to expand the diversity and capacity of the workforce, and engages students and professionals through education.