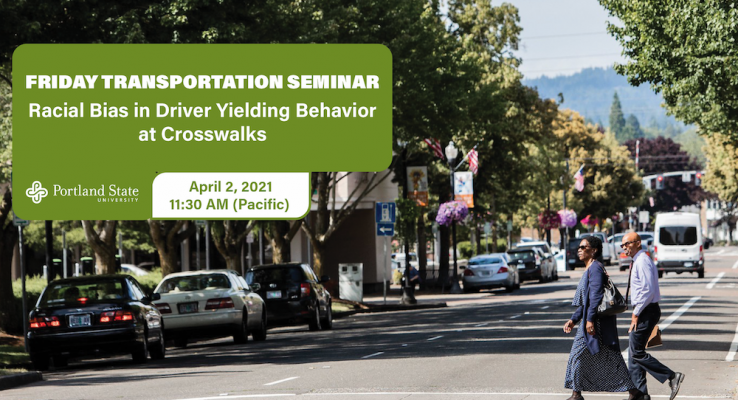 DATE:
Friday, April 2, 2021,

11:30am

to

12:30pm

PDT
SPEAKERS:
Kimberly Kahn, PSU; Peter Koonce, PBOT; George Stern, Deafblind Citizens in Action
We are committed to making decisions that promote the success and well-being of our campus community. Until further notice, all live events hosted by TREC will be online only.
Friday Transportation Seminars at Portland State University have been a tradition since 2000. You can join us online at 11:30 AM.
PRESENTATION ARCHIVE
THE TOPIC
This seminar discusses how pedestrian race and gender can influence drivers' behavior in interactions with pedestrians at crosswalks. Three speakers will present different lenses to look at this topic.
Kimberly Barsamian Kahn, a researcher at Portland State University, will discuss research exploring how pedestrian race and gender influence drivers' behavior in interactions with pedestrians at crosswalks. One dangerous potential point of conflict for pedestrians within the transportation system is interactions with drivers at crosswalks, and racial minorities are disproportionately represented in pedestrian fatalities. Research tested the hypothesis that drivers' would demonstrate unequitable yielding based on pedestrians' race and gender in three controlled field experiments at an unsignalized crosswalk. Trained and matched confederate pedestrians simulated an individual pedestrian crossing, while observers recorded drivers' stopping behavior, number of cars passed, and time until a driver yielded. Study 1 included Black and White male pedestrians, while Studies 2 and 3 crossed pedestrian race (Black/White) and gender (male/female).
Results indicated that Black pedestrians were less likely to have a car stop, were passed by more cars, experienced longer wait times, and had cars stop closer. Results suggest implicit bias may impact drivers' stopping decisions, indicating a subtle way in which discrimination perpetuates. Less safe crossing experiences may dissuade minorities from adopting healthy transportation modes and contribute to disproportionate safety outcomes based on race and gender.
George Stern, Vice President of Deafblind Citizens in Action, will speak on his lived experience as a deafblind, visibly Black male pursuing freedom of movement across diverse landscapes, including four urbanscapes. The narrative will touch on themes of gentrification, transportation culture, and the utility-dependence perception gap.
Peter Koonce of the Portland Bureau of Transportation will offer a traffic engineer's perspective on this topic and address real-world applications.
KEY LEARNING OUTCOMES
Mobility of all inhabitants is a crucial consideration in designing physical social spaces.
Drivers' yielding behavior at crosswalks is influenced by pedestrians' race and gender.
At unmarked crosswalks, stopping rates were very low and few differences emerged based on pedestrian race and gender.
At marked crosswalks, drivers were less likely to stop for Black and male pedestrians, and when they did stop, they were more likely to stop closer to Black male and Black female pedestrians at a marked crosswalk.
African American and Black pedestrians discussed how these are stressful interactions that harm their walking trips.
SPEAKER
Kimberly Barsamian Kahn, Associate Professor, Portland State University
Peter Koonce, Manager of Signals & Street Lighting Division, Portland Bureau of Transportation
George Stern, Vice President, Deafblind Citizens in Action
PROFESSIONAL DEVELOPMENT
This 60-minute seminar is eligible for 1 hour of professional development credit for AICP (see our provider summary). We provide an electronic attendance certificate for other types of certification maintenance.
LEARN MORE
Photo courtesy of Metro
Sign up for our newsletter to receive monthly updates.
The Transportation Research and Education Center (TREC) at Portland State University is home to the National Institute for Transportation and Communities (NITC), the Initiative for Bicycle and Pedestrian Innovation (IBPI), and other transportation programs. TREC produces research and tools for transportation decision makers, develops K-12 curriculum to expand the diversity and capacity of the workforce, and engages students and professionals through education.