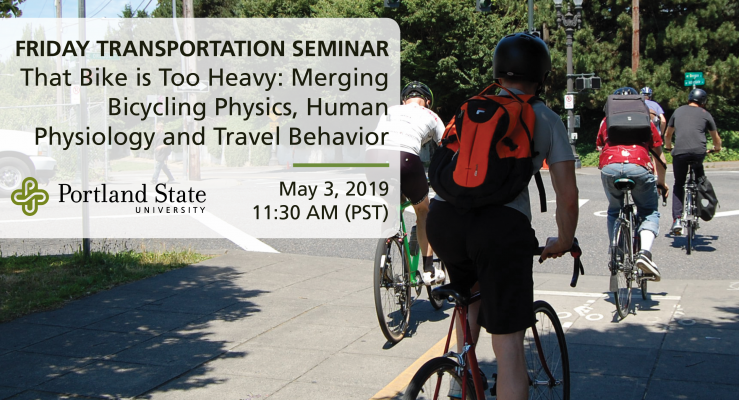 DATE:
Friday, May 3, 2019,

11:30am

to

1:00pm

PDT
SPEAKERS:
Alex Bigazzi, University of British Columbia
LOCATION:
Karl Miller Center at PSU, 615 SW Harrison St., Room 605
Friday Transportation Seminars at Portland State University have been a tradition since 2000. With the start of 2019, we're changing it up a bit! The seminar will be delivered 11:30 am (sharp) - 12:30 pm, with additional discussion over coffee and donuts (protect the planet—bring a mug!) from 12:30 to 1:00 pm. You can also watch online.
PRESENTATION ARCHIVE
Miss the seminar or want a look back?
THE TOPIC
Are the Biketown bikes too heavy? Does better gear motivate people to cycle more? How much faster will someone go on an e-bike?
Although urban cycling is widely known as physically active transportation, the actual physics of cycling have been given little attention in transportation engineering and planning. In contrast, the field of sports science has developed detailed data and models of road bicycle performance, but only for sport and racing cyclists.
What can we learn about utilitarian cycling by integrating knowledge of the physical attributes of bicycles and cyclists?
This seminar examines the ways in which bicycle physics, and the physiology of cyclists, can influence outcomes of interest to transportation professionals, from speed and stopping distance to cycling frequency and health benefits. Findings will be presented from recent and ongoing studies aiming to quantify these relationships and enhance travel analysis tools with an understanding of the physical aspects of cycling. 
KEY LEARNING TAKEAWAYS
What are the key physical attributes of bicycles and cyclists that are relevant for transportation analysis?
How do these attributes vary among cyclists?
How do these attributes relate to travel habits and preferences?
SPEAKER
Alex Bigazzi, University of British Columbia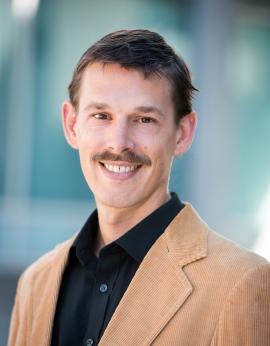 Dr. Bigazzi is an assistant professor at the University of British Columbia, with a joint appointment in the Department of Civil Engineering and the School of Community and Regional Planning. He received his Ph.D. in Civil Engineering from Portland State University in 2014, investigating urban bicyclists' uptake of traffic-related air pollution. His primary research areas are transportation emissions and air quality, active travel behavior, and traffic management and modeling.
Learn more about Alex in our PSU Alumni Spotlight interview.
PROFESSIONAL DEVELOPMENT
This 60-minute seminar is eligible for 1 hour of professional development credit for AICP (see our provider summary). We provide an electronic attendance certificate for other types of certification maintenance.
LEARN MORE
Sign up for our newsletter to receive monthly updates.
Alex Bigazzi is a visiting scholar, brought to Portland State University with support from the National Institute for Transportation and Communities (NITC). The Transportation Research and Education Center (TREC) at Portland State University is home to the National Institute for Transportation and Communities (NITC), the Initiative for Bicycle and Pedestrian Innovation (IBPI), and other transportation programs. TREC produces research and tools for transportation decision makers, develops K-12 curriculum to expand the diversity and capacity of the workforce, and engages students and young professionals through education.