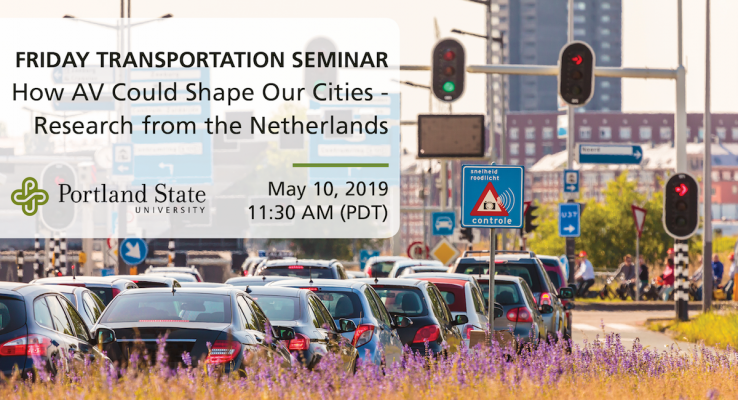 DATE:
Friday, May 10, 2019,

11:30am

to

12:30pm

PDT
SPEAKERS:
Dr. Gonçalo Correia, TU Delft University
LOCATION:
Karl Miller Center at PSU, 615 SW Harrison St., Room 465
Friday Transportation Seminars at Portland State University have been a tradition since 2000. With the start of 2019, we're changing it up a bit! The seminar will be delivered 11:30 am (sharp) - 12:30 pm, with additional discussion over coffee and donuts from 12:30 to 1:00 pm. You can also watch online.
This week's seminar is part of a larger celebration of research at Portland State University: Research Week (May 3 - 10, 2019). This week-long series of events is intended to honor and call attention to the exceptional research, including scholarship and creativity, of Portland State University faculty members and students.
PRESENTATION ARCHIVE
Miss the seminar or want a look back?
THE TOPIC
Automated driving has become a hot topic of research in different fields of science. Despite the great advancements in the vehicle technology itself, researchers are now concerned in figuring out what will be the impacts of these vehicles in life as we know it. These impacts can be rather broad from traffic safety to the economy. In this lecture, Goncalo will focus on the research that is being done at TU Delft, a leading university in automated vehicles' (AVs) impacts research, focusing on urban areas and how mobility, and even the city itself, can change with fully-automated vehicles. Goncalo Correia will be covering impacts on the value of travel time, traffic congestion, land use, among others. This is work in progress that requires the involvement of all researchers interested in the topic, thus, in that sense, the lecture is intended more to foster research questions and methods than on giving final answers, which are still a bit far away.
Kelly Clifton and Chris Monsere of the Maseeh College of Engineering and Computer Science will lead a discussion with Goncalo about various aspects of AVs and their impacts on the future transportation.
KEY LEARNING TAKEAWAYS
Highlight the impacts of automated vehicles on traffic congestion, travel time, and land use.
Learn what questions are being asked by researchers and how those results can inform practice.
Understand how to critically asses automated vehicles in urban areas.
SPEAKERS
Dr. Gonçalo Correia, Assistant Professor in Civil Engineering and Geosciences, TU Delft University
Gonçalo H. A. Correia is an assistant professor in multi-modal urban transport networks at the Department of Transport & Planning, TU Delft. His research focuses on transport demand management through the study of integrated transportation, intelligent transport systems, travel behavior change and land use interactions. He uses mainly optimization, simulation, and theory of utility maximization for analyzing, testing and forecasting transport networks supply and demand. He is currently working on unraveling the future with automated vehicles, especially on urbanized regions. He has published 40 research papers in top scientific journals and he is part of the editorial board of several transportation science journals including transportation research part C: emerging technologies and transportation research Part E: logistics and transportation review. He is currently an associate editor of the IEEE Intelligent Transportation Systems Magazine. He has taught 13 courses on transport planning and operations research in Portugal and in the Netherlands and supervised more than 30 master thesis in transportation modeling. He advises several companies and institutions on the future of mobility and he is an international speaker on the impacts of mobility innovations.
Dr. Kelly Clifton, Associate Dean Of Research, Professor Of Civil And Environmental Engineering, Portland State University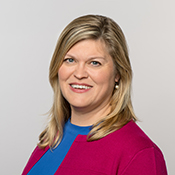 Dr. Clifton is a professor in the Department of Civil and Environmental Engineering at Portland State University. She holds an affiliate appointment in the Urban Studies and Planning Program and is a fellow in the Institute for Sustainable Solutions. Her research, teaching and service activities are focused on transportation and how human mobility is shaped by needs, activity demand, urban context, and technology. She is an internationally recognized expert on transport and land use interactions, travel behavior, pedestrian modeling, and equity in transportation policy. She bridges the fields of transportation engineering and planning and is known for qualitative and quantitative methodological research methods.
She is serving as an Hans Fischer Senior Fellow at the Institute for Advanced Studies at the Technical University of Munich until 2020, where she is working in the Modeling Spatial Mobility lab to incorporate pedestrian modeling into land use-transport interaction models and health impact assessments. She has presented in over 150 academic and professional conferences and has over 50 publications in peer-reviewed journals. Dr. Clifton has a PhD in Community and Regional Planning from the University of Texas at Austin, MS in Planning from the University of Arizona, and BS in Mechanical Engineering from West Virginia University.
Dr. Chris Monsere, Department Chair & Associate Professor, Civil and Environmental Engineering, Portland State University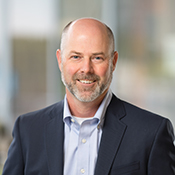 Dr. Christopher M. Monsere is Professor and Chair of Civil and Environmental Engineering in the in the Maseeh College of Engineering & Computer Science at Portland State University. He is also an affiliated faculty member of the School of Urban Studies & Planning (USP). Monsere received his BSCE from the University of Detroit Mercy (Detroit, Michigan) in 1995; his MSCE with an emphasis in transportation from Iowa State University (Ames, Iowa) in 1997; and his Ph.D. in civil engineering at Iowa State University in 2001. Dr. Monsere's current research agenda broadly covers the area of multimodal transportation safety; management and dissemination of large transportation datasets.
PROFESSIONAL DEVELOPMENT
This 60-minute seminar is eligible for 1 hour of professional development credit for AICP (see our provider summary). We provide an electronic attendance certificate for other types of certification maintenance.
LEARN MORE
Sign up for our newsletter to receive monthly updates.
Gonçalo Correia is a visiting scholar, brought to Portland State University with support from the National Institute for Transportation and Communities (NITC). The Transportation Research and Education Center (TREC) at Portland State University is home to the National Institute for Transportation and Communities (NITC), the Initiative for Bicycle and Pedestrian Innovation (IBPI), and other transportation programs. TREC produces research and tools for transportation decision makers, develops K-12 curriculum to expand the diversity and capacity of the workforce, and engages students and young professionals through education.