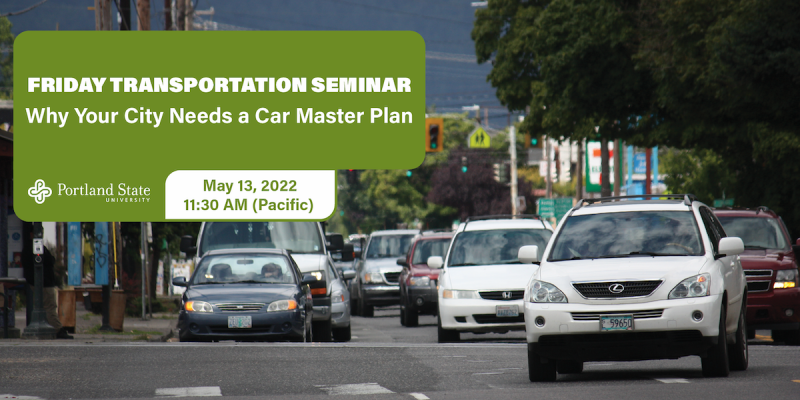 DATE:
Friday, May 13, 2022,

11:30am

to

12:30pm

PDT
SPEAKERS:
Cathy Tuttle, Urban Design & Planning Consultant
Friday Transportation Seminars at Portland State University have been a tradition since 2000. You can join us online at 11:30 AM. All presentations are recorded and shared on the event page afterwards.
PRESENTATION ARCHIVE
THE TOPIC 
In 2022, cars are ubiquitous and completely embedded into America's economy and social fabric. American cities don't make car plans, but all transportation plans – whether they are for people who walk, bike, take transit, run freight or delivery businesses – are all written in response to cars. Transportation planning is all about cars; supporting cars or constraining cars. How did our cities evolve into places where cars dominate, and where can we go from here? To move to a new paradigm, cities need to acknowledge car dominance and focus on cars with the same rigor they do other modal plans – the history of cars in the city, the streets cars dominate, the actual vehicles, the drivers, and our future with cars. In the process of writing a Car Master Plan for Downtown Portland, Cathy Tuttle uncovered remarkable new information about curb space use, asphalt, and the four types of drivers.
KEY LEARNING OUTCOMES
Cars are centered in all transportation planning. This needs to change.
People drive for a variety of reasons. In order to change car use, we need to address the needs of Four Types of Drivers.
We direct massive resources to enable comfortable car use. A Car Master Plan identifies and reorients these resource uses.
SPEAKERS
Cathy Tuttle, Urban Design & Planning Consultant, PhD
PROFESSIONAL DEVELOPMENT
This 60-minute seminar is eligible for 1 hour of professional development credit for AICP (see our provider summary). We can provide an electronic attendance certificate for other types of certification maintenance.
Photo courtesy of Portland Bureau of Transportation
Sign up for our newsletter to receive monthly updates.
The Transportation Research and Education Center (TREC) at Portland State University is home to the National Institute for Transportation and Communities (NITC), the Initiative for Bicycle and Pedestrian Innovation (IBPI), and other transportation programs. TREC produces research and tools for transportation decision makers, develops K-12 curriculum to expand the diversity and capacity of the workforce, and engages students and professionals through education.