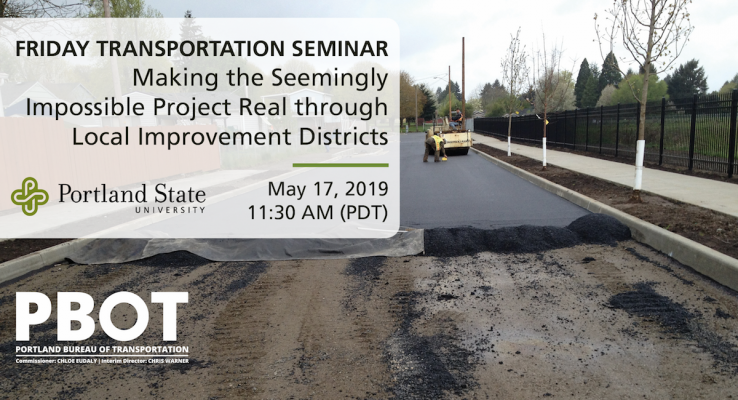 DATE:
Friday, May 17, 2019,

11:30am

to

12:30pm

PDT
SPEAKERS:
Andrew H. Aebi, City of Portland
LOCATION:
Karl Miller Center at PSU, 615 SW Harrison St., Room 465
Friday Transportation Seminars at Portland State University have been a tradition since 2000. With the start of 2019, we're changing it up a bit! The seminar will be delivered 11:30 am (sharp) - 12:30 pm, with additional discussion over coffee and donuts afterwards. You can also watch online. Periodically, we're teaming up with the Portland Bureau of Transportation (PBOT) to bring you special editions—featuring guest speakers from PBOT—merging our seminar series and the long-standing PBOT Lunch & Learn.
SEMINAR UPDATE: We had a change in speakers for May 17th. The  "PBOT Edition: Enhanced Transit Corridors in Portland" seminar will instead be held on July 26 (register here: https://register.gotowebinar.com/register/3744573064539595011) and this May 17th event will instead feature:
PRESENTATION ARCHIVE
Miss the seminar or want a look back?
THE TOPIC (PBOT EDITION)
The planning process identifies community needs but often needs the creative use of financial leverage to make those projects a reality on the ground.  Timing is important on LIDs, and the window of opportunity is often short.
For Portland's Bureau of Transportation, managing the public's desire for streets in good condition with room to walk and bike safely and accommodating freight movement and population growth can be a tall order.  Add in the need to work with water, sewer and underground utilities, and things get complicated.
When needs exceed resources, smart strategies can help fill the gap. Andrew Aebi, Portland's LID Administrator, will discuss four LID projects which will provide better walking and biking options for residents, improve infrastructure, and support smart land use for Portland's growing population.  Most importantly, he will describe how creative problem-solving and careful negotiation can successfully achieve commitments to fund the projects and improve neighborhoods.
KEY LEARNING TAKEAWAYS
Gain insight into discovering diverse needs and leveraging a variety of funding sources to create comprehensive rather than piecemeal solutions
Learn about working with public and private partners to create a package with multiple benefits
Collect ideas for creating consensus among residents, city staff and elected officials to move from problem to plan to an approved project
Property owners can be part of the project solution; make the business case that a project will add value in response to a demonstrated need, and the success rate may surprise you.
SPEAKER
Andrew Aebi, Capital Projects Manager, Portland Bureau of Transportation and City of Portland Local Improvement District (LID) Administrator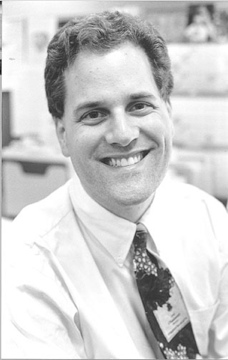 Andrew H. Aebi is the City of Portland's Local Improvement District (LID) Administrator. Mr. Aebi also fulfills a dual role as a senior capital project manager for the Portland Bureau of Transportation. He has administered $160 million in LIDs since 2001 and is currently managing 13 street, sidewalk, and stormwater projects with combined budgets in excess of $54 million, with most funding from LIDs. He has also provided finance leadership on sanitary sewer, water main, traffic signal, utility undergrounding and aerial tram improvements and assists other project managers and elected officials with the use of LID tools. He holds a Bachelor of Arts in Economics from Lewis & Clark College and a Master's in Business Administration with a concentration in finance from the University of Portland. He was formerly was a senior financial analyst for Intel Corporation in Hillsboro and served in multiple capacities for the Tri-County Metropolitan Transportation District of Oregon.
PROFESSIONAL DEVELOPMENT
This 60-minute seminar is eligible for 1 hour of professional development credit for AICP (see our provider summary). We provide an electronic attendance certificate for other types of certification maintenance.
LEARN MORE
Sign up for our newsletter to receive monthly updates.
The City of Portland Bureau of Transportation is a community partner in shaping a livable city. They plan, build, manage and maintain an effective and safe transportation system that provides people and businesses access and mobility. PBOT keeps Portland moving.
 The Transportation Research and Education Center (TREC) at Portland State University is home to the National Institute for Transportation and Communities (NITC), the Initiative for Bicycle and Pedestrian Innovation (IBPI), and other transportation programs. TREC produces research and tools for transportation decision makers, develops K-12 curriculum to expand the diversity and capacity of the workforce, and engages students and young professionals through education.