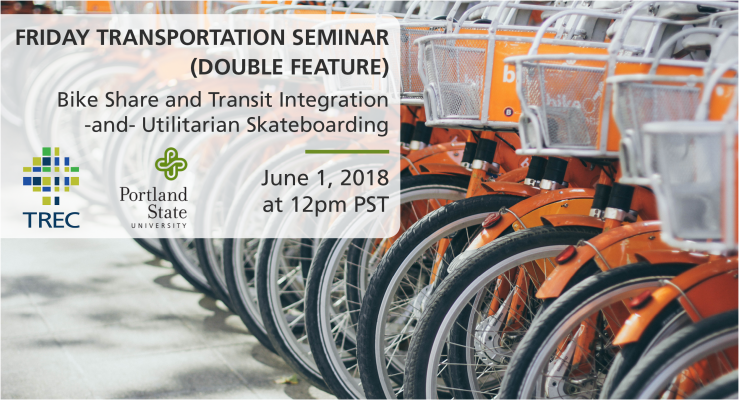 DATE:
Friday, June 1, 2018,

12:00pm

to

1:00pm

PDT
SPEAKERS:
David Soto Padín and Michael Harpool, Portland State University
LOCATION:
Karl Miller Center at PSU, 615 SW Harrison St., Room 465
Friday Transportation Seminars at Portland State University have been a tradition since 2000. With over 450 seminars presented and recorded (access the archive of seminars here), we host both visiting and local scholars to share the latest in research, technology, and implementation in transportation.
EDUCATION LIBRARY ARCHIVE
Missed the seminar or want a look back?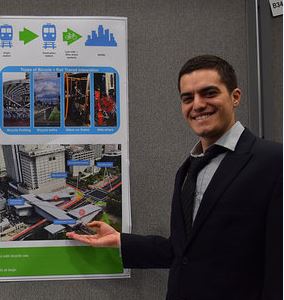 David Soto Padín
Graduate Research Assistant at Portland State University, and President of the Students in Transportation Engineering & Planning (ITE-STEP
David Soto Padín is pursuing a Masters of Science in Civil Engineering at Portland State University. David was awarded the Dwight D. Eisenhower Transportation Fellowship to pursue research regarding the synergies between bike share and transit. In addition to working as a researcher, David served as President of the Students in Transportation Engineering and Planning (ITE-STEP), Portland State University's ITE Student Chapter. On weekends and breaks, David enjoys exploring nature reserves, hiking trails and bicycling off-road paths as well as traveling to cities and new places. He is passionate about photographing architecture and transportation systems.
Examining the Effects of Bike Share and Rail Transit Integration in the United States
Modern bike sharing is present in almost every major city in the United States and has become an essential application in the toolkit for promoting active transportation. Bike share provides an additional number of benefits when considered in the context of public transportation services including expanded station catchment areas and flexibility during rail transit service interruptions. This project, the first of its kind to aggregate data from multiple cities, attempts to analyze how rail station boardings affect and are influenced by bike share trips at bike share docks near rail transit stations, after controlling for other socioeconomic and built environment variables.
-----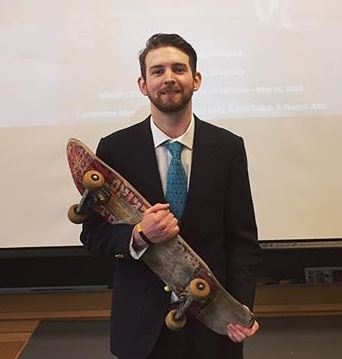 Michael Harpool
Graduate Research Assistant, Transportation Research and Education Center (TREC) at PSU
Michael Harpool received his BA in Geography at Keene State College in southern New Hampshire. Through his experiences and studies he developed a passion for active transportation research which brought him to the Master of Urban Studies program at Portland State University. As a Graduate Research Assistant at TREC he has worked on various research projects topically focused on sustainable transportation issues. Through his thesis research on utilitarian skateboarding, Michael hopes to advocate for more inclusive transportation networks which accommodate the needs and desires of diverse users.
Utilitarian Skateboarding: Insight Into an Emergent Mode of Mobility
In recent years research and planning efforts to enhance the conditions and opportunities for active transportation modes have increased significantly; however, these efforts have primarily focused on pedestrians and bicyclists. Skateboarding and other resourceful modes of transportation remain an untapped potential for healthy and sustainable travel. This research focuses on the motivations and barriers behind utilitarian skateboarding to provide a better understanding of the needs and desires of those who choose to travel by skateboard.
PROFESSIONAL DEVELOPMENT
This 60-minute seminar is eligible for 1 hour of professional development credit for AICP (see our provider summary). We provide an electronic attendance certificate for other types of certification maintenance.
LEARN MORE
Sign up for our newsletter and check the box for "Events" to receive monthly updates.