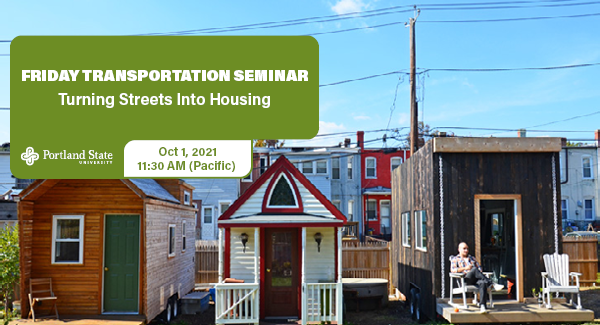 DATE:
Friday, October 1, 2021,

11:30am

to

12:30pm

PDT
COST:
Free and open to the public
PRESENTATION ARCHIVE
THE TOPIC
Wide residential streets in US cities are both a contributor to homelessness and a potential strategy to provide more affordable housing. In residential neighborhoods, subdivision ordinances typically set binding standards for street width, far in excess of what is economically optimal or what private developers and residents would likely prefer. These street width standards are one contributor to high housing costs and supply restrictions, which exacerbate the housing affordability crisis in high-cost cities.
Cities can certainly reduce street widths in new development. But what about existing neighborhoods? Dr. Adam Millard-Ball proposes two strategies through which excess street space can accommodate housing in a formalized way. First, cities could cede part of the street right-of-way to adjacent property owners, either as part of new development or as a means to create space for front-yard accessory dwelling units. Second, cities could permit camper van parking or tiny houses on the right-of-way, analogous to liveaboard canal boats that provide housing options in some UK cities. Many people already live on the streets; and rather than evicting unhoused people from that land, cities might think about how municipal reforms can turn streets into safe and affordable housing.
KEY LEARNING OUTCOMES
How wide are street rights-of-way in the US, and what is the value of the land under the street?
How to conceptualize the tradeoffs between land for streets and land for housing and other urban uses
How to turn streets into housing
SPEAKERS
Adam Millard-Ball, Luskin School of Public Affairs, University of California, Los Angeles
PROFESSIONAL DEVELOPMENT
This 60-minute seminar is eligible for 1 hour of professional development credit for AICP (see our provider summary). We can provide an electronic attendance certificate for other types of certification maintenance.
LEARN MORE
Photo by Inhabitat/Flickr
Sign up for our newsletter to receive monthly updates.
The Transportation Research and Education Center (TREC) at Portland State University is home to the National Institute for Transportation and Communities (NITC), the Initiative for Bicycle and Pedestrian Innovation (IBPI), and other transportation programs. TREC produces research and tools for transportation decision makers, develops K-12 curriculum to expand the diversity and capacity of the workforce, and engages students and professionals through education.