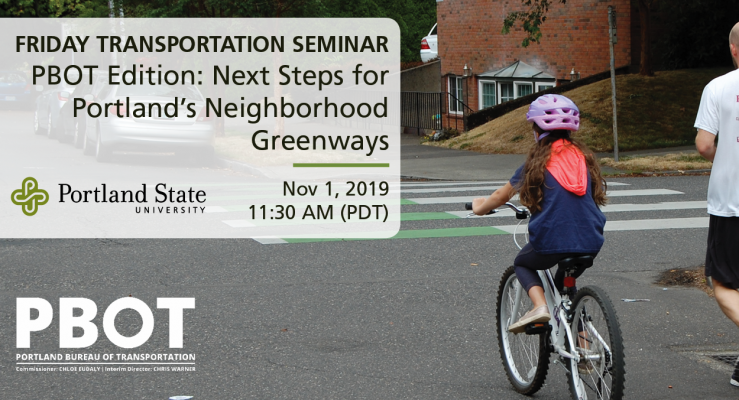 DATE:
Friday, November 1, 2019,

11:30am

to

12:30pm

PDT
SPEAKERS:
Scott Cohen, Portland Bureau of Transportation
LOCATION:
Fariborz Maseeh Hall (FMH), room B128, 1855 SW Broadway
Friday Transportation Seminars at Portland State University have been a tradition since 2000. With the start of 2019, we're changing it up a bit! The seminar will be delivered 11:30 am (sharp) - 12:30 pm, with additional discussion over coffee and donuts afterwards. You can also watch online.
Periodically, we're teaming up with the Portland Bureau of Transportation (PBOT) to bring you special editions—featuring guest speakers from PBOT—merging our seminar series and the long-standing PBOT Lunch & Learn.
PRESENTATION ARCHIVE
Miss the seminar or want a look back?
THE TOPIC (PBOT EDITION)
Portland's neighborhood greenways are a key component of the city's transportation system and future. Join PBOT's new neighborhood greenway coordinator to learn how this facility type developed, near-term plans for improvements, and what the future holds for these unique bikeways.
KEY LEARNING TAKEAWAYS
Participants will gain a better understanding of: 
The history of Portland's neighborhood greenways
PBOT's evaluation process for the neighborhood greenway system
Where the system is thriving and where PBOT sees deficiencies
How PBOT plans to address the system's development over the next three to five years
SPEAKER
Scott Cohen, Neighborhood Greenways and Bikeway Missing Links Coordinator, PBOT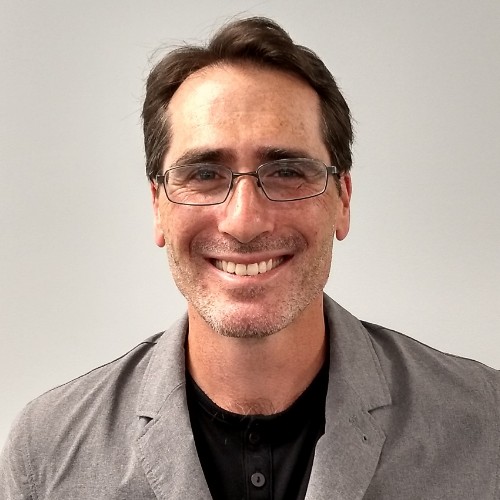 Scott Cohen is the City of Portland Bureau of Transportation's (PBOT) neighborhood greenway coordinator, managing how the city's 90-plus mile system operates and develops. Scott recently transitioned from capital project management to his new role. During his 12 years at PBOT, Scott has worked on a wide variety of active transportation programs including transportation and parking demand management initiatives and the Central City in Motion effort.
PROFESSIONAL DEVELOPMENT
This 60-minute seminar is eligible for 1 hour of professional development credit for AICP (see our provider summary). We provide an electronic attendance certificate for other types of certification maintenance.
LEARN MORE
Sign up for our newsletter to receive monthly updates.
Photo Credit: Cait McCusker, Portland State University
The City of Portland Bureau of Transportation is a community partner in shaping a livable city. They plan, build, manage and maintain an effective and safe transportation system that provides people and businesses access and mobility. PBOT keeps Portland moving.
 The Transportation Research and Education Center (TREC) at Portland State University is home to the National Institute for Transportation and Communities (NITC), the Initiative for Bicycle and Pedestrian Innovation (IBPI), and other transportation programs. TREC produces research and tools for transportation decision makers, develops K-12 curriculum to expand the diversity and capacity of the workforce, and engages students and professionals through education.