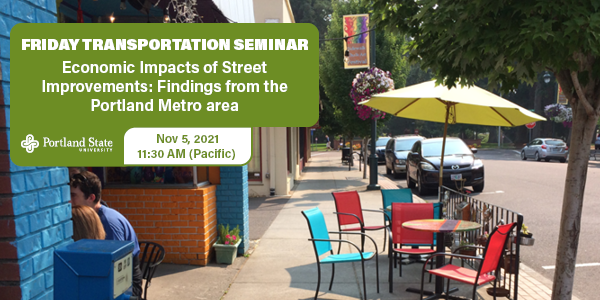 DATE:
Friday, November 5, 2021,

11:30am

to

12:30pm

PDT
SPEAKERS:
Jennifer Dill and Jenny Liu, PSU
COST:
Free and open to the public
Friday Transportation Seminars at Portland State University have been a tradition since 2000. You can join us online at 11:30 AM.
PRESENTATION ARCHIVE
THE TOPIC
The Active Transportation Return on Investment (ATROI) study aimed to provide a quantitative and qualitative assessment of the economic benefits of active transportation infrastructure in the Portland, OR region. The study was funded by Portland Metro and conducted by researchers at PSU and Metro.
This seminar will focus on one part of the study--a quantitative assessment of the economic impacts of 12 "catalyst" projects. These projects retrofitted busy commercial streets with pedestrian friendly treatments aimed at catalyzing economic development. The projects were in Beaverton, Cornelius, Forest Grove, Gresham, Milwaukie, Oregon City, Portland, and Tigard. The analysis estimated effects on employment, wages, and sales in the retail and food sectors.
Overall, we found positive effects for the retail and/or food sectors in nine of the 12 study areas. There were positive effects for projects located in different parts of the region, not just in more urban parts of the city of Portland. In addition to presenting the findings, this seminar will review the multiple methods and data sources used in the analysis.
KEY LEARNING OUTCOMES
An overview of methods and data that can be used to assess the effects of street improvements on local business economic activity
Understand whether pedestrian and bicycle street improvements can increase economic activity related to retail and food businesses, based on data from the Portland, OR region
Learn about how the contexts of street improvements may affect economic outcomes
SPEAKERS
Jennifer Dill, Portland State University
Jenny Liu, Portland State University
PROFESSIONAL DEVELOPMENT
This 60-minute seminar is eligible for 1 hour of professional development credit for AICP (see our provider summary). We can provide an electronic attendance certificate for other types of certification maintenance.
LEARN MORE
Sign up for our newsletter to receive monthly updates.
Photo courtesy of Oregon Metro
The Transportation Research and Education Center (TREC) at Portland State University is home to the National Institute for Transportation and Communities (NITC), the Initiative for Bicycle and Pedestrian Innovation (IBPI), and other transportation programs. TREC produces research and tools for transportation decision makers, develops K-12 curriculum to expand the diversity and capacity of the workforce, and engages students and professionals through education.