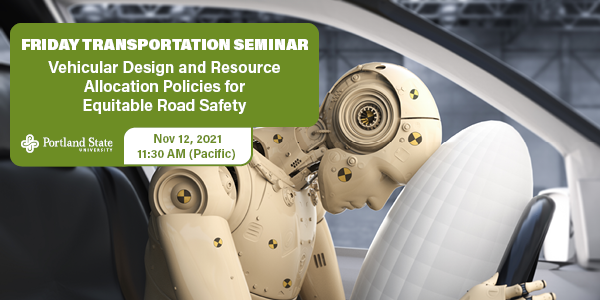 DATE:
Friday, November 12, 2021,

11:30am

to

12:30pm

PST
SPEAKERS:
Alyssa Ryan, University of Arizona
COST:
Free and open to the public
Friday Transportation Seminars at Portland State University have been a tradition since 2000. You can join us online at 11:30 AM. 
PRESENTATION ARCHIVE
THE TOPIC
The diversity of road users is not equitably accounted for in vehicular and infrastructure design and funding allocation policies, among other areas that impact mobility. This impedes the ability for all road users to experience the same level of safety while traveling. Moving towards equitable road safety for all road users is critical to improve the quality of life and save lives of those that are most underserved in the transportation sector.
Professor Alyssa Ryan discusses two strategies to increase safety for vulnerable road users. First, a study on road injury differences between drivers of different biological sex is presented. This research highlights the crash conditions and vehicle components that lead to different injury outcomes for female and male drivers, emphasizing the importance of including both representative female and male anthropometry in vehicle testing and design. Next, a research study that explores the factors that impede the ability of municipalities to efficiently and equitably distribute highway funding to improve local road safety is presented. Given the diversity of needs of varying municipalities, this research presents that population characteristics and environmental characteristics lead to different levels of resource need to achieve the same level of safety as their counterparts.
KEY LEARNING OUTCOMES
Understand the policies and disparities that exist in the current vehicular testing procedures in the United States and throughout the globe.
Understand the differences in injuries experienced by female and male drivers in comparable crash conditions and potential cause of those injury outcomes.
Discover the different needs that various communities and local highway departments require to achieve higher levels of safety on their local roads.
SPEAKERS
Alyssa Ryan, Assistant Professor, Department of Civil & Architectural Engineering & Mechanics, University of Arizona
PROFESSIONAL DEVELOPMENT
This 60-minute seminar is eligible for 1 hour of professional development credit for AICP (see our provider summary). We can provide an electronic attendance certificate for other types of certification maintenance.
LEARN MORE
Photo by PhonlamaiPhoto/iStock
Sign up for our newsletter to receive monthly updates.
The Transportation Research and Education Center (TREC) at Portland State University is home to the National Institute for Transportation and Communities (NITC), the Initiative for Bicycle and Pedestrian Innovation (IBPI), and other transportation programs. TREC produces research and tools for transportation decision makers, develops K-12 curriculum to expand the diversity and capacity of the workforce, and engages students and professionals through education.