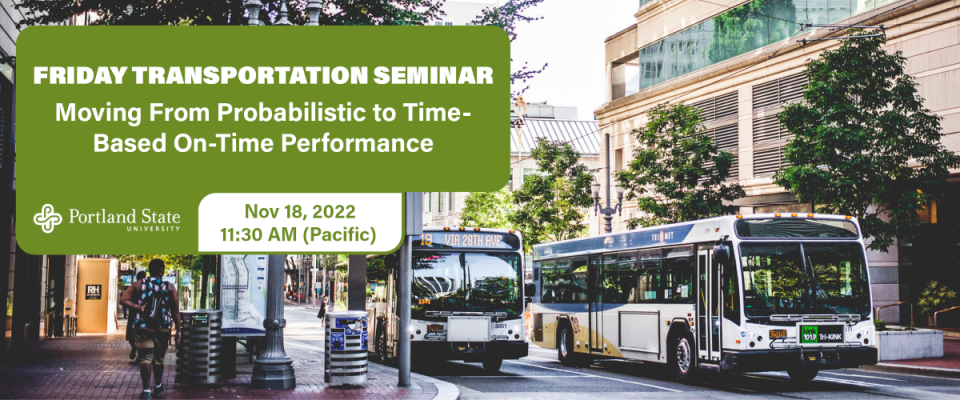 DATE:
Friday, November 18, 2022,

11:30am

to

12:30pm

PST
COST:
Free and open to the public
LOCATION:
ONLINE and IN-PERSON: PSU's Vanport Building (Room 269) 1810 SW 5th Ave Portland, OR 97201
Friday Transportation Seminars at Portland State University have been a tradition since 2000. You can join us online or in-person at 11:30 AM. All presentations are recorded and shared on the event page afterwards.
PRESENTATION ARCHIVE
THE TOPIC 
On-Time Performance (OTP) is a probabilistic measure that tells the customer the likelihood that the trip they are about to take will arrive "on-time." However, this metric forces the customer to think in terms of a probability of trip timeliness and not an actual time value for how timely the trip will be. This presentation will explore a new way to examine on-time performance by quantifying the timeliness of trips. Customers can then use this information to determine which trip would be the best to take based on when they need to arrive at their destination. Using a system science approach, this new method will take into consideration the impact of service disruptions, reroutes, service failures, and other factors on the timeliness of route trips. This metric is especially important for customers who are attempting to make connections that hinge on reliable and timely travel times.
KEY LEARNING OUTCOMES
What is on-time performance and how is it measured?
What nuances go into how on-time performance is calculated?
What is a better way to quantify the timeliness of a trip to help customers plan how they would like to get around?
SPEAKER
Miles Crumley, Manager of Service Performance and Analysis, TriMet
PROFESSIONAL DEVELOPMENT
This 60-minute seminar is eligible for 1 hour of professional development credit for AICP (see our provider summary). We can provide an electronic attendance certificate for other types of certification maintenance.
Photo courtesy of TriMet
Portland State University's Transportation Research and Education Center (TREC) is home to the U.S. DOT funded National Institute for Transportation and Communities (NITC), the Initiative for Bicycle and Pedestrian Innovation (IBPI), PORTAL, BikePed Portal and other transportation grants and programs. We produce impactful research and tools for transportation decision makers, expand the diversity and capacity of the workforce, and engage students and professionals through education and participation in research.