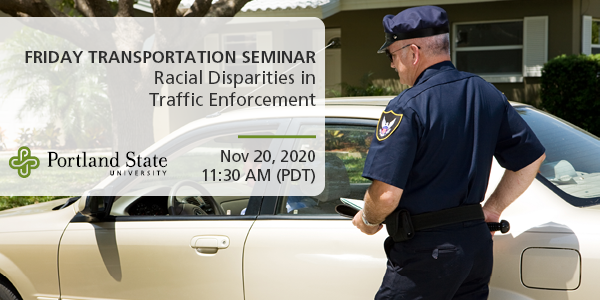 DATE:
Friday, November 20, 2020,

11:30am

to

12:30pm

PST
SPEAKERS:
Mike Dolan Fliss, UNC-CH Injury Prevention Research Center
We are committed to making decisions that promote the success and well-being of our campus community. Like an increasing number of universities nationwide, Portland State is taking steps to respond to the global pandemic. Until further notice, all live events hosted by TREC will be online only.
Friday Transportation Seminars at Portland State University have been a tradition since 2000. You can join us online at 11:30 AM.
PRESENTATION ARCHIVE
THE TOPIC
Law enforcement traffic stops are one of the most common entryways to the US justice system, with significant downstream impacts for both individuals and communities. Group-specific rates are typically based on jurisdiction resident populations; these rates, like many justice-system indicators, demonstrate race-ethnicity disparities. Residential-based rates implicitly assume race-ethnicity groups have equal vehicle access, equal driving volume, and that all driving occurs in resident's jurisdictions. In contrast, surveys suggest Black non-Hispanic and Hispanic households have less access and drive less than white non-Hispanic households. Models incorporating US Census data and race-ethnicity driving factors from the 2017 National Household Travel Survey showed increased disparities for Black non-Hispanic drivers; all models suggested both groups experience disparate traffic stop rates compared to white non-Hispanic drivers.
A police department in Fayetteville, NC attempted to reduce these disparities by focusing on safety-related traffic stops; intervention results will be shared. The Public Health Critical Race Praxis (PHRCP) guided framing, results interpretation, and self-evaluation of study aims. Traffic stops have associated public health outcomes and create disparities of relevance for public health researchers. Interventions guided by critical public health frameworks can save lives and reduce disparities.
KEY LEARNING OUTCOMES
Understand fundamentals of traffic stop related disparities
Learn about the Public Health Critical Race Praxis framework and applications
Think critically about public health interventions intersecting criminal justice systems
SPEAKER
Mike Dolan Fliss, Research Scientist, University of North Carolina Injury Prevention Research Center
PROFESSIONAL DEVELOPMENT
This 60-minute seminar is eligible for 1 hour of professional development credit for AICP (see our provider summary). We provide an electronic attendance certificate for other types of certification maintenance.
LEARN MORE
Photo bylisafx /iStock
Sign up for our newsletter to receive monthly updates.
The Transportation Research and Education Center (TREC) at Portland State University is home to the National Institute for Transportation and Communities (NITC), the Initiative for Bicycle and Pedestrian Innovation (IBPI), and other transportation programs. TREC produces research and tools for transportation decision makers, develops K-12 curriculum to expand the diversity and capacity of the workforce, and engages students and professionals through education.