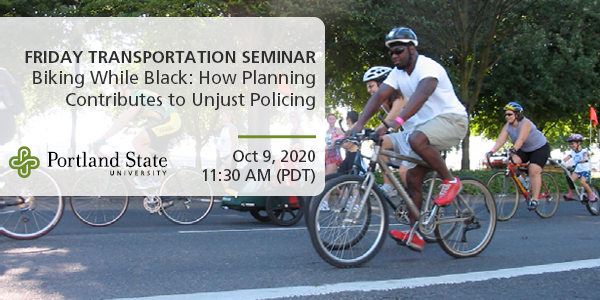 DATE:
Friday, October 9, 2020,

11:30am

to

12:30pm

PDT
In response to the global pandemic, in person activities are restricted on the PSU campus. Until further notice, all live events hosted by TREC will be online only.
Friday Transportation Seminars at Portland State University have been a tradition since 2000. You can join us online at 11:30 AM. 
PRESENTATION ARCHIVE
THE TOPIC
Neighborhoods of color tend to be the most dangerous places for cyclists and other road users, a result in part of historic disinvestment and failure to provide basic infrastructure. Safety efforts to reduce crashes, like Vision Zero, have called for both increased investment, a qualified benefit for disenfranchised communities, and increased traffic enforcement, a response that is likely to place people of color in even greater harm based on extensively documented police injustice.
For more about the problems of policy and planning around 'bicycling while black,' check out a Sept 9, 2020 blog post by Jesus Barajas.
To what extent, then, do poor cycling conditions and inadequate infrastructure contribute to disparities in policing in Black and Brown neighborhoods? Using data obtained from the Chicago Police Department, I will present findings that show how street characteristics, cycling infrastructure, and neighborhood characteristics are associated with the number of citations issued for riding a bicycle on the sidewalk over the previous five years. I find evidence that fewer tickets are issued on lower-volume streets and on streets where bike facilities are provided. While the provision of bike lanes and paths do not eliminate racial disparities in policing, they do contribute to more comfortable cycling conditions and lower odds of getting a citation. I will end with a discussion how the findings inform planning and policy.
KEY LEARNING OUTCOMES
Participants will learn about the role of policing in bicycle safety planning in the U.S. and the issues associated with it.
Participants will learn how bicycle citations are distributed by neighborhood in Chicago.
Participants will understand how inadequate transportation infrastructure contributes to inequitable policing for cyclists.
SPEAKER
Jesus Barajas, Assistant Professor of Environmental Science and Policy, UC Davis 
PROFESSIONAL DEVELOPMENT
This 60-minute seminar is eligible for 1 hour of professional development credit for AICP (see our provider summary). We provide an electronic attendance certificate for other types of certification maintenance.
LEARN MORE
Sign up for our newsletter to receive monthly updates.
The Transportation Research and Education Center (TREC) at Portland State University is home to the National Institute for Transportation and Communities (NITC), the Initiative for Bicycle and Pedestrian Innovation (IBPI), and other transportation programs. TREC produces research and tools for transportation decision makers, develops K-12 curriculum to expand the diversity and capacity of the workforce, and engages students and professionals through education.