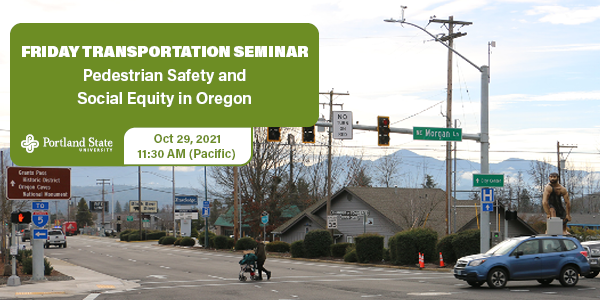 DATE:
Friday, October 29, 2021,

11:30am

to

12:30pm

PDT
SPEAKERS:
Josh Roll, ODOT; Nathan McNeil, PSU
COST:
Free and open to the public
Friday Transportation Seminars at Portland State University have been a tradition since 2000. You can join us online at 11:30 AM.
PRESENTATION ARCHIVE
THE TOPIC
Past research and planning has highlighted the existence of pedestrian injury disparities throughout the US and some local agencies have performed cursory analysis in Oregon. However, no statewide analysis of pedestrian injuries in Oregon has been completed to see how these injury outcomes differ by race and income.
This presentation aims to help better understand the factors that result in disparate pedestrian injury outcomes for different sociodemographic groups. This research uses data from a variety of sources to understand pedestrian injuries by social equity measures including income, poverty, race, ethnicity, disability and English proficiency. The authors conclude that Black, Indigenous and People of Color (BIPOC) experience a higher rate of pedestrian injury compared to the statewide average. 
This research also documents pedestrian injuries at the Census tract level and measures factors that influence pedestrian injury risk. Sociodemographic risk factors associated with pedestrian injury risk include race, income, disability, and limited English proficiency. Traffic exposure and built environmental factors were also influential in predicting where pedestrian injuries occur at the tract level. Download the recent research from the Oregon DOT here.
KEY LEARNING OUTCOMES
Presentation participants will better understand the magnitude of pedestrian injury disparities in Oregon.
Presentation participants will better understand the traffic exposure and built environmental factors that drive these disparate outcomes.
Presentation participants will better understand available methods for documenting pedestrian injury disparities by sociodemographic factors.
SPEAKERS
Josh Roll, Research Analyst, Oregon Department of Transportation
Nathan McNeil, Research Associate, Portland State University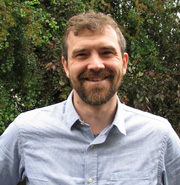 Nathan McNeil is a Research Associate at Portland State University's Center for Urban Studies. He conducts research on impacts of active transportation and transit equity, on new bicycle infrastructure and programs on travel behavior and attitudes towards cycling, on shared-use mobility programs including carsharing and bike-share, and on the connection between land-use and transportation. He was Co-Principal Investigator on recent national studies of bike share equity (Breaking Barrier to Bike Share and National Scan of Bike Share Equity Programs) and of protected bike lane implementations (Lessons from the Green Lanes). Nathan received a master of urban and regional planning from Portland State University (PSU) and studied history at Columbia University as an undergraduate. Prior to PSU, Nathan worked for the Metropolitan Transportation Authority in New York City as a performance auditor where he evaluated capital programs and contractors.
PROFESSIONAL DEVELOPMENT
This 60-minute seminar is eligible for 1 hour of professional development credit for AICP (see our provider summary). We can provide an electronic attendance certificate for other types of certification maintenance.
LEARN MORE
Photo courtesy of Oregon DOT
Sign up for our newsletter to receive monthly updates.
The Transportation Research and Education Center (TREC) at Portland State University is home to the National Institute for Transportation and Communities (NITC), the Initiative for Bicycle and Pedestrian Innovation (IBPI), and other transportation programs. TREC produces research and tools for transportation decision makers, develops K-12 curriculum to expand the diversity and capacity of the workforce, and engages students and professionals through education.