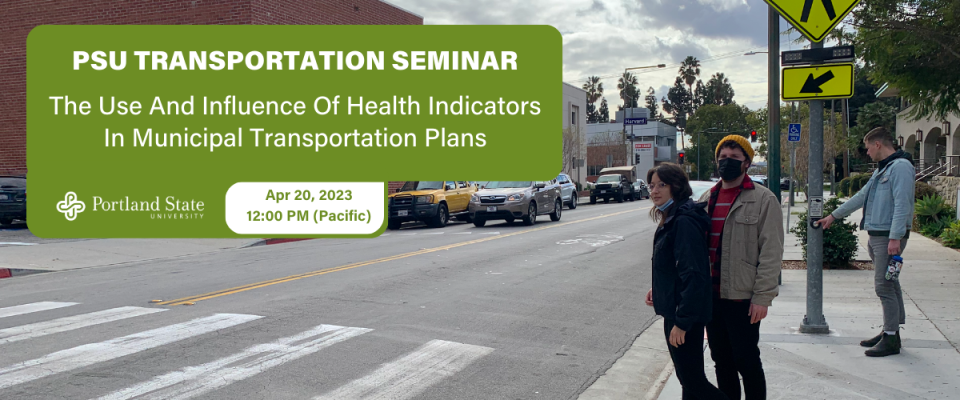 DATE:
Thursday, April 20, 2023,

12:00pm

to

1:00pm

PDT
SPEAKERS:
Kelly Rodgers, Portland State University
COST:
Free and open to the public
LOCATION:
ONLINE and IN-PERSON: Smith Memorial Student Union (SMSU) 1825 SW Broadway, Room 327
Transportation Seminars at Portland State University have been a tradition since 2000. Formerly known as the Friday Transportation Seminar series, we've opened up PSU Transportation Seminars to other days of the week to better accommodate attendance. You can always watch online via Zoom.
PRESENTATION ARCHIVE
THE TOPIC 
As a social determinant of health, transportation significantly contributes to well-being through several pathways. Researchers and practitioners have called for health indicators as one way to integrate public health concerns into transportation decision-making. However, it is unclear how indicators are used and what their impact is on policy. This case study of five cities explored how health-related indicators are being used in municipal transportation plans, whether they are institutionalized into transportation agency decision-making processes, and what influence they have on administrative decision-making. In addition, this research also explored the conceptual use of indicators as it relates to social learning and policy change. Finally, this research examined whether health framing was important to policy adoption or change.
KEY LEARNING OUTCOMES
Learn which indicator characteristics are important for greatest impact, and at what point in the process
Learn which organizational factors are important for institutionalizing indicators into agencies
Learn how indicators are used to successfully shape individual beliefs
Learn whether framing an indicator as a "health" indicator is compelling
SPEAKER
Kelly Rodgers, Portland State University
Kelly Rodgers, MLA, LEED-AP, is a PhD candidate in Urban Studies at Portland State University and the owner/executive director of Streetsmart Planning LLC. Kelly has 18 years of experience working across disciplines to create healthy, equitable, and sustainable cities. Her previous work includes the development of a performance-based transportation planning tool, creation of a pedestrian plan, and the development of a quality of life framework with principles, indicators, and proven strategies. Her current research is on the use and influence of health indicators in transportation plans. Kelly is a member of the Transportation Research Board Committee on Transportation and Public Health (AME70), is the chair of the ITE Transportation and Health Committee, and is co-chair of the Health Equity and Planning Interest Group at the American Planning Association. She also serves on the steering committee of Planning for Health Equity, Advocacy, and Leadership (PHEAL).
PROFESSIONAL DEVELOPMENT
This 60-minute seminar is eligible for 1 hour of professional development credit for AICP (see our provider summary). We can provide an electronic attendance certificate for other types of certification maintenance.
ADD THIS EVENT TO YOUR CALENDAR
Photo by Cait McCusker
Portland State University's Transportation Research and Education Center (TREC) is home to the U.S. DOT funded National Institute for Transportation and Communities (NITC), the Initiative for Bicycle and Pedestrian Innovation (IBPI), PORTAL, BikePed Portal and other transportation grants and programs. We produce impactful research and tools for transportation decision makers, expand the diversity and capacity of the workforce, and engage students and professionals through education and participation in research.