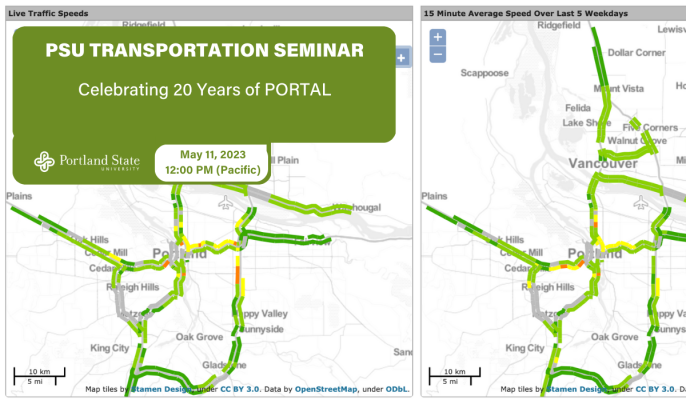 DATE:
Thursday, May 11, 2023,

12:00pm

to

1:00pm

PDT
SPEAKERS:
Basem Elazzabi and Tammy Lee, Portland State University
COST:
Free and open to the public
LOCATION:
ONLINE and IN-PERSON: Smith Memorial Student Union (SMSU) 1825 SW Broadway, Room 327
Transportation Seminars at Portland State University have been a tradition since 2000. Formerly known as the Friday Transportation Seminar series, we've opened up PSU Transportation Seminars to other days of the week to better accommodate attendance. You can always watch online via Zoom.
PRESENTATION ARCHIVE
THE TOPIC 
The Portland Regional Transportation Archive Listing (PORTAL) is a publicly available transportation data lake representing the Portland, OR - Vancouver, WA metropolitan region. It was developed by Portland State University in 2003, in cooperation with the Oregon Department of Transportation (ODOT) and other regional partners. As PORTAL celebrates its twentieth anniversary, join us to learn how PORTAL has evolved from archiving a single source of data from one agency to multiple sources of data from multiple regional agencies.
We will discuss the origin of PORTAL, how it works, how we overcome challenges, and why it is still running after 20 years. We will also discuss BikePed Portal, the national non-motorized transportation data lake. We will have live demonstrations of various PORTAL and BikePed PORTAL dashboards and tools and discuss how transportation decision makers use PORTAL and BikePed Portal for data-driven decision making.
KEY LEARNING OUTCOMES
The key principles of how to build a reliable Data Lake.
The challenges to expect when building a Data Lake and how to overcome them.
Learn about PORTAL and BikePed Portal and how to take advantage of them as a student, a researcher, or a decision maker.
This event is part of Portland State University's annual Research Week, hosted May 8-12, 2023 – Learn more.

SPEAKERS 
Basem Elazzabi, Senior Research Associate, TREC at PSU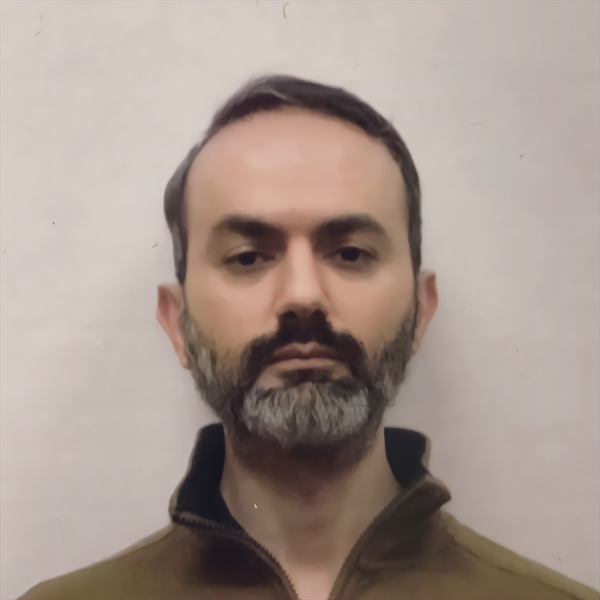 Basem is the head of programming and development for the PORTAL and BikePed Portal projects at TREC. He is responsible for maintaining and developing the database and the infrastructure of both projects. He also does various data analysis and visualization tasks. Basem received a PhD in Computer Science from Portland State University with a focus in database and data analysis. He also received his BS in Computer Science also from Portland State University. He has almost 20 years of experience in system analysis and development. His main interests are database systems, data analysis, distributed systems, and big data. His main research topics focus on how to facilitate data analysis for typical and non-technical data analysts. One of the main research topics that he works on is how to build the next generation data-analysis ecosystem in which institutions (government and private) can easily store their massive data and have easy access to data analysis tools to support and improve data-driven decision making.
Tammy Lee, Transportation Data Program Administrator, TREC at PSU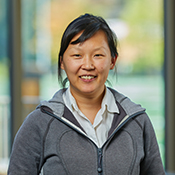 Tammy is working on a variety of projects for TREC, including documentation, data synthesis, analysis, and visualization supporting ongoing work with PORTAL and Bike-Ped Portal. Tammy received a BS in Genetics & Plant Biology from UC Berkeley before earning a PhD in Environmental and Natural Resource Sciences from WSU. Prior to joining TREC she worked as a data scientist for a political digital media consulting firm. When not working she's either hiding in the forest or experimenting in the kitchen.
PROFESSIONAL DEVELOPMENT
This 60-minute seminar is eligible for 1 hour of professional development credit for AICP (see our provider summary). We can provide an electronic attendance certificate for other types of certification maintenance.
Portland State University's Transportation Research and Education Center (TREC) is home to the U.S. DOT funded National Institute for Transportation and Communities (NITC), the Initiative for Bicycle and Pedestrian Innovation (IBPI), PORTAL, BikePed Portal and other transportation grants and programs. We produce impactful research and tools for transportation decision makers, expand the diversity and capacity of the workforce, and engage students and professionals through education and participation in research.