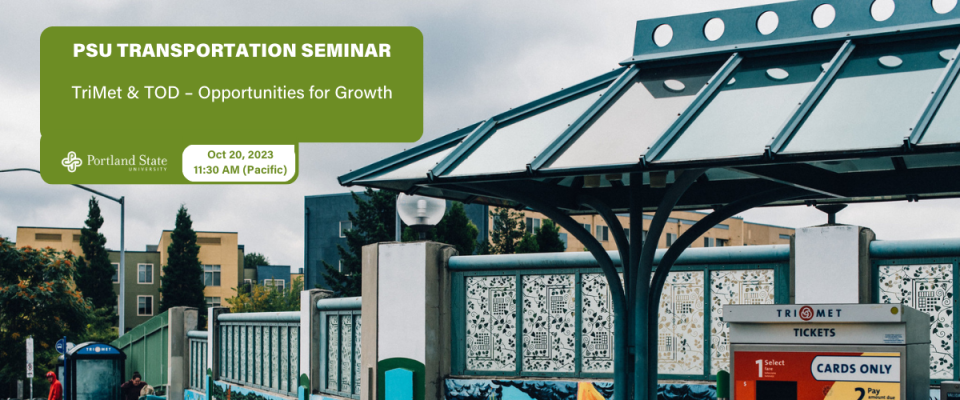 DATE:
Friday, October 20, 2023,

11:30am

to

12:30pm

PDT
SPEAKERS:
Fiona Lyon and Miles Anderson, Trimet
COST:
Free and open to the public
LOCATION:
https://us02web.zoom.us/webinar/register/WN_SWSCW82FRcyN8t68TuViTg
Transportation Seminars at Portland State University have been a tradition since 2000. Formerly known as the Friday Transportation Seminar series, we've opened up PSU Transportation Seminars to other days of the week to better accommodate attendance. You can always watch online via Zoom.
PRESENTATION ARCHIVE
THE TOPIC 
Staff of the Tri-County Metropolitan Transportation District of Oregon (TriMet) will present TriMet's recently published Regional Transit-Oriented Development (TOD) plan, explaining its inception, creation, and delivery.
The team will explain how the plan fits within a hierarchy of regional and sub-regional plans and how it delivers transparency to TriMet's TOD program, enabling all stakeholders to participate. Current TOD project examples will be showcased to demonstrate how partnerships can enhance project outcomes and indicate how stakeholders from various backgrounds can influence projects.
KEY LEARNING OUTCOMES
Understand TriMet's goals for TOD, and how it plans to achieve them
Understand how TriMet prioritizes TOD sites, and how it determines if a project advances
Learn at what levels and how stakeholders can participate in TriMet's TOD program
SPEAKERS
Miles Anderson, Project Coordinator, Space Planning & TOD, TriMet
Fiona Lyon, Transit-Oriented Development Design Manager, TriMet
PROFESSIONAL DEVELOPMENT
This 60-minute seminar is eligible for 1 hour of professional development credit for AICP (see our provider summary). We can provide an electronic attendance certificate for other types of certification maintenance.
ADD TO CALENDAR
Portland State University's Transportation Research and Education Center (TREC) is home to the U.S. DOT funded National Institute for Transportation and Communities (NITC), the Initiative for Bicycle and Pedestrian Innovation (IBPI), PORTAL, BikePed Portal and other transportation grants and programs. We produce impactful research and tools for transportation decision makers, expand the diversity and capacity of the workforce, and engage students and professionals through education and participation in research.