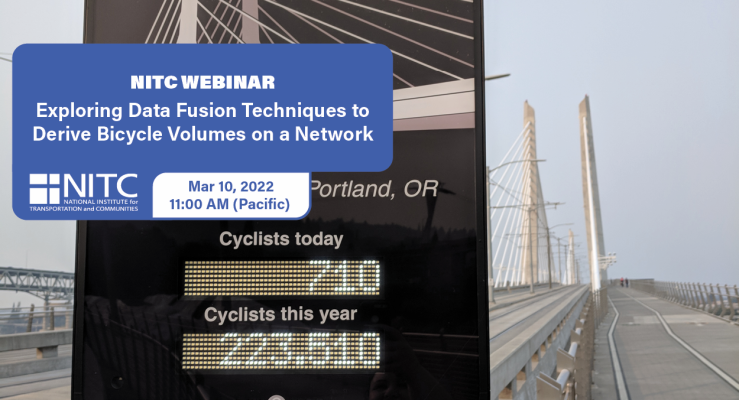 DATE:
Thursday, March 10, 2022,

11:00am

to

12:00pm

PST
SPEAKERS:
Sirisha Kothuri and Joe Broach, PSU; Kate Hyun, UTA
OVERVIEW
Planners and decision makers have increasingly voiced a need for network-wide estimates of bicycling activity. Such volume estimates have for decades informed motorized planning and analysis but have only recently become feasible for non-motorized travel modes. Recently, new sources of bicycling activity data have emerged. These derive primarily from GPS-based smartphone apps (e.g. Strava, Ride Report, Map My Ride) and GPS-enabled public bicycle sharing systems. These emerging data sources have potential advantages as a complement to traditional count data, and have even been proposed as replacements for such data, since they are collected continuously and for larger portions of local bicycle networks. However, the representativeness of these new data sources has been questioned, and their suitability for producing bicycle volume estimates has yet to be rigorously explored. This project develops a method for evaluating and integrating emerging sources of bicycle activity data with conventional demand data and methods, and applies the results to several locations to predict network-wide bicycle volumes.
THE RESEARCH
This webinar is based on a study funded by the National Institute for Transportation and Communities (NITC) and conducted at Portland State University and the University of Texas at Arlington. The project is supported by a pooled fund grant. Matched by NITC, funding partners include Oregon Department of Transportation, Virginia DOT, Colorado DOT, Central Lane MPO, Portland Bureau of Transportation, District DOT, and Utah DOT. Read more about the research: Exploring Data Fusion Techniques to Derive Bicycle Volumes on a Network.
SPEAKERS
Sirisha Kothuri, Portland State University
Joe Broach, Portland State University
Kate Hyun, University of Texas at Arlington
PROFESSIONAL DEVELOPMENT
This 60-minute webinar is eligible for 1 hour of professional development credit for AICP (see our provider summary). We provide an electronic attendance certificate for other types of certification maintenance.
LEARN MORE
Sign up for our newsletter to get updates on our events.
Photo by Lacey Friedly
This webinar is hosted by the Transportation Research and Education Center (TREC) at Portland State University. The research was funded by the Summit Foundation and the National Institute for Transportation and Communities (NITC), a program of TREC and one of five U.S. Department of Transportation national university transportation centers. The NITC program is a Portland State-led partnership with the University of Oregon, Oregon Institute of Technology, University of Utah and new partners University of Arizona and University of Texas at Arlington. We pursue our theme — improving mobility of people and goods to build strong communities — through research, education and technology transfer.