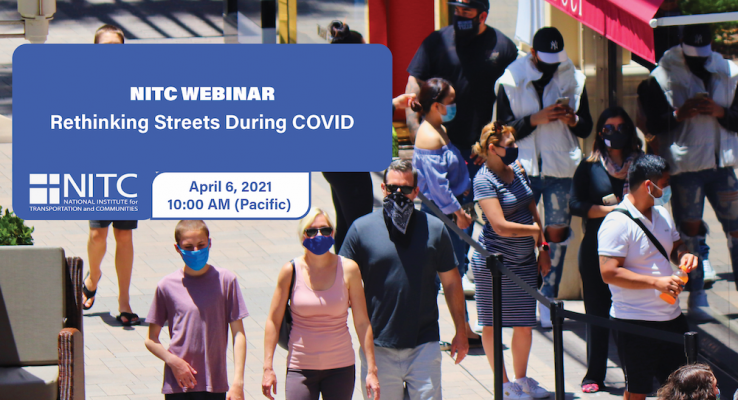 DATE:
Tuesday, April 6, 2021,

10:00am

to

11:00am

PDT
SPEAKERS:
Clare Haley, John Larson-Friend, Marc Schlossberg and Aliza Whalen, University of Oregon
PRESENTATION ARCHIVE
OVERVIEW
Re-allocating space on streets to accommodate new uses – particularly for walking, biking, and being – is not new. However, COVID-era needs have accelerated the process that many communities use to make such street transitions. Many communities quickly understood that the street is actually a public place and a public good that serves broader public needs more urgent than the free flow or the storage of private vehicles. This seminar describes a new case study book that captures some of these quick changes to city streets in response to societal needs during COVID, with two open questions:
what changes will endure post-COVID?; and
will communities be more open to street reconfigurations, including quick and inexpensive trials, going forward?
KEY LEARNING OUTCOMES
To understand the range of street reconfigurations different cities have undertaken during COVID;
To reflect on why the changes happened, happened quickly, and what that means for future local decisions about streets;
To think through the role of the street and how to make this vast public resource more responsive and more flexible to short and long-term societal needs.
THE RESEARCH
This webinar is based on a study funded by the National Institute for Transportation and Communities (NITC) and conducted at the University of Oregon. Read more about the research: Rethinking Streets for Physical Distancing.
SPEAKER
Clare Haley, University of Oregon
John Larson-Friend, University of Oregon
U.S. transit agencies' responses to COVID-19
as part of a NITC scholarship. He is currently the Planning Intern for the City of Cottage Grove, is researching Equity in Shared Mobility with Dr. Anne Brown, and will graduate in June 2021.
Marc Schlossberg, University of Oregon
Aliza Whalen, University of Oregon
PROFESSIONAL DEVELOPMENT
This 60-minute webinar is eligible for 1 hour of professional development credit for AICP (see our provider summary). We provide an electronic attendance certificate for other types of certification maintenance.
LEARN MORE
Photo by RoamingPanda/iStock
Sign up for our newsletter to get updates on our events.
This webinar is hosted by the Transportation Research and Education Center (TREC) at Portland State University. The research was funded by the Summit Foundation and the National Institute for Transportation and Communities (NITC), a program of TREC and one of five U.S. Department of Transportation national university transportation centers. The NITC program is a Portland State-led partnership with the University of Oregon, Oregon Institute of Technology, University of Utah and new partners University of Arizona and University of Texas at Arlington. We pursue our theme — improving mobility of people and goods to build strong communities — through research, education and technology transfer.