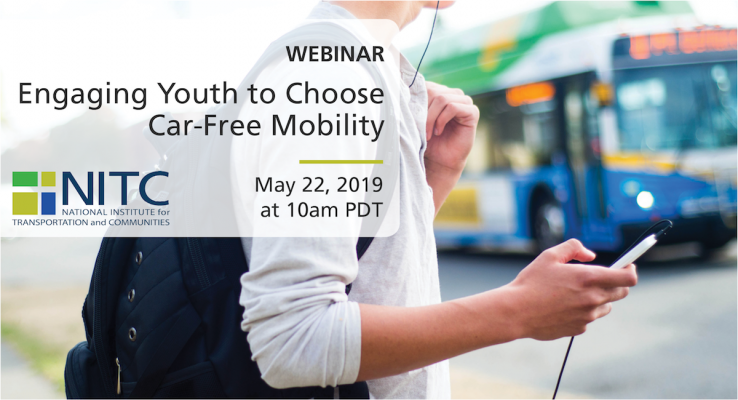 DATE:
Wednesday, May 22, 2019,

10:00am

to

11:00am

PDT
SPEAKERS:
Autumn Shafer, University of Oregon
PRESENTATION ARCHIVE
Miss the webinar or want a look back?
OVERVIEW
Today's youth are tomorrow's riders, bikers, walkers, voters, and transportation planners. As more transit agencies begin to offer free fare passes to public middle and high school students, it is important to have good communication strategy in place to encourage transit usage so they don't miss out on the potential to affect behavior change.
Thus, transit agencies need to develop age-appropriate messaging strategies and tactics that promote youth car-free mobility. 
This webinar will present results from a NITC research project that sought to create and evaluate communication messaging that fosters more positive attitudes, intentions, and behaviors related to transit and other car-free transportation options among Portland youth. While there is no "one size fits all" approach, the Portland-based findings may yield insights that could be adapted for application in other regions.
KEY LEARNING OUTCOMES
Understand the car-free mobility-related attitudes, intentions, and behaviors of teens in the Portland, Oregon metropolitan area;
Identify communication channels and settings that could be most effective with youth in regards to transportation system information and promotion;
Study the data to learn how strategic themes promoting car-free mobility were perceived by Oregon youth.
THE RESEARCH
This webinar is based on a study funded by the National Institute for Transportation and Communities (NITC) and conducted at the University of Oregon. Read more about the NITC research: What Encourages Portland Youth to Choose Car-Free Mobility?
SPEAKERS
Autumn Shafer, University of Oregon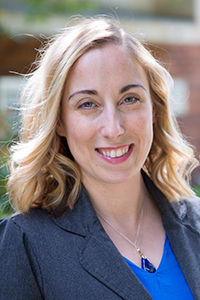 Autumn Shafer is an assistant professor in the University of Oregon's School of Journalism and Communication. Her research seeks to address important social, theoretical, and practical issues related to public health promotion and social issues advocacy. She has a student-centered approach to teaching and seeks to create a collaborative and inclusive classroom environment where students feel both challenged and supported as they learn. Her research has included grant-funded projects examining the effects of entertainment education on teen pregnancy, developing a sexual consent awareness campaign, encouraging parents of children with eating disorders to take care of themselves to prevent caregiver fatigue, and cervical cancer prevention through the promotion of HPV vaccines. Shafer's professional experience includes being a political campaign manager, field director, and legislative aide in Washington state.
PROFESSIONAL DEVELOPMENT
This 60-minute webinar is eligible for 1 hour of professional development credit for AICP (see our provider summary). We provide an electronic attendance certificate for other types of certification maintenance.
LEARN MORE
Sign up for our newsletter to get updates on our events.
This webinar is hosted by the Transportation Research and Education Center (TREC) at Portland State University. The research was funded by the National Institute for Transportation and Communities (NITC), a program of TREC and one of five U.S. Department of Transportation national university transportation centers. The NITC program is a Portland State-led partnership with the University of Oregon, Oregon Institute of Technology, University of Utah and new partners University of Arizona and University of Texas at Arlington. We pursue our theme — improving mobility of people and goods to build strong communities — through research, education and technology transfer.