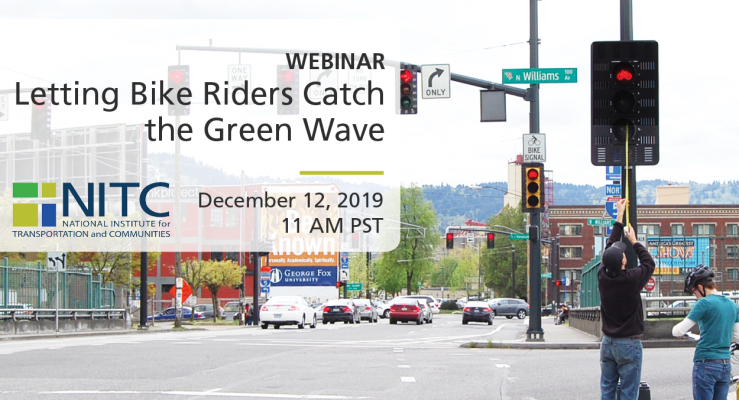 DATE:
Thursday, December 12, 2019,

11:00am

to

12:00pm

PST
SPEAKERS:
Stephen Fickas and Marc Schlossberg, University of Oregon
PRESENTATION ARCHIVE
Miss the webinar or want a look back?
OVERVIEW
The "Fast Track" project at the University of Oregon focuses on a mode of transportation that is sometimes left out of vehicle-to-infrastructure, or V2I, conversations: Bicycling. NITC researchers developed an app based on a new technology being integrated into modern cars: GLOSA, or Green Light Optimized Speed Advisory. GLOSA allows motorists to set their speed along corridors to maximize their chances of catching a "green wave" so they won't have to stop at red lights.
This project demonstrates how GLOSA can be used by bicyclists in the same way it is used by motorists, with a test site on a busy car and bike corridor feeding the University of Oregon campus: 13th Avenue in Eugene, Oregon. Researchers developed a smartphone app that tells a cyclist whether they should adjust their speed to stay in tune with the signals and catch the next green. The project demonstrates how university researchers, city traffic engineers, and signal-controller manufacturers can come together to help bicyclists be active participants in a smart transportation system.
THE RESEARCH
This webinar is based on a study funded by the National Institute for Transportation and Communities (NITC) and conducted at the University of Oregon. Read more about the NITC research: Riding the Green Wave: Researchers Test "Green Light Optimized Speed" App for Bicyclists.
SPEAKERS
Stephen Fickas, University of Oregon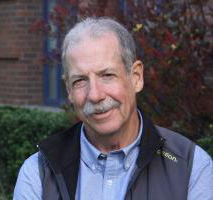 Dr. Stephen Fickas is a professor in the department of Computer and Information Science at the University of Oregon. Fickas received a B.S. degree from Oregon State University in Math, an M.S. degree in Computer Science from the University of Massachusetts, and a Ph.D. degree from the University of California at Irvine in 1983. From 1978 to 1983, Fickas worked at USC Information Sciences Institute in Marina del Rey, California. In 1983, Fickas joined the faculty at U of Oregon. In 1988 he was awarded a Distinguished Visiting Researcher position at Cambridge University. In 1991 he was selected as a Fulbright Research Scholar to the Hungarian Academy of Science. He was promoted to Full Professor in 1996. Professor Fickas has a general interest in software engineering. His recent focus has been on how software engineering concepts can be applied to non-tech domains, e.g., education, the humanities, and urban planning.
Marc Schlossberg, University of Oregon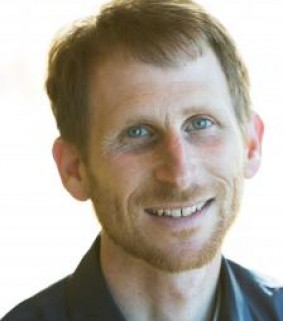 Dr. Marc Schlossberg is a professor of city & regional planning and co-director of the Sustainable Cities Initiative (SCI) at the University of Oregon. He works on the interconnected and interdisciplinary issues around sustainable cities, with particular focus on active transportation, urban design, public health, participatory mapping, and social change. Schlossberg's applied research focuses on redesignining cities so that more people can walk and bike more of the time. This work has ranged from bottom-up, participatory GIS planning to more standard analysis of urban form and transportation. He was a Distinguished Fulbright Scholar to the United Kingdom in 2009-10, and a Senior Fulbright Scholar in Israel in 2015-16. He is a member of the NITC executive committee and is the faculty advisor for LiveMove, the University of Oregon's transportation and livability student group.
PROFESSIONAL DEVELOPMENT
This 60-minute webinar is eligible for 1 hour of professional development credit for AICP (see our provider summary). We provide an electronic attendance certificate for other types of certification maintenance.
LEARN MORE
Sign up for our newsletter to get updates on our events.
This webinar is hosted by the Transportation Research and Education Center (TREC) at Portland State University. The research was funded by the National Institute for Transportation and Communities (NITC), a program of TREC and one of five U.S. Department of Transportation national university transportation centers. The NITC program is a Portland State-led partnership with the University of Oregon, Oregon Institute of Technology, University of Utah and new partners University of Arizona and University of Texas at Arlington. We pursue our theme — improving mobility of people and goods to build strong communities — through research, education and technology transfer.