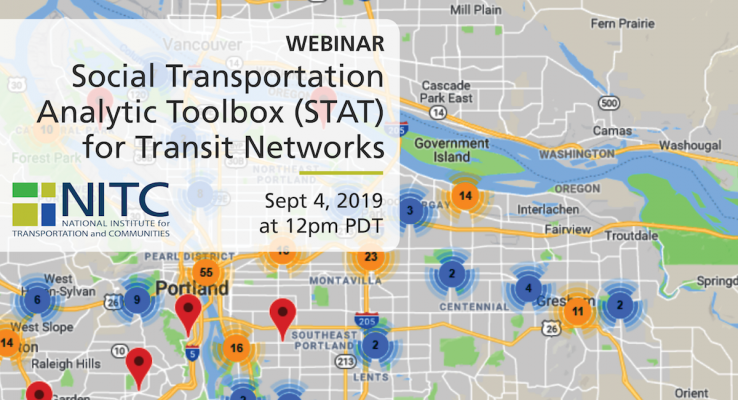 DATE:
Wednesday, September 4, 2019,

12:00pm

to

1:00pm

PDT
SPEAKERS:
Xiaoyue (Cathy) Liu, University of Utah
PRESENTATION ARCHIVE
Miss the webinar or want a look back?
OVERVIEW
This webinar will present an open-source socio-transportation analytic toolbox (STAT) for public transit system planning. This webinar will consist of a demonstration of the STAT toolbox, for the primary purpose of getting feedback from transit agencies on the tool's usefulness. We are especially interested in hearing about any improvements that would aid transit agencies in implementing it.
The STAT toolbox was created in an effort to integrate social media and general transit feed specification (GTFS) data for transit agencies, to aid in evaluating and enhancing the performance of public transit systems. The toolbox enables the integration, analysis, and visualization of two major new open transportation data sources—social media and GTFS data—to support transit decision making. In this webinar, we will introduce how we leveraged machine learning and natural language processing techniques to retrieve Twitter data related to public transit systems and to extract sentence structures to geomap those tweets to their corresponding transit lines/stations. Combined with transit accessibility measures computed using GTFS, STAT is able to identify the mismatch between the services that the agency is providing and what the transit users are experiencing. The project uses Salt Lake City and Portland as case studies to demonstrate the usability of the toolbox and how it can support querying, navigating, and exploring the interactions between transit users and services.
KEY LEARNING OUTCOMES
Demonstration of the STAT Toolbox
Understand how to use the STAT Toolbox and its capabilities and limitations
Discover how you might implement the STAT toolbox at your agency
THE RESEARCH
This webinar is based on a study funded by the National Institute for Transportation and Communities (NITC) and conducted at the University of Utah and Portland State University. Read more about the NITC research: Leveraging Twitter and Machine Learning for Real-Time Transit Network Evaluation.
SPEAKERS
Xiaoyue (Cathy) Liu, University of Utah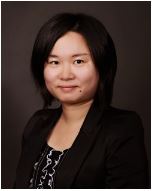 Dr. Liu is an associate professor in the Civil & Environmental Engineering Department at the University of Utah. She has a Ph.D. in transportation engineering from the University of Washington, a master's degree in transportation planning and management from Texas Southern University, and a bachelor degree in electronics and electrical engineering from Beijing Jiaotong University. She serves as a member on the Transportation Research Board (TRB) Highway Capacity Quality of Service (HCQS) Committee (also Paper Review Cooridnator), Managed Lane Committee and the Transit Capacity and Quality of Service Committee (TCQS). She is also serving as a board member of Utah Model Advisory Committee, and served on Salt Lake City Transportation Advisory Board (from 2013-2016). Dr. Liu is a licensed professional engineer at the State of Utah.
PROFESSIONAL DEVELOMENT
This 60-minute webinar is eligible for 1 hour of professional development credit for AICP (see our provider summary). We provide an electronic attendance certificate for other types of certification maintenance.
LEARN MORE
Sign up for our newsletter to get updates on our events.
This webinar is hosted by the Transportation Research and Education Center (TREC) at Portland State University. The research was funded by the National Institute for Transportation and Communities (NITC), a program of TREC and one of five U.S. Department of Transportation national university transportation centers. The NITC program is a Portland State-led partnership with the University of Oregon, Oregon Institute of Technology, University of Utah and new partners University of Arizona and University of Texas at Arlington. We pursue our theme — improving mobility of people and goods to build strong communities — through research, education and technology transfer.