Civil Engineering Capstone Students Design Multimodal Infrastructure for Portland
Posted on August 7, 2023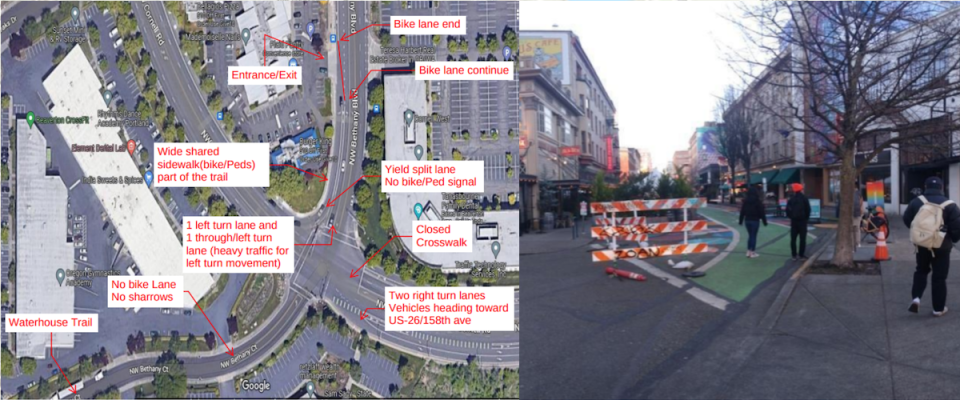 Each year, Portland State University (PSU)'s graduating seniors work on capstone projects: community-based learning experiences throughout the Portland metropolitan region and beyond. This past spring, two student groups in the Maseeh College of Engineering & Computer Science focused their capstone projects on sustainable transportation, and we'd like to take a moment to highlight their outstanding work. Both projects were completed as part of the Civil Engineering Project Management and Design course taught by PSU instructor Patrick McLaughlin, and each takes a different approach to enhancing safety and accessibility for people walking and riding bicycles in Portland. Read on to learn more about the students and their projects.
BikeLoud Day: Living Streets Downtown
: Rashid Abdussamad, Christian Galiza, Karla Real Gonzalez, Nomin Lyons, Zachary Person and Franklyn Santos
Client: BikeLoudPDX
BikeLoud PDX, a Portland-based bicycle advocacy nonprofit, initiated the "Living Streets Downtown" project as part of their continued efforts to encourage a car-free lifestyle and increase the number of cyclists in the city. In the summer of 2023, the organization is hosting "BikeLoud Day," an end-of-the-season event starting with an assembly to petition the city to follow through with its 2030 Bicycle Plan. The event is an opportunity to bring together carbon neutral transportation users in the city. But how do transportation advocates organize such an event?
The BikeLoud/Living Streets capstone team assisted their client by investigating the objectives, engineering analysis, permits, and other considerations necessary for BikeLoud Day to take place. Their final Design Report, BikeLoud Day: Living Streets Downtown, includes an overview of the regulatory compliance and permitting requirements, an analysis of four possible locations for it to be held, and a Traffic Control Plan – a requirement for any temporary activity that will disrupt the normal flow of traffic. The proposed event plan and temporary design they came up with aims to promote a car-free lifestyle, increase cycling opportunities, and create a safe and accessible traffic space for the event.
"The vision for Living Streets is really rooted in the belief that our cities should be designed to have people in mind. Through prioritizing active transportation modes such as biking and walking, we can foster healthier, more inclusive and environmentally friendly communities," said team member Zachary Person.
See the final design report: BikeLoud Day: Living Streets Downtown.
Learn more about the project in a project summary posted on LinkedIn by team member Nomin Lyons.
Waterhouse Trail Multimodal Intersection Design
: Mouhamad Taha, Joseph Lyon, Valentin Gashongore, Ahmad Alfadhli, Nabin Bhattarai and Juan Merida
Client: Washington County, Oregon
In Beaverton, Oregon, an intersection improvement project at NW Cornell Rd and Bethany Blvd aims to make the intersection more accessible for pedestrians and bicyclists. The Waterhouse Trail runs through the intersection, so Washington County is seeking multimodal solutions to improve safety. The students created a new intersection design using data from Numina sensors recently installed by Washington County.
"The Numina sensors let us select data by mode and see their patterns, and how people are currently navigating the intersection. It's been particularly useful for us to see how bikes are going through the intersection: Are they going through in the bike lane? Are they using the sidewalk or trail? Are they crossing like a pedestrian or a vehicle? That path is one of the things that the sensors provide us. So with that data, we asked the students to envision, what if we could redesign the whole intersection? What would that look like?" said Shelley Oylear, Bicycle and Pedestrian Coordinator for Washington County.
The capstone group proposed a new design with a range of measures including widening bike lanes and sidewalks, adding safety signage and a raised crosswalk, and installing bike boxes. By eliminating a left turn lane, the students freed up space to add two bike lanes (one in each direction) on NW Bethany Ct. Another proposed change is to reduce the size of a northbound travel lane on Bethany Blvd.
"Looking at the north end of the intersection, it has …a super wide one-way northbound travel lane. We're proposing a new design which maximizes that space, so we're using a lot of that space from the northbound travel lane and implementing it on the southbound side. We're proposing widening up that sidewalk and adding a traffic signal as well as a pedestrian push button signal," said team member and project manager Valentin Gashongore.
The team's final design report contains an alternatives analysis, information on regulatory compliance, their design development process, and aerial views of the intersection with details on the existing conditions and proposed design features.
See the final design report: Waterhouse Trail Multimodal Intersection Design Project. 
Learn more about the Waterhouse Trail Intersection Redesign in a project summary posted on LinkedIn by team member Nabin Bhattarai.
Portland State University's Transportation Research and Education Center (TREC) is home to the U.S. DOT funded National Institute for Transportation and Communities (NITC), the Initiative for Bicycle and Pedestrian Innovation (IBPI), PORTAL, BikePed Portal and other transportation grants and programs. We produce impactful research and tools for transportation decision makers, expand the diversity and capacity of the workforce, and engage students and professionals through education and participation in research.
Share this: