Dr. Jennifer Dill Earns Portland State University's Presidential Career Research Award
Posted on April 27, 2021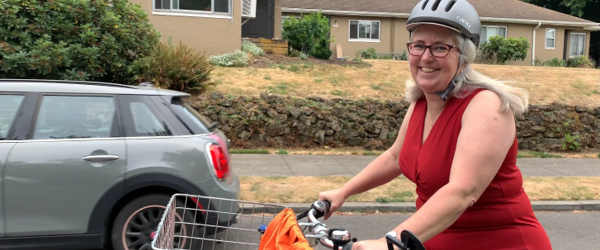 See the full, original article "PSU Announces Recipients of Prestigious University Research and Mentoring Awards", authored by Shaun McGillis, Research and Graduate Studies, PSU. Below is an excerpt:
Portland State University announces the 2021 awards for excellence for research, graduate mentoring and research administration. The awards are among the university's highest honors. They recognize and incentivize PSU faculty and staff excellence in research, scholarship, artistry and dedication to PSU students.
Recipients of the awards are some of the most dynamic faculty and staff members at PSU. Colleagues submit nominations; a jury of peers selects awardees based on the significance and quality of their research or creative achievements and extraordinary commitment to creating an environment supportive of research and student success. Join us as we celebrate this year's awardees at the Research Awards Ceremony (online Friday, 3:30 - 5 PM Pacific) during Research Week (May 3-7).
Presidential Career Research Award: Dr. Jennifer Dill
The 2021 Presidential Career Research Award recipient is Jennifer Dill. Dill is a professor in the Nohad A. Toulan School of Urban Studies and Planning and Director of the Transportation Research & Education Center at PSU. TREC houses the National Institute for Transportation and Communities, a national university transportation center funded by the U.S. Department of Transportation.
TREC Researcher Profile | Jennifer Dill website and blog | Jennifer Dill Twitter
Professor Dill is an internationally known scholar researching the relationships between transportation, land use, health and the environment, focusing on active transportation. Before entering academia, Professor Dill worked as an environmental and transportation planner in California. That experience motivates her teaching and research, which aims to inform practice and policy. She has published extensively in peer-review journals and has served as principal investigator or co-PI on over $4.3M in research projects and over $28M in federal center funding. Her research has been covered by Wired, Governing, USA Today, the PBS NewsHour, Here and Now, Marketplace and the Atlantic. She has served on and chaired Transportation Research Board committees and is on the editorial boards of the Journal of Transportation and Health, Transportation Research Record and the Journal of Transportation and Land Use. Professor Dill also serves on the Board of Trustees for the TransitCenter, a foundation that works to improve public transit across the U.S.
"Dr. Dill is a very accomplished and prominent researcher and is well-respected in her field," said Chris Monsere, professor and chair of Civil & Environmental Engineering. "Her research aims to understand people's everyday travel decisions, focusing on bicycling, walking and transit. Her scholarship informs our understanding of travel decisions, how the built environment influences travel decisions and how those decisions impact our health."
Share this: