The Fun of Biking With the Ease of Driving: E-Bikes Offer Both
Posted on April 5, 2018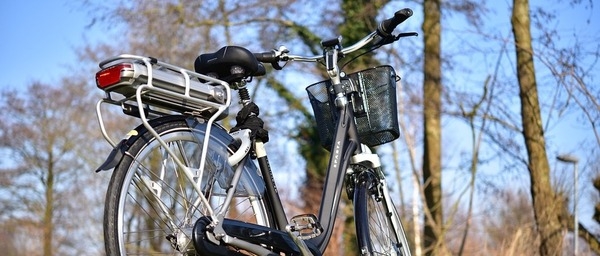 Principal Investigators
:
John MacArthur
, Portland State University; and Christopher Cherry, University of Tennessee
Learn more about this education project by viewing the Executive Summary and the full Final Report on the Project Overview page.
---
If more drivers switched seats to a bicycle, there would be immediate and tangible benefits on the road. Widespread adoption of bike commuting could improve public health through increased physical activity and reduced carbon emissions, as well as ease the burden on congested roads. However different lifestyle demands, physical ableness, and varied topography create an unequal playing field that prevents many from replacing their car trips.
Electric bicycles (e-bikes) are a relatively new mode of transportation that could bridge this gap. If substituted for car use, e-bikes could substantially improve efficiency in the transportation system while creating a more inclusive biking culture for people of all ages and abilities.
A newly published NITC study by John MacArthur of Portland State University's Transportation Research and Education Center (TREC) and Christopher Cherry of the University of Tennessee, Knoxville provides insight into the emerging realm of e-bike transportation.
Bicycling Magazine published a promising take on the study, E-Bikes Are Getting More People Out of Their Cars, and other sources are beginning to buzz about the new data as well. Read more coverage:
MacArthur surveyed nearly 1,800 e-bike users in the United States and Canada, asking about their transportation behavior and experiences with e-bikes. Some important trends became evident, most notably that having access to an e-bike can overcome many barriers to biking. Three of the most common barriers are hills, lengthy distances to desired destinations, and not liking to arrive at destinations sweaty.
The majority of the respondents lived in family households with one or more children, and the ability to carry or ride with children was another commonly cited benefit of buying an e-bike. One respondent noted,
"I can take my kids all over the city without having to consider elevation gains, or parking."
Riders also reported feeling safer on their e-bikes than on a traditional bike. Other barriers to biking remain, however, such as a lack of comfortable bicycle infrastructure. See NACTO's newest guide on Designing for All Ages and Abilities, a resource that seeks to address this issue.
The results of the study suggest three ways in which e-bikes stand to increase the total number of miles and trips traveled by bicycle:
Ebikes aid populations deterred from bicycling by physical limitations, topographic barriers and distance to cycle.
E-bikes support longer trips for both recreational and utilitarian pursuit
E-bikes can appeal to new audiences through enhancing perceived safety and the joy of riding.
These findings provide evidence that e-bikes can be a viable mode of transportation and recreation for those without previous experience riding a bicycle. E-bikes have the capacity to promote environmental and public health objectives; however, these benefits will not be fully realized in the absence of policies and regulations to support and protect the use of e-bikes.
To learn more about this and other NITC research, sign up for our newsletter.
RELATED RESEARCH
This study was funded by the National Institute for Transportation and Communities, Bicycle Product Suppliers Association (BPSA), and PeopleForBikes.
The National Institute for Transportation and Communities (NITC), one of five U.S. Department of Transportation national university transportation centers, is a program of the Transportation Research and Education Center (TREC) at Portland State University. The NITC program is a Portland State-led partnership with the University of Oregon, Oregon Institute of Technology, University of Utah and new partners University of Arizona and University of Texas at Arlington. We pursue our theme — improving mobility of people and goods to build strong communities — through research, education and technology transfer.
Share this: