Introducing the 2022-23 Transportation Scholars of Portland State University
Posted on September 23, 2022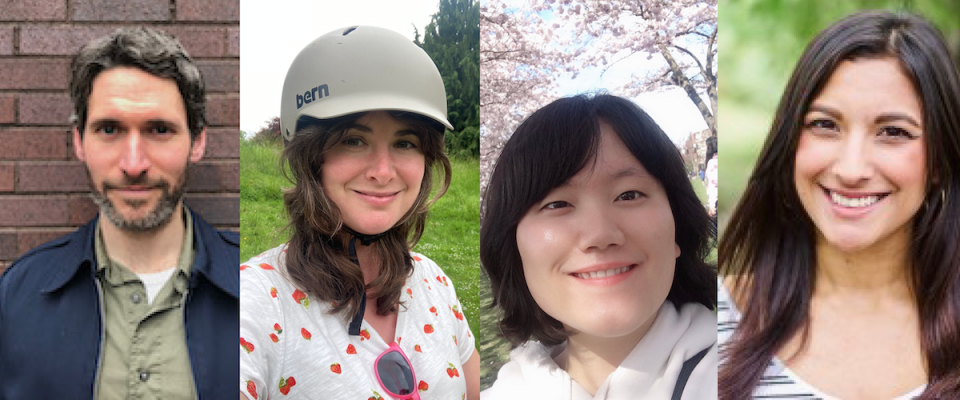 We are proud to introduce four new transportation scholarship recipients at Portland State University for the 2022/23 academic year. Congratulations to Peter Domine, Lise Ferguson, Kyu Ri Kim, and Valeria Tapia, all students in the Toulan School of Urban Studies and Planning!
Scholarships are made possible by the generosity of donors who want to invest in the future of Portland State students. PSU students work on real transportation system projects with partners in our community. Through scholarships, we can support students in overcoming barriers to funding as well as acknowledging those who go above and beyond in advancing transportation. Learn more about PSU transportation funding opportunities and read about past transportation scholars.
Peter Domine
Recipient of the Walter H. Kramer Endowed Transportation Fellowship
I am a lifelong Oregonian and Salemite. I love history, which is where much of my interest in urban planning came from. I am fascinated by many subjects and that is also why I enjoy urban planning so much, because it touches on so many interrelated topics. I've worked most of my young adult life in a variety of jobs, mostly bartending for the past few years. Working as a bartender at a local downtown restaurant was a great way to connect with my community and gave me a deeper appreciation for my city. This perspective has been deeply influential in my pursuit of a planning degree and my future profession. This was also a great way to make ends meet while still having a lot of freedom and flexibility to explore things that interested me, such as cycling. I took up road cycling about five years ago and that has been a great outlet for exercise, exploring my community, and traveling. I've done a few long-distance trips by bike and hope to do more, especially around the Northwest.
Connect with Peter on LinkedIn.
Lise Ferguson
Recipient of the Walter H. Kramer Endowed Transportation Fellowship
I graduated from the University of Washington in 2013, where I got a degree in Environmental Studies, but the jobs I ended up getting were lackluster administrative positions for environmental-adjacent companies. I moved to Portland soon after graduating because I loved how fun and interactive the city was, and because I really liked riding my bike here! Because the jobs I found myself working were unrewarding, I began volunteering with some solid organizations that better aligned with my passions: The Street Trust, City Repair Project, and BikeLoudPDX. It was through working with these groups that I started to understand the ways in which planning defines a city, and how it can improve or hurt the lives of the people living in it. I was already spending so much of my time  talking and thinking about bike lanes and car-free plazas and road diets that I decided I might as well go back to school and try to make some changes from a position where I would have more power, and here I am!
Connect with Lise on LinkedIn.
Kyu Ri Kim
Recipient of the Alta Planning and Design Scholarship
As a Ph.D. student of Urban Studies at the College of Urban and Public Affairs, I am a student representative participating in monthly faculty meetings for the 2021-2022 academic year and I also have had the opportunity to participate in the following projects of TREC at PSU with Dr. Jennifer Dill: a research review for AASHTO Council on Active Transportation Research Roadmap, and descriptive analysis for the Active Transportation Return on the Investment project. At PSU, learning various statistical programs such as SPSS, R, and Mplus and geographic information systems such as ArcGIS Pro and using them in research related to active transportation makes me a more productive and efficient researcher. Before coming to PSU, I worked in Korea Environment Institute as a researcher after achieving my Bachelor's and Master's degrees at Yonsei University in Seoul.
Read more about Kyu Ri's award on the Alta Planning Blog.
Valeria Tapia
Recipient of the IBPI Innovation in Active Transportation Endowed Scholarship
I am an emerging planner and a first-year student in the Master of Urban and Regional Planning. I'm passionate about community development, active transportation, equity, and environmental planning. I desire to advance active transportation initiatives that are inclusive and promote safety. With a Bachelor of Science degree in  Community Development, I am a community advisory member on the South Portland Historic Guidelines Committee with the Portland Bureau of Planning and Sustainability. I am also an intern at the Bureau of Planning and Sustainability on Portland's Lower Southeast Rising Project. The project is a partnership between the Bureau of Planning and Sustainability and the Portland Bureau of Transportation. My recent experience has continued to ignite my passion to find solutions for communities living in east Portland.
Connect with Valeria on LinkedIn.
Portland State University's Transportation Research and Education Center (TREC) is home to the U.S. DOT funded National Institute for Transportation and Communities (NITC), the Initiative for Bicycle and Pedestrian Innovation (IBPI), PORTAL, BikePed Portal and other transportation grants and programs. We produce impactful research and tools for transportation decision makers, expand the diversity and capacity of the workforce, and engage students and professionals through education and participation in research.
Share this: