Moving From Cars To People: A Comic About Transportation and Land Use
Posted on January 3, 2023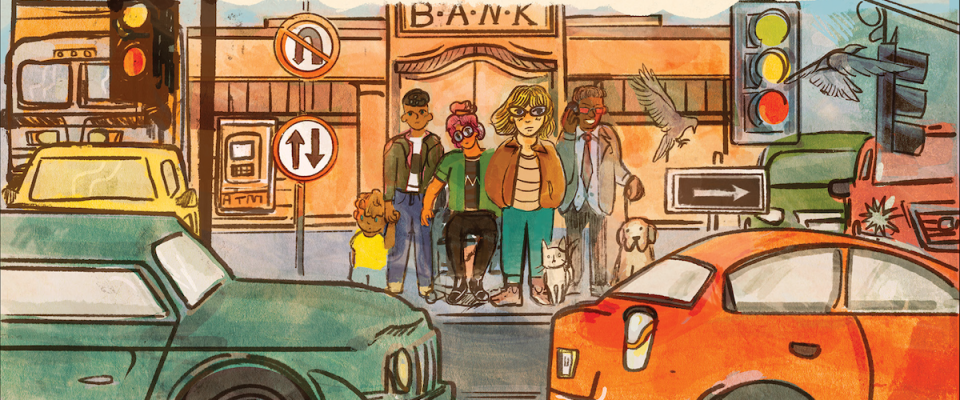 A new transportation comic, "Moving From Cars To People (PDF)," offers a succinct and fun introduction to a complicated topic: namely, how the built environment in the United States came to be designed for cars and what we can do about it.
Want a physical copy? Here are a few ways to get one:
Kelly Clifton of the University of British Columbia and Kristina Currans of the University of Arizona. The two have a long history of collaboration around the data, methods, and processes used to plan for multimodal transportation impacts of new development. This short graphic synopsis is an engaging, approachable way for anyone – no matter their level of expertise in this topic – to learn about their findings.
Illustrated by PSU Master of Fine Arts student Joaquin Golez, the comic was authored by Clifton and Currans and developed in conjunction with Susan Kirtley, director of the Comic Studies Program at Portland State University (PSU), and Portland, OR-based illustrator Ryan Alexander-Tanner, who has worked on academic comics before and drew on his experience to help guide the collaborative process. For more insight on that process, read a June 2022 interview with Clifton, Kirtley, and Alexander-Tanner. A Spanish-language version was created with the assistance of Urban Studies PhD student Gabriel Quiñones-Zambrana. (Download: Moviéndonos Del Automóvil A Las Personas (PDF).) Physical copies of the Spanish version will be available soon.
WHY IS THIS USEFUL?
Why communicate research results in a graphic format? First, to reach a broader audience. It's in everyone's interest for non-transportation-professionals to have a working knowledge of the conversation that's happening around sustainable transportation options. When important policy questions show up on a ballot – for example, whether businesses should be required to provide a certain amount of parking spaces, or whether the state should subsidize public transit – people who aren't in the transportation industry might not be fully aware of the tradeoffs involved in these questions. 
So it's a good idea to have the whole subject distilled into an easy format. It's also a good thing for people who are in the know already, because why not make things fun and approachable? Next week, 10,000 transportation professionals will flock to Washington, D.C. to attend the annual Transportation Research Board (TRB) meeting and learn about what their colleagues have been doing for the past year. Attendees will do their best to absorb mountains of information relating to areas of the transportation field that overlap with their own particular focus area. They'll probably come away with a new list of books and articles to read. 
If there's a colorful, bite-sized morsel at the top of the to-be-read stack that doesn't take much mental focus to absorb, then so much the better for everyone. Because there's a lot of material covered in this body of research, and the comic gets right to the heart of it: How does all this affect real people?
CREATING THE COMIC
MFA student Joaquin Golez, who did his undergraduate work at Pacific Northwest College of Art (PNCA), has worked mainly in illustration before this.
"Doing a comic was new for me. Ryan [Alexander-Tanner] was like my art director. He's a really accomplished cartoonist, and he knows comics really well. Everyone else was from totally different wheelhouses. He's also a teacher, so he kind of was teaching me comics. For me it was super different, because I'm more used to a really detailed single image: I have one illustration, and I'm trying to pack a lot of nuance and metaphor into it. And for comics it's so much more about speed and clarity," Golez said.
Golez worked with Clifton, Currans, and Alexander-Tanner to brainstorm how to convert the research concepts into a story with visual elements. In an iterative process, he often created several sketches based on prompts from the team which were then chosen for further development.
"It was very data-heavy in the beginning, because it's research, you know. So there was that process of trying to figure out, well, what would this look like if it was a character saying it? This was part of why this opportunity was so amazing, because I've always wanted to try comics. So it was this really cool chance to work with somebody like Ryan who has so much experience doing it," Golez said.
Urban Studies PhD student Gabriel Quiñones-Zambrana, who translated the comic into Spanish, has done a fair amount of translating throughout his academic and professional career. He also collects comics. Growing up in Puerto Rico, he said, where most conversation takes place in Spanish but most education material is written in English, translating back and forth between the two languages is second nature. However, there were still some interesting challenges in translating this comic.
"We had to trim some of the Spanish sentences, because Joaquin couldn't fit them into the bubbles," Quiñones-Zambrana said, referring to how Spanish sometimes has more words and syllables than an equivalent phrase in English, and the speech-bubbles were already pre-drawn. Another challenge was deciding when to use regional variations of certain terms. There was a lot of back-and-forth between Gabriel and the researchers when trying to decipher what exactly they meant by a "slushy," or to decide if Spanish speakers from Mexico and Central America might use a different word for a small store (called a "minimart" in PR). By translating the comic into Spanish, researchers hope that these concepts might reach even more people – especially people who are directly impacted by the land use and development patterns discussed in the research.
To help other students and faculty at PSU learn to translate their research into comics, Clifton and the Comics Studies team hosted a "Research Into Comics Workshop" last October. Attendees learned the basics of using comics as a means to communicate research, and practiced creative exercises. 
RESEARCH BACKGROUND
NITC researchers have approached context-sensitive travel modeling from several angles. For example, Reid Ewing of the University of Utah developed some key enhancements to the classic four-step travel demand model, as well as examining trip and parking generation at transit-oriented developments. See below for a non-exhaustive list of NITC projects in this area.
Kelly Clifton and Kristina Currans first worked together at Portland State University when Clifton was Currans' advisor for her 2016 doctoral dissertation examining data and methodological issues in assessing multimodal transportation impacts for urban development. Both separately and in collaboration with other NITC researchers, Clifton (now a professor at the University of British Columbia) and Currans (a professor at the University of Arizona) have conducted over a decade of research into contextual trip generation: a body of work that reevaluates our whole system of travel demand forecasting. The goal is to improve travel demand forecasting so that it more accurately reflects the travel behavior of people walking, biking and riding transit. You can read a summary of some of Clifton's work in context-sensitive trip generation here. 
This research was funded by the National Institute for Transportation and Communities, with additional support from Portland State University Comics Studies, South Tabor Neighborhood Association, and the University of Arizona.
To learn more about this and other NITC research, sign up for our monthly research newsletter.
ABOUT THE PROJECT
Communicating Research through Comics: Transportation and Land Development
Kelly Clifton, Portland State University/University of British Columbia; Kristina Currans, University of Arizona
MORE NITC RESEARCH AROUND CONTEXT-SENSITIVE TRIP GENERATION:
The National Institute for Transportation and Communities (NITC) is one of seven U.S. Department of Transportation national university transportation centers. NITC is a program of the Transportation Research and Education Center (TREC) at Portland State University. This PSU-led research partnership also includes the Oregon Institute of Technology, University of Arizona, University of Oregon, University of Texas at Arlington and University of Utah. We pursue our theme — improving mobility of people and goods to build strong communities — through research, education and technology transfer.
Share this: