Portland Lecture by Tamika Butler Promotes Equity in Transportation
Posted on October 30, 2017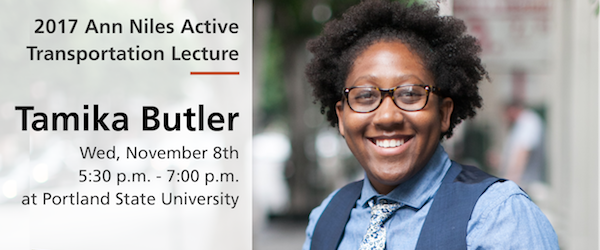 Livability encompasses several aspects of community, including safe, walkable neighborhoods; quality transit service and healthy green spaces. Making these types of benefits more available to underserved and marginalized populations is a key component of TREC's research focus. With the support of the Ann Niles Active Transportation Lecture Endowment, every year we host leaders who have made great strides in advocating for health, safety, and bicycle and pedestrian access.
For our 4th annual Ann Niles Lecture we've invited Tamika Butler – Executive Director of the Los Angeles Neighborhood Land Trust. In her current role she grows healthier, safer, and stronger communities through the creation of urban parks and community gardens—addressing the critical lack of green and recreational spaces in greater Los Angeles' underserved neighborhoods. Prior to this, Butler was the the executive director of the Los Angeles Bicycle Coalition, bringing energy and passion to the quest for better bicycle access. 
Through our programs, including the Initiative for Bicycle and Pedestrian Innovation (IBPI) and the National Institute for Communities (NITC), we seek to grow social equity in transportation and communities through:
Ann Niles Active Transportation Lecture
K - 12 Education and Outreach
NITC funded research in transportation equity
Transportation workforce development doesn't always take place at the university level, students' interest in transportation can start much earlier. To serve that need, every year we host the National Summer Transportation Institute - a free, two-week transportation summer camp for female high school students, funded by the FHWA and designed to boost career opportunities in STEM for minority or underrepresented students.
We also partner with ChickTech, a nonprofit dedicated to retaining women in the technology workforce and increasing the number of women and girls pursuing technology-based careers, to host free transportation-focused workshops for middle school and high school girls. These workshops teach specific skill sets such as GIS mapping and data analysis.
NITC Funded Research in Transportation Equity
An equitable transportation system is a cornerstone of NITC's research focus of "improving mobility of people and goods to build strong communities. In the past year, NITC has supported research that seeks to improve the walking and bicycling experience of people of color, women, and elderly and low-income populations through examining racial bias in drivers' yielding behavior at crosswalks, ways to improve the equity of bike share systems, and understanding obstacles to biking faced by marginalized people.
NITC researchers have also looked into mitigating the effects of gentrification, preventing community displacement by enriching and stabilizing traditional neighborhoods, and providing tools to help low-income residents afford their housing and transportation costs. Explore more of our equity research here.
---
"If Los Angeles is a better city for people who bike, it'll be a better city for everybody." 
-Tamika Butler
---
Through sharing Butler's vision with other transportation advocates in the Portland Metro, we hope to connect more professionals who share in this common goal, and to foster greater understanding of methods and strategies for creating equitable communities. In addition to the evening lecture, Butler's visit to Portland will also include roundtables with local leaders, professionals and advocates.
The lecture series serves as a legacy to Ann Niles, who was a strong advocate for livable neighborhoods and served on many boards and committees related to transportation in Portland. Niles pushed for better sidewalks and crosswalks to make Portland a safe and comfortable place to walk, and for bicycle routes and parking to do the same for bicycling. The annual forum furthers IBPI's mission to facilitate the exchange of knowledge among scholars, practitioners and community advocates around issues of active transportation. By promoting dialogue across disciplines and interests, the lecture endowment also supports PSU's mission to "let knowledge serve the city."
This event is sold out, but please RSVP to be added to the waiting list as we are releasing seats daily.
Share this: